Push-ups are of great benefit to human health and muscular development. The main rule is regular exercise, and the results will come over time. Even if we limit ourselves to push-ups every day, a person will see changes in a month.
And they are very simple, do not require training and additional devices or forays into the street, unlike most other exercises. That is, a person can perform the exercise at home without any risk. And there is no complicated equipment, it is impossible to be injured.
Push up workout tracker application
Push-ups should be the basis of the daily exercise program, and there are a lot of push up apps that will allow a user to control the process. It is enough for the user to install such an application in order to begin to record statistical results and keep on hand the task for the current day.
We provide a list of the best push-up apps for Android and iOS according to our version.
Just 6 Weeks: 100 Pushups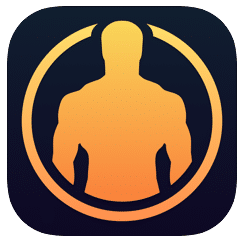 100 Pushups Free is a push up app and a component of Just 6 Weeks. This is a set of five basic exercise programs. The first thing that 100 Pushups Free offers is to check the current user level. This is necessary to calculate the further exercise program. The user passes the questionnaire, and the application will show which week it is worth starting training in each individual case. The application contains a lot of theory, which allows the user to understand the principles of training and loads, as well as the rules for performing the exercise. Further, the user can observe statistics and record their own results. Everything is presented in a very simple and convenient interface. This is probably one of the most popular and best push up app from the stores.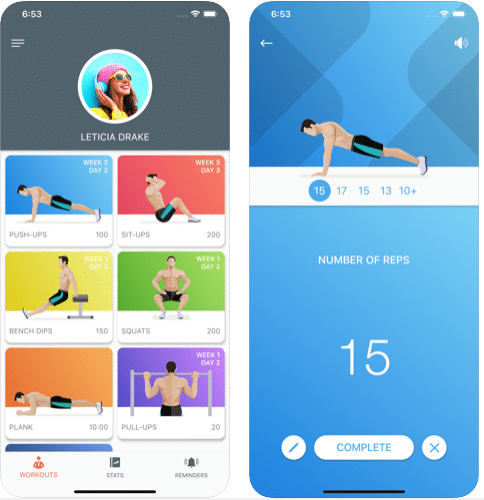 ---
100 Pushups workout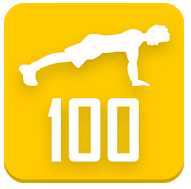 Let's check another one 100 pushups program of training with this free push up app. The application offers a simple and effective solution for dialing through push-ups. The user must adhere to the instructions for each day to improve physical fitness by the end of the course. Physical activity should be gradually so that a person can get involved in the training process smoothly and achieve great results in a few weeks.
A training program requires regular approaches. The user must do push-ups every day three times. Each stage of work takes no more than 10 minutes, but you need to give all your best.
This push up challenge app contains all useful additional tools for ease of use. Here you can find a break timer, a calendar with statistics, reminders and physical tracking.
---
0-100 Pushups Trainer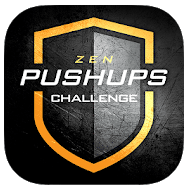 We offer everyone to try another simple push up application that brings the user to the ability to perform 100 push-ups per day without difficulty. And this is a serious tool in achieving the excellent physical shape. Amazing results come with time, and one exercise is enough. The application contains a number of motivational elements, success statistics, musical accompaniment to choose from. The main thing is to set a goal to do the work regularly, and even basic exercises will help to reach a high level in the near future. Get ready for the load to grow over time with this push up app (Android).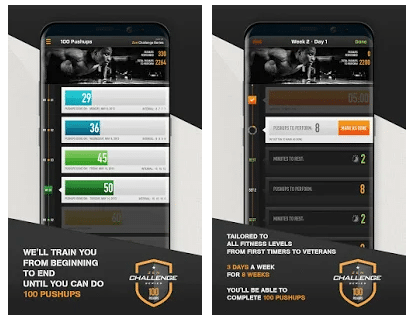 ---
100 Pushups Be Stronger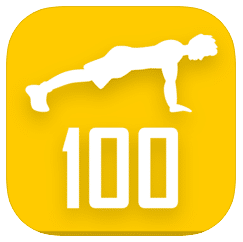 Start your journey to sports success with push-ups. 100 push-ups per day is a good basis to start building a good physical shape. This push up app (iPhone) will help anyone to start exercising at home from scratch, to reach a mark of a hundred push-ups per day and improve muscle.
A very simple interface is presented in this push up counter app, and each functional element follows the main task. In total, the user sees the buttons for resetting statistics, settings, application information and exit. The start button leads to the main mode, where the plan and the results of the user are demonstrated. Detailed statistics help to track work and adjust actions.
In total, several training options of different intensities are available, and the user must complete one workout in order to start another. All a person needs to do is do push-ups every day. 12 programs have a different number of repetitions per day and vary in intensity. The break between sets is also set depending on the chosen program.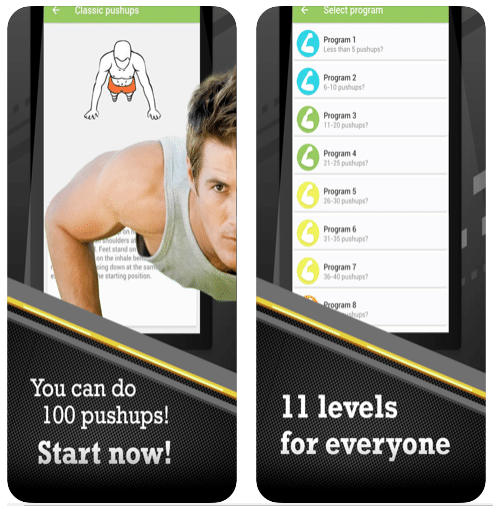 ---
Push-ups: 100 push up challenge trainer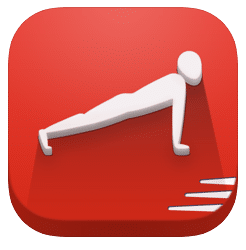 We continue to move forward on the list of the push up workout app options. We offer everyone to taste a very simple application that allows a person to focus on one task. This is a good strategy to achieve 100 push-ups per day without difficulty. Here is a very simple interface with a minimum of functional elements, which does not distract from work. Statistics are collected very carefully, including the number of push-ups and exercise days. Also, the user can calculate the trend of burning calories. For full effect, the athlete turns on the music during exercise while using this best push up app (iPhone).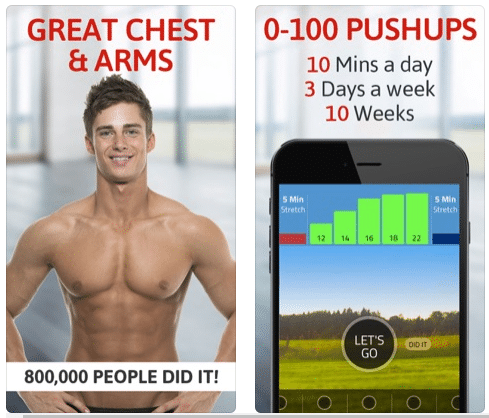 ---
Push Ups Workout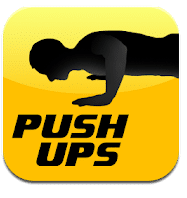 Push Ups Workout is known as a very simple and powerful 100 pushup challenge app. The steepness is noticeable at first sight, as the design is made at a high level, as for such a simple application. It is important to note that usability is very convenient, and getting lost here is unrealistic.
The path to success begins with a test that will help to accurately determine the physical level of a person. To do this, a person needs to push out as many times as possible, and the training program will be selected taking into account this factor.
Next, the user needs to do push-ups every day for several weeks, until a person can push out 100 times freely and without effort. All approaches and breaks between them are taken into account and it is important to follow the right pace (and work every day) to get the desired result. There are three difficulty levels for training in this best push up app (Android).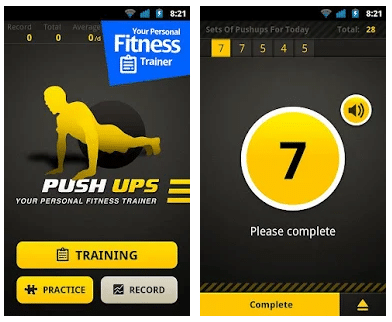 ---
Push Ups – Fitness Trainer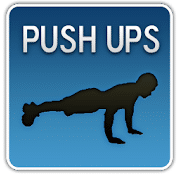 We offer everyone to pay attention to another fully functional and simple way how to get in shape with the help of a well-selected 30 day pushup challenge app. If the user adheres to the instructions of the application, he will be amazed at the immediate results. The application is available for all Android users. It has a very simple and pleasant design that does not distract from the main task. Detailed training statistics are available, which allows a person to keep in mind all the achievements. The user can also set up notifications on the phone about training if this push up tracker app chosen.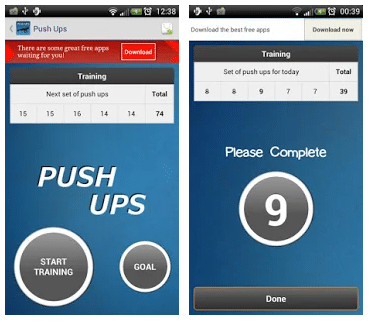 ---
XFit Push Ups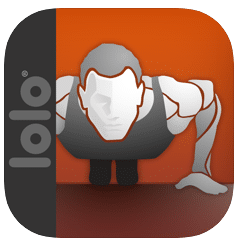 Apple users should pay attention to this best push up app (iPhone). The application contains a great functionality of utilities that serve the task of developing push-up exercises sequentially. The user can adjust the sequence and intensity of training on their own. A flexible scale of training difficulty levels is also available, which takes into account the number of actions and the time it takes to complete the exercises, including the time for breaks. In total, almost 50 options for push-up exercises are available that allow you to use the maximum muscle. Some will require additional inventory.

---
3D Push Ups Home Workout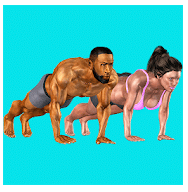 This app to track push ups offers an invaluable addition to the training process. Now users have a three-dimensional company for push-ups. This little thing helps to motivate yourself to perform current tasks and to control the pace of the exercise. The complexity and intensity of the daily course, as well as the degree of increase in complexity, can be adjusted manually. Also, the application will select automatic push-up programs if necessary. Statistics will help track the quality and regularity of exercise. A nice and modern interface gives a special feeling of working with this push up challenge app.
---
Pushups Coach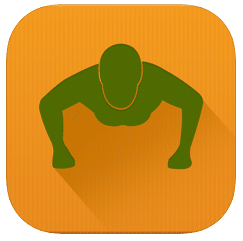 Another simple press up app, which includes a number of useful and comprehensive programs of physical activity in this niche for every day. The program requires the user 30 minutes of work per day, which will help in the near future to reach 100 push-ups without effort. The user of this push up challenge app can develop a work plan independently, or the application will offer several options for a work schedule. Daily statistics can be tracked through a clear and convenient menu. The application interface as a whole is very minimalistic and convenient in every sense. Detailed textual descriptions of exercises and tasks are attached, and reminders will help you not to forget in everyday hustle and bustle about fulfilling the daily norm of push-ups.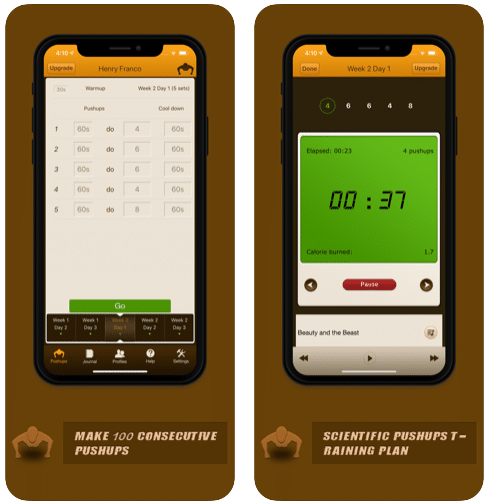 ---
There's a lot of other options you can find in Google Play and App Store. Check to push up app review and ratings and find another one gems!