Sudoku is a popular puzzle with numbers, which is also known as a magic square. The process of solving Sudoku allows a person to develop logical thinking, attention, and an analytical approach. The benefits of Sudoku are not only the benefits to the brain but also the ability to escape from problems, to concentrate on the task to the full.
This puzzle has simple and very elegant rules. There's a playing field is a square that consists of 9 blocks, each of which contains 9 cells. 81 little squares at all. Players need to fill cells with 1-9 numbers, and there are some sells are filled at the start position. The rules of the game are very simple. The player needs to write numbers into the gaps and each horizontal or vertical line or a block of 9 cells can't contain two same numbers.
Sudoku varies in level of difficulty, which depends on the number of cells filled with numbers and methods of solution. Usually, there are about 5 levels, where only the real masters can solve the most difficult ones. Sudoku game has its own rules and secrets. The simplest puzzles can be solved in a few minutes with the help of deduction, as always, at least one cell for which only one number is suitable. Other puzzles can take hours of your life. Each puzzle has only one correct solution.
Today Sudoku fans do not need to buy printed puzzle collections to play Sudoku. There are many Sudoku apps for iPhone and iPad. We will consider the best free Sudoku app for iPhone from App Store below.
Sudoku Killer: Killer Sudoku Puzzles for Your iPhone and iPad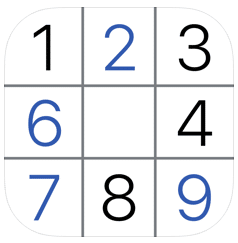 Sudoku Killer is a powerful Sudoku solver app (iPhone, iPad) for an expert in this puzzle game. Experienced players will enjoy challenging puzzles in this game. Convenience and charm to the application add a very convenient and intuitive interface and control options, where everything is located in its place and does not distract from the gameplay. The application includes many nice amenities for a variety of gameplay: autosave, combination lists, a set of puzzles, a sum button and a list of combinations, a simple calculator, a note tool, cancel and redo buttons, highlighting errors, a couple of color schemes to choose from. Some functions and puzzles can be bought for a fee, but free features are more than enough for a comfortable game.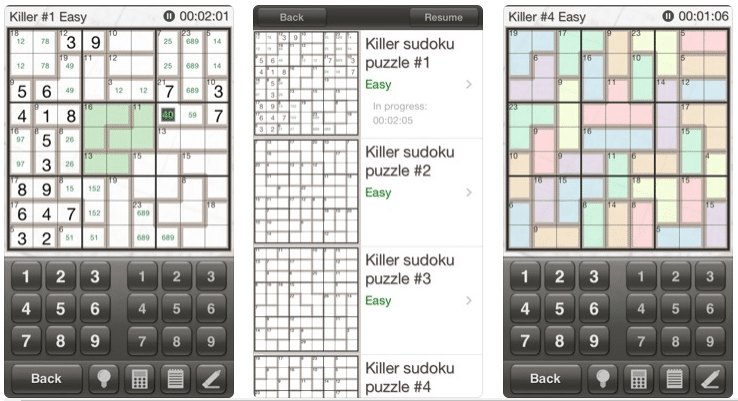 ---
Sudoku.com – Puzzle Game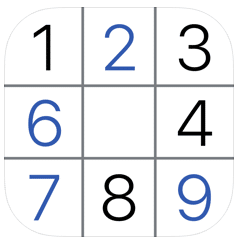 Sudoku app (iPhone): simple classics and nothing more. The player gets cool, well-composed puzzles in large volumes. The interface is extremely minimalistic and simple, which allows player to focus only on the solving process. During the process of passing a conditional campaign, the complexity of the game for the user increases and gradually the game begins to pose a serious challenge. The balance of difficulty levels is very well-tuned, so it will be pleasant for each user to play, regardless of skills. Among the additional functions, player can use the automatic check to detect errors, as well as adding notes on the playing field. All duplicate numbers are displayed automatically.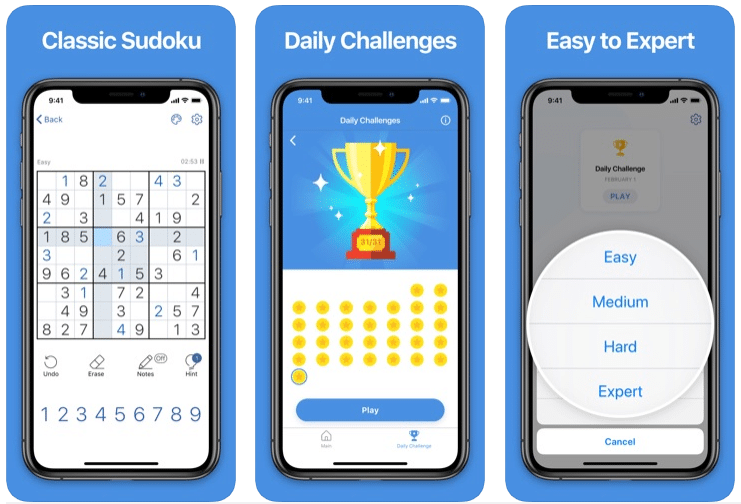 ---
Sudoku (Finger Arts)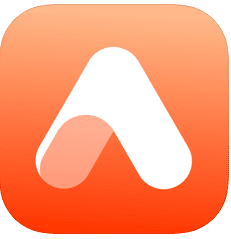 iPhone Sudoku free for everyone! Solve easy and complex puzzles, compete with time and other users of the application from all over the planet. The game offers a global gaming center where general statistics are collected for all users. This means that every player can check the best results in order to surpass them and become the king of the situation. Novice users are offered game tips, but at high difficulty levels they will have to think and strain yourself. This is a brainstorm that fans will love. There are a lot of puzzles, and there is always the opportunity to try a new one.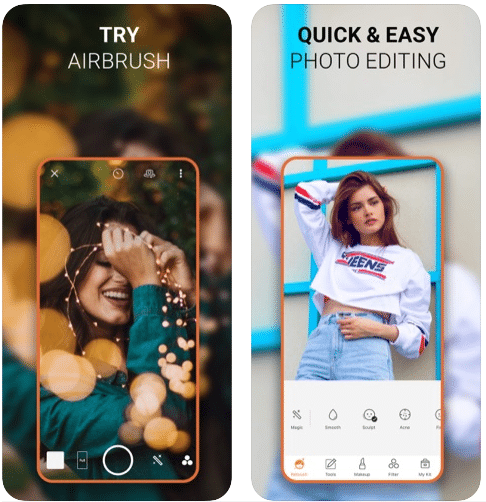 ---
Sudoku (Brainium Studios LLC)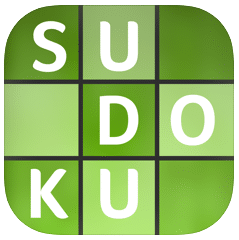 This best Sudoku (iPhone, iPad) is considered one of the most popular for iOS in its gaming category. This is easy to prove. Just install the application and go through a few puzzles. Users note that the quality of the game material is pleasing. Balance difficulty levels are in ideal state so that every beginner and expert can get the most out of the gameplay.
A big plus for novice players is the ability to cancel the mistake without problems. That is, the game gives a chance to improve and does not impose sanctions on it. Each user has statistics that can be checked in any convenient time. For convenience, a variety of visual themes are presented, among which each player will find something he prefer the most.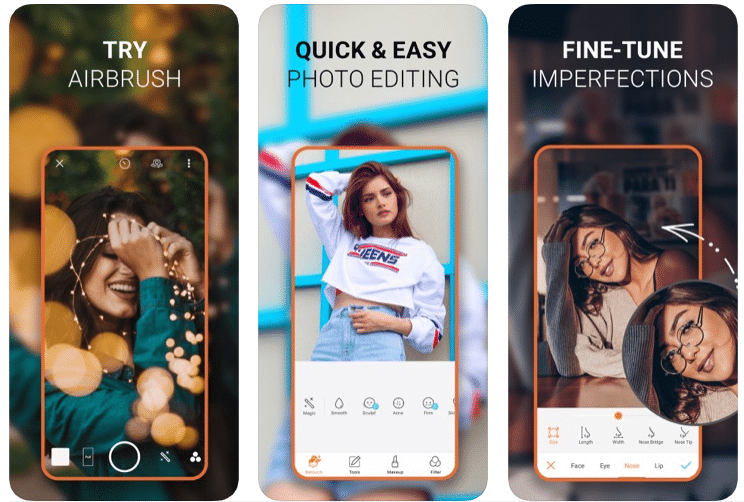 ---
Sudoku Epic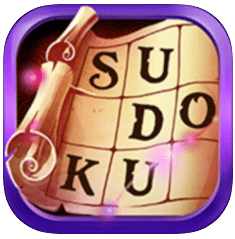 Looking for something truly epic and disagree with half measures? In this case, the name of this best Sudoku for iPad / iPhone will show the correct path. The main focus is on the variety of gameplay. Here are five variations of the Sudoku games, each of which is able to catch the player for a long time. Thousands of puzzles are available for players of various levels. New puzzles are added every day. The user has the opportunity to get a game hint. Everyone will surely find something for themselves in the vast expanses of Sudoku Epic. Additional options can be opened by purchasing a premium version of the application, but this is not a decisive factor to choose this Sudoku app for iPad and iPhone.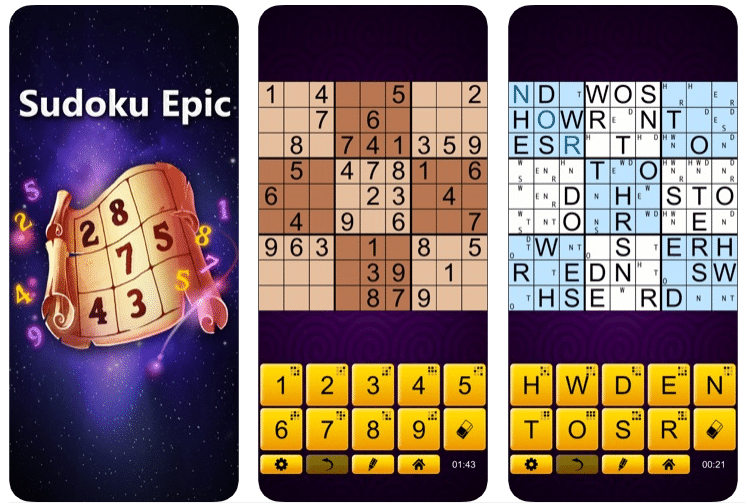 ---
Sudoku Free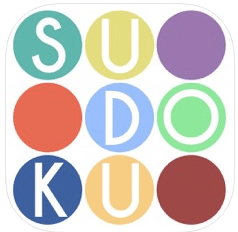 This best free Sudoku app for iPhone is primarily striking in its aesthetic design at the intersection of simplicity and sophistication. It is very nice to just see the color scheme that fuels the pleasure of the game. Moreover, the user has unique opportunities for setting the color gamut of the application, which include almost a hundred options.
But everything is in order with the quality of the content. The puzzles are diverse and interesting, within four difficulty levels: Easy, Normal, Hard and Expert. Of particular interest is the fast game mode, which will appeal to experienced users. A time counter is available for each game if the user has a need to improve game statistics.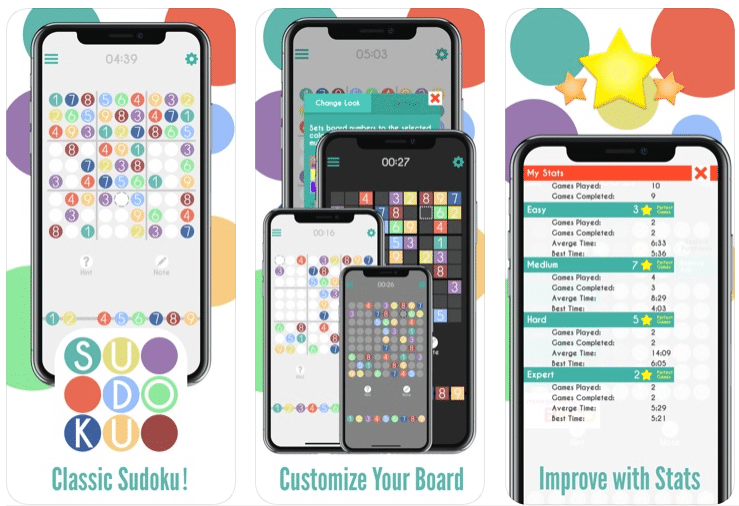 ---
Sudoku Joy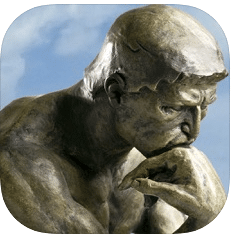 A pleasure in flexibility, as Sudoku Joy shows. Lots of people marks it as the best Sudoku app for iPhone, because of a unique structure of 17 difficulty levels. The gradual movement of this ladder from the bottom up will allow player to become expert from the total beginning without any special gaps between the levels. Great emphasis is made on player training. There are many games for training skills, as well as a smart hint system that will help but will not give out all the secrets of the playing field at once. A great achievement of the game, which is lacking in many competitors, is a puzzle generator that enhances replayability to the full.
Among the special features can be noted the recognition of playing fields with photos, the ability to cancel the move automatically, pencil time stamps, game timer. Also, fun adds a few diverse themes for every taste. The game is free but has some advertising. The premium version removes ads.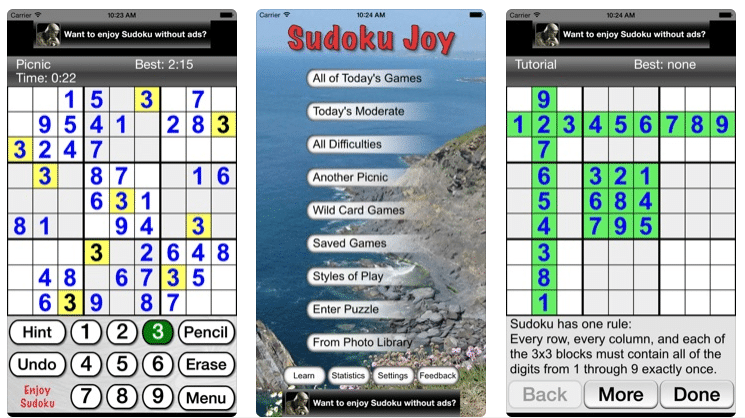 ---
Prime Sudoku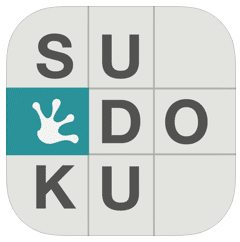 A simple and enjoyable free Sudoku app for iPhone for everyone with no frills and with tons of quality content. Beginners and recognized masters will appreciate and receive maximum pleasure in their weight categories. A very flexible interface is available with the ability to customize the displaying parameters, which will be useful, for example, for people with low vision or just for those who like to customize the game process to their taste and need for details. A convenient system for displaying errors on the playing field is available, which will help complete the game. Each move can be quickly undone to take two winning steps forward further.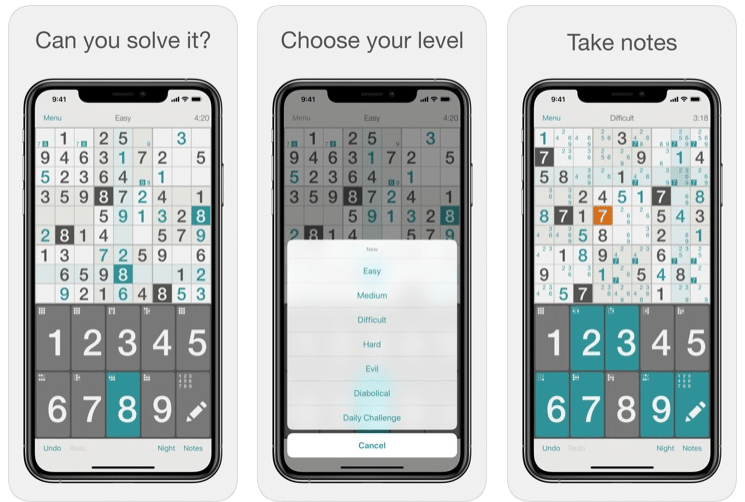 ---
Sudoku Puzzle World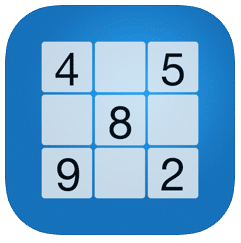 Sudoku Puzzle World is a very beautiful application at first and probably the best Sudoku app in this sense. It boasts an impressive background, great graphics, and expressive animation during the gameplay, which most Sudoku app developers usually ignore. Altogether, seventy different background pictures are presented that will give maximum visual comfort to each player. The application has global leaderboards with which anyone can check-in pursuit of a world record. Available on all versions of the iPhone and iPad without purchase.
In addition, a large collection of puzzles deserves attention, where there is always something interesting for a complete beginner or experienced professional. Four levels of difficulty are available.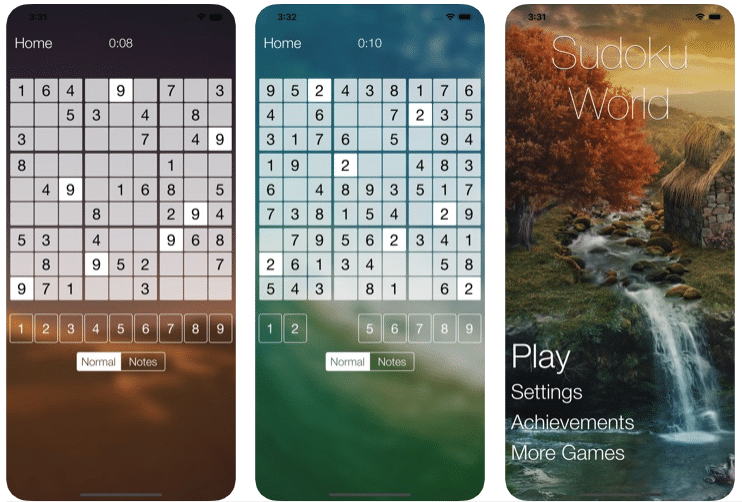 ---
Sudoku Quest Color Number Game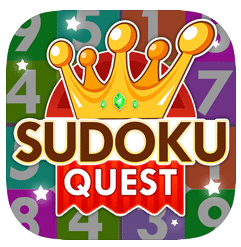 The last one best Sudoky iOS app from our list. This is the original application is worth a try for those who want to discover something new in their favorite puzzle. A distinctive feature of this application is a huge collection of 1000+ puzzles. Here are more than six hundred amazing levels with 11 brilliant variations. Each user has the opportunity to use advice to control the progress of the puzzle.
The original cartoon design is attached, where eight beautiful game worlds are included. The game has a magic eye that makes it possible to focus on a specific number. Pencil prefilling also simplifies the process. Use hints without limits if you need it.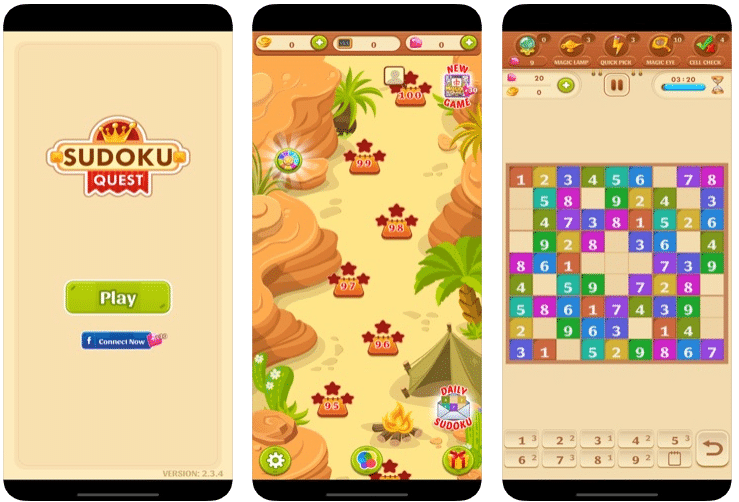 ---