Quiz is a win-win option for a good time with the equal participation of the entire company. This applies even to those awkward situations when a lot of strangers gathered among themselves. How to quickly play a quiz? There is an easy way with access to a couple of clicks. It's about to guess the apps that are available in large numbers in App Store and Google Play. Here, developers publish interesting games of a general theme, or highly specialized. In any case, everyone will be able to find something to their liking. And we will help everyone who is interested in using the list of several best applications in this category. They are listed with brief descriptions below. Download links there. All the character guessing game app options and other fun things are free.
4 Pics 1 Word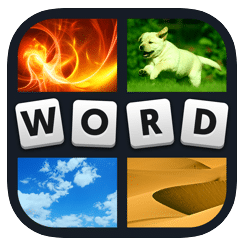 Let's start with one very simple and addictive guess the picture app concept. This game offers all users to join associations. Each round offers to consider four pictures, after which a person needs to write a word for an association that connects all the images. The application offers many levels of difficulty, and some rounds are very simple and suitable only for warming up, but others will have to rack their brains. This is a very popular application in its category, which is played by hundreds of millions of people around the world. All content is completely free. As you progress through the game, more and more new levels open. The amount of content is colossal, and it's almost impossible to see everything. The application does not require registration. There are no complicated rules for this guess the app, and everyone can start playing without preparation. A total of 9 languages ​​are available for the game.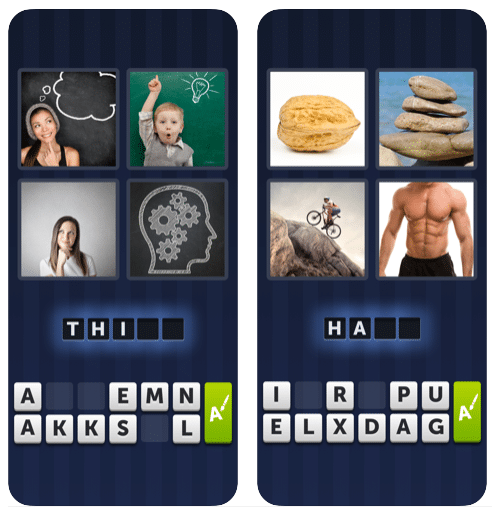 ---
Logo Quiz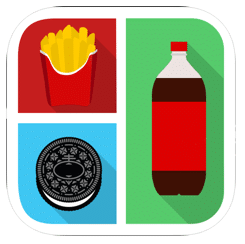 Now let's move on to one more highly specialized, but a very exciting topic for Quiz. Brand logos are created and advertised in such a way that people remember them even indirectly. This formed the basis, which will allow the user to train memory and raise visual images of popular logos from the depths of creation. Tens of millions of people around the world play this logo guessing game app! Users must guess the names of the logos by visual cues. In total, thousands of images are available that provide a large number of exciting game time. The developers provide every day unique puzzles available to everyone. There are several quiz options: guessing the logo by color, minimalism, slogans, and much more. You won't be bored! Everything is free. A total of 52 difficulty levels are presented. This logo game free app is available in 15 languages ​​of the world, which makes it popular in all corners of the planet Earth. Hints are available to help person complete tasks. Upon passing levels, detailed statistics and a table of records are provided.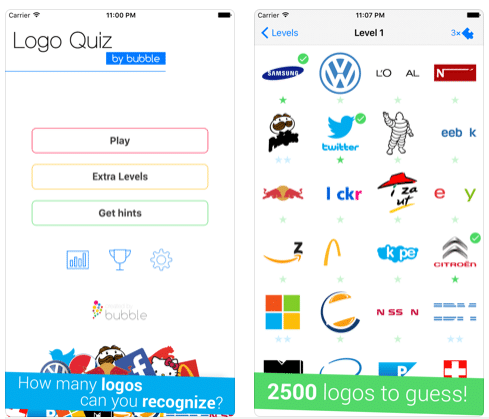 ---
What am I?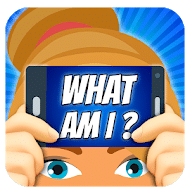 Here's a less popular, but very interesting charades quiz game. This is a fairly difficult guess game that will have to be in place in a good company of friends. Each person will have to puzzle over the answers. This celebrity guessing game app includes several options for activities. Here you have to dance, draw and sing to win. Charades differ in subject and degree of difficulty, and there is always a choice. It is also a good way to refresh knowledge in various topics. The interface is extremely intuitive, and every person on the planet will understand the purpose of functions at a glance. Even if he holds a smartphone in his hands for the second time in his life, he will be able to play it.
In total, 20 categories are presented here, including movie guessing game app section. Before starting the game, users select a category and start around. A word is displayed on the screen. A person should attach a smartphone to his forehead, and the rest hint to him the content of the word. The test subject must arrive at the correct answer as quickly as possible. Several game modes are available. A range of themes is presented for every taste: cartoons, singers, old series, celebrities, Pokemon, and much more!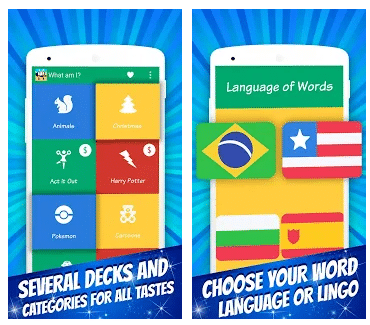 ---
Wordscapes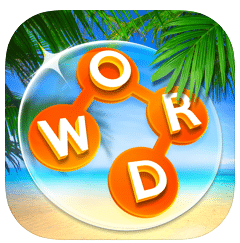 Introducing a fairly new guessing game app that has rapidly gained popularity among a wide range of users. The reason is that it is understandable to a large number of people. Everyone can guess words, but for a change, there are a lot of topics and difficulty levels. Nice design and user-friendly interface complete simple splendor. Almost 800 thousand positive ratings on Google Play are the main evidence of recognition. Almost 530 thousand high ratings on App Store also say a lot.
What kind of game is it? This is a simple kind of crossword puzzles that you can play inline or in transport. That is before us is a great way to kill time with benefit and pleasure at the same time. The user is given a crossword puzzle grid and a set of letters. He must combine the available letters to make up the words for the grid. The round ends when the entire crossword puzzle field is full. It seems easy, but you have to smash your head! In total, more than 6,000 playing fields of varying degrees of complexity are available.
---
Typeshift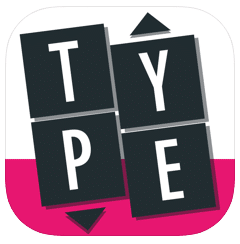 Another option of anagram guessing games (App Store, Google Play). It is much less popular than the previous one, but it looks quite intriguing at the same time! The user's attention is attracted at first glance due to the interesting visual design. The interface is clear at first glance, install and play! Management is also very simple in every sense.
The crossword puzzle approach in this application has been significantly redesigned. The user needs to search for anagrams in 3-5 words that add up together. This is an original and interesting concept that deserves the wide attention of users. We hope that the application will receive it soon.
New puzzles are added every day, it won't get bored. There is a lot of content in general. The difficulty of weekly puzzles is increasing gradually.
---
Wheel of Fortune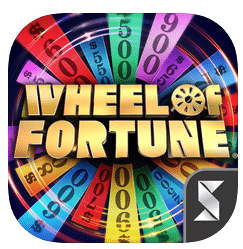 Welcome to one of the most canonical and recognizable quizzes of all time, which has been successful on TV for decades. The thing is in a very simple and exciting gameplay, which draws into its networks the first time, as the drum starts spinning. The mobile version contains a large database of questions, which allows everyone to train the brain. Users have the opportunity to play alone, or against other users. Each player receives detailed statistics of games at the same time. New questions are replenished in the application database every day. This encourages the person to enter the game regularly for a new round of questions. And playing with friends is especially interesting! This is the official app of the American television show of the same name, and it is available to all users for free without restrictions.
---
2 Emoji 1 Word – Guess Emoji Word Games Puzzle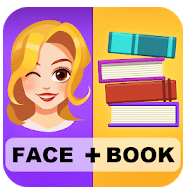 We also present a rather simple, unobtrusive, and sweet guessing picture game app in every sense. Victory here will not need extra effort. The mechanics of the game are very simple. The user sees two emojis, and he must guess the hidden word that is associated with these images. The game has several difficulty levels, and the user needs to gradually pick up more complex puzzles. In total, over 400 game levels are available for this guess words from pictures app. At the same time, developers are always ready to help players with advice in the implementation process. The answer must be made in a special field using the available letters. Nice graphics make the game interesting to a wide range of users, and a convenient user interface is so comfortable that every function of the game is obvious at a glance. It is impossible to get confused!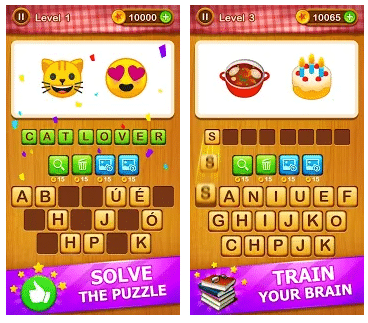 ---
Four Letters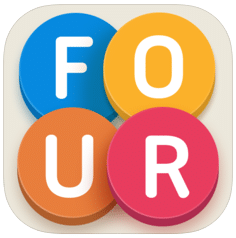 The most fascinating is often hidden in the simplest. This game serves as the best practical illustration. The mechanics of the game are extremely simple. Forget about the guess the phrase app here. At the beginning of the round, the user sees four letters. He can move them. The task is to make a word out of them as quickly as possible. Continuing to make words from letters, the user receives points. The more rounds passed, the greater the final score. The difficulty level increases with time. It only at first glance seems four-letter limitation. After some time, players are convinced how rich and diverse the language can be. In addition to the entertainment component, this is a good way to stretch your brain. The developers of this game where you have to guess the word also offer players to compare achievements, and each user can get into the top, which everyone will see. If necessary, the user can familiarize themselves with the dictionary of words that were compiled by him during all the rounds played.
---
Word Search Puzzle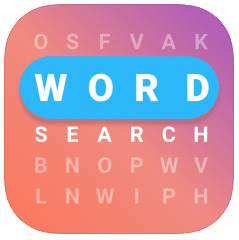 And one more guessing of the words app is more complicated in the end. Here, users see a large playing field, which is made in a very nice looking design. On the field, there are many letters that are made up of words. Each word is located in a straight line, the main thing is to find the location. The found word must be noted in order to get points. This is an easy way to improve vocabulary and mindfulness skills at the same time, not like popular guess the person app solutions. The meaning of the puzzle is simple, but it attracts attention at a glance. In total, there are three difficulty levels that differ in the content of the dictionary. Also, users have access to two game modes. Blitz requires you to guess the words within a given period of time, and the Marathon allows you to not rush and guess for your pleasure without limits. The number of puzzles is unlimited. All words are structured in 50 categories for convenience. Developers of this game that you have to guess the word add puzzles every day. If necessary, the user can rely on the tips of the developers during the game. In addition to the beautiful design mentioned, it is worth mentioning an intuitive interface, high-quality graphics, stylish animations, and the presence of a night mode.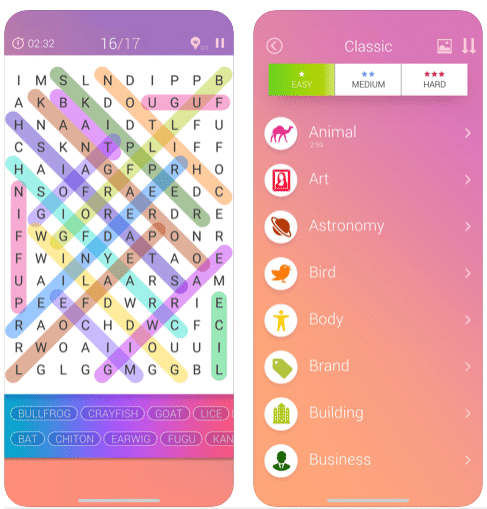 ---
Game where you have to guess the word
The range of games guesses the word is very large. There is an almost unlimited number of game rules, and this opens up a huge variety of choices when there is a request for such entertainment. Having experienced one game, the user can switch to a new one, and this will give him much more time for a unique experience. The main thing is to choose well-rated applications. A lot of them. But not only the head guessing game app options.
Conclusion
Google Play and App Store contain quotes for every taste. This is noticeable by the variety of games in the presented selection. But that is not all. One has only to study the popular app stores, and there is still a lot of unknowns, but no less interesting. Happy discoveries to all! For example, check all the Ellen guessing game app options.