What do people do when they get together? They do not need to ask unnecessary questions when everyone knows each other well enough: there will always be topics for conversation, and often people have common interests. Someone plays board games, others prefer karaoke and so on …
However, there are other companies of people who met at the same time and in the same place with the firm intention to relax and spend some time. These are those who meet for the first time through mutual friends unfamiliar with the rest as a whole. If nothing is done, then friendly gatherings will most likely last in an atmosphere of awkward silence. It may not last all the time, but it is sure to happen. Can such situations be avoided?
How to turn the channel of communication into fun for everyone? It is enough to find a simple and understandable lesson for everyone, which everyone will take on an equal footing, will be interested, and will be able to participate. Then everything will be drawn into the overall gameplay, and the dialogue will begin by itself.
What can be offered in this case in order to hit the target at 100%? For example, board games are good for guessing words. One of them has gained wide popularity recently. We're talking about game that you put phone on forehead. One user guesses a word, person, or character. A person holds a card with a word on his forehead so that he does not see it, but everyone else knows the answer. The player asks assumptions that the other people reject or confirm. He needs to guess the word over the head as quickly as possible.
This can be played quickly, fun, and without preparation. Enough sheet of paper and marker. A person can do without them using a special application. An overview of the best game that you put your phone on forehead for Android and iOS is presented in this article.
Heads Up!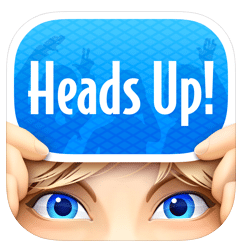 This is the most popular game with cell phone on forehead in Google Play and App Store, and one of the most popular mobile board games on these sites in general. And there are many worthy reasons why someone should stay here in the first place.
This is an app that is verified in all respects, which is associated with applications from Ellen DeGeneres. This is a popular TV presenter and host of an evening show in the United States, who often plays the same guessing game with guest stars. Now everyone can play exciting games without preliminary preparation!
This game played with phone on forehead has a very convenient and intuitive interface. The design is pleasant and complements the overall convenience. The range of game tasks is very large and diverse, and this is a guarantee of fun. The user can play with any number of opponents at the same time, and game recordings can be exported to social networks. In total, more than 40 game decks on the themes of celebrities, films, characters, animals, and much more are available here. Give it a try! But do not forget that further on the list a lot of interesting things are presented.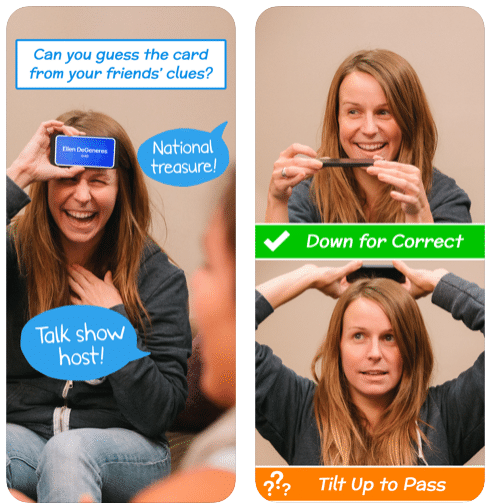 ---
What Am I?
Continuing the mobile phone trivia game on forehead list! This is another cool charade that offers users a lot of interesting puzzles. Everyone will be able to relax with easy words and break their brains over clues more difficult. There is a degree of pleasure for everyone.
The application is completely free, and it is intended for hanging out with family or friends. Here are a lot of words that the user needs to guess with the phone on the forehead. It is enough for the player to "draw from the deck" a new card, put the phone on his forehead and start narrowing the circle of possible answers with the help of leading questions. Other people in the circle see the answer, confirm or deny the assumptions of the first. The game is carried out in turn, and each person in the circle needs to guess something. The task is to guess the words as quickly as possible. The person who guesses more words for fewer questions is the winner.
In total, more than 20 game categories for every taste are available in this put phone on forehead game. The application is available for all Android users.
---
Charades!
Moving on. We present another very popular game you hold phone to forehead in Google Play and App Store, which is noted by thousands of high ratings. And it is rightfully deserved.
Here is the same game mechanics as in the applications above: the player draws a card with a word, holds the phone at his head, and asks the rest leading questions to find the answer as quickly as possible. A winner is one who answers more words.
An important advantage of this app with guessing game with phone on forehead that sets it apart from the crowd is its simple yet cozy design and visual style. They give special convenience to the gameplay. Each person will understand the functions on an intuitive level in a couple of clicks.
The user can play with an unlimited number of opponents at the same time. The catalog of topics is very large, and there is a lot to find everything for any interests. In total, about 50 game decks and hundreds of cards are available.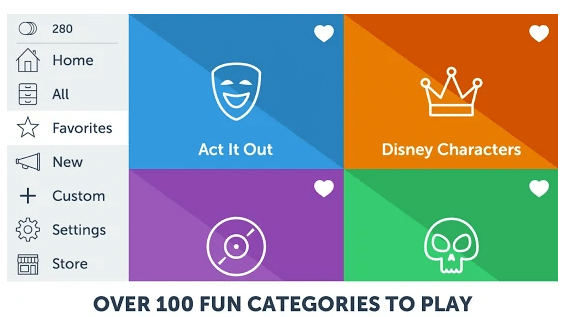 ---
CharadesApp
Another phone on the forehead game with a catchy and vibrant visual style that captures attention at a glance. If someone installs, then it will become impossible to break away from the game and choose other options! Users can access a large catalog of charades for guessing on the forehead. Diverse topics are presented here in a wide range of complexity and interests, and this makes the app universally popular. A large number of users proves this thesis as well as possible.
This game on cell phone on forehead is available in different languages, and it has an army of fans from all over the world. Game mechanics are similar to the applications above, and here I want to note primarily the high quality of technical implementation.
This is a really cool way to spend any holiday or meeting in an informal setting fun and active. This is possible regardless of whether we are talking about a family meeting or an evening in the company of friends.
---
HeadBang!
Here's another good version of a phone forehead game! A smartphone is all that is needed to start the game. Download and install the application for free (available for all Android gadgets), gather a company of friends or relatives, and play. The rules are the same: choose a thematic deck, stretch a word, attach a smartphone to the forehead with the screen facing out, and start asking suggestive questions about the hidden word. Other people in the circle may confirm or deny the statement. So, the player is gradually moving towards an answer. The faster it guessed, the better. Next, the movie goes to another person. The one who guesses more words on his own wins. Video gameplay can be recorded and quickly published on YouTube. It can also be quickly posted on social networks or sent via email. This variation of Ellen's heads up app free is available not only in English.
---
GuessUp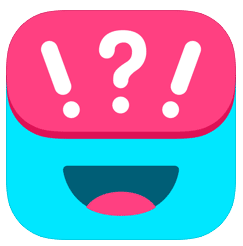 Mobile game developers do not cease to please us with a stream of good options for Head Up! This Ellen heads up app version takes its rightful place among the rest. Several thousand high ratings on Google Play confirm this and serve as the guarantor of a good choice for a pleasant evening with friends.
The game mechanics are the same, and the technical implementation is at a high level. The developers paid special attention to the content, and there are many diverse topics and words of varying degrees of complexity. Fun and puzzles are for everyone! This app is available in several languages. In addition to English, it is Spanish, Portuguese, Brazilian-Portuguese, Italian, and French. This defines the wide geography of users.
This Ellen Degeneres heads up app variation is free, but has built-in ads. Buying a VIP version allows a person to remove ads, and also adds bonus decks. The gameplay can be recorded on video with the ability to quickly export to social networks.
---
Head on Point
Another game like Ellen app game heads up: much less well-known, but also worthy of attention. The player has a set of words that are held at the forehead. He does not see them, but the others see. The player asks suggestive questions, and opponents confirm or deny them. The more words guessed by the total for the allotted period of time, the more people get points. Each person in the circle repeats the action, and the one who guessed the most words becomes the winner. Everything is very simple and fun. This is another good heads up app (free) for a party or gatherings with family. Also, such a game is a good way to train wits and quick wits. As they say, we combine business with pleasure. The rules are obvious, and the interface is intuitive. In total, 8 main categories are available, as well as two additional sets of cards. Six languages ​​are available for the game. Everyone can play in four different modes, which differ slightly in the rules. And most importantly: this is a free game, and there is no advertising!
---
Charades (50+ Categories)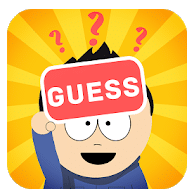 Who wants more content for the game? This heads up game app (free) will be able to satisfy the needs of even the most demanding gamers. Get together in a fun company of friends or in a family circle and guess words in dozens of diverse categories. There are interesting topics for everyone. The variety of tasks is very large, and this is a guarantee of exciting, lengthy gameplay. This is a great way to pass the whole evening and have a nice chat. Users can play against an unlimited number of people at a time. The interface is very simple, intuitive, and technically perfect. Users can also create their own sets of puzzles. Available for all Android gadgets.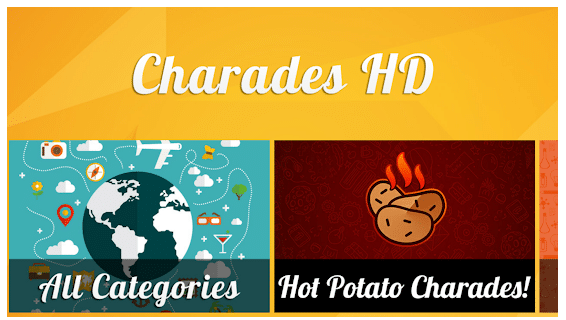 ---
Guess It!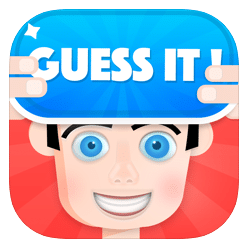 We are close to completing this list. And at the very end, we offer another quite popular game of this genre with hundreds of positive ratings. Many different categories are presented here that are unique to the content of other popular free heads up app for iPhone & Android options. And that's a good reason to choose Guess It! Who knows, maybe this is where the perfect game is stored? In any case, the answer to this question is best sought in a fun company. The more people, the better, because there are no restrictions on the number of participants. Choose a deck, start the game, and guess the words for a while: this is all that is needed for a good mood. This game you hold phone to forehead is completely free, and the interface here is very convenient.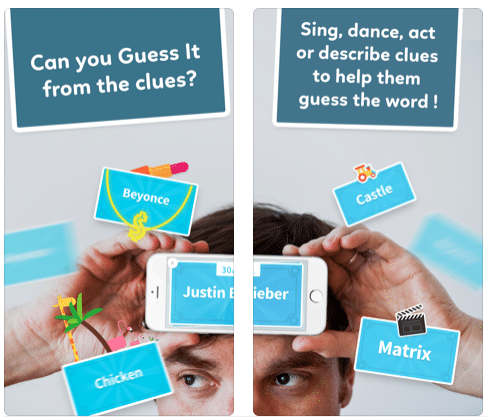 ---
Conclusion
We thank everyone for introducing this cool game and the best free apps like heads up. In summary, the developers offer users about the same set of features. This means that the choice should be made based on the available game decks and the convenience of design. Enjoy the game everyone!