Text messaging is still a popular communication tool that lots of people choose as opposed to a phone call. Despite the era of instant messengers and fast Internet, a huge amount of SMS is sent around the world. And today, the user has a simple and quick tool for sending text messages, if he installs a special app. Top Android SMS apps are presented in the list below. Here's a list of top 10 SMS apps for Android.
Android Messages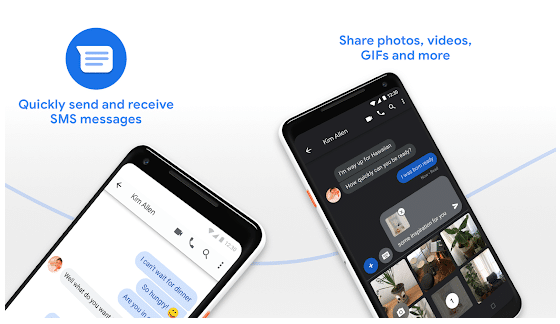 Let's start the list of top rated SMS apps for Android with Android Messages. This is a simple and effective tool from Google, which can be considered an industry benchmark for the rest. The application offers several nice themes, as well as powerful tools for searching, organizing and backing up information. All functions are presented very simply and conveniently, and Google is constantly developing the product. An additional plus is that the program supports the web version. Available for all devices on Android.
---
Facebook Messenger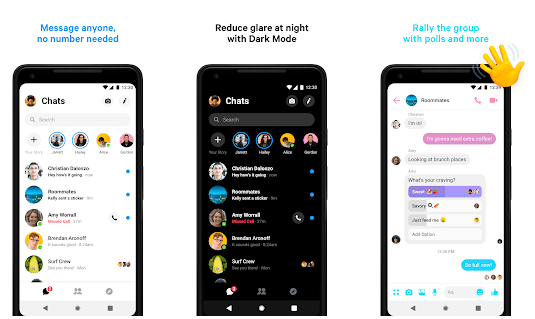 FM is a popular application, but it's hard to recommend. It strongly absorbs battery power, consumes memory, annoys with advertising and spoils the user's life by any means. However, here you can enable SMS support, which is implemented very conveniently, and it can be used with a regular need for this. That is, the application is great for certain situations and can be placed in the top SMS apps' list.
---
Mood Messenger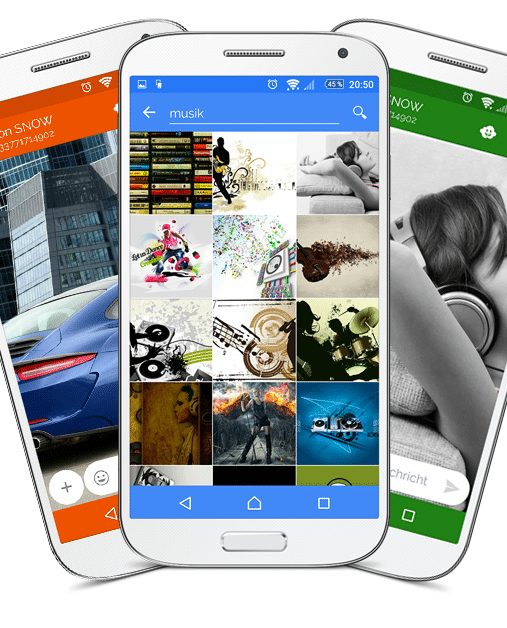 Mood Messenger is a nice top free SMS apps' category solution developed exactly for the purpose. This means that the developers set the main goal to create a convenient user experience for sending SMS through the application, and achieved this. Many useful functions are implemented in a simple and convenient working format. The user can send any SMS, MMS and other things. Pleasant additions are the theme for evening time, as well as the blacklist function for spam mailings. Data can be copied, restored or encrypted. A number of additional features open when paying for the full version.
---
Pulse SMS
What's the better SMS app (Android)? Pulse SMS rightfully takes pride of place among these best text applications. At first glance, it is indistinguishable from any standard application for sending SMS. The main feature is the server-side for sending text messages from user's PC, tablet and other devices. Pulse SMS works with device devices with two SIM cards, offers blacklists of numbers for blocking, provides backup and reliable storage of messages, and much more. Most of the functions are free, but full functionality is available in a monthly payment package, or with a lifetime purchase of the application.
---
Signal Private Messenger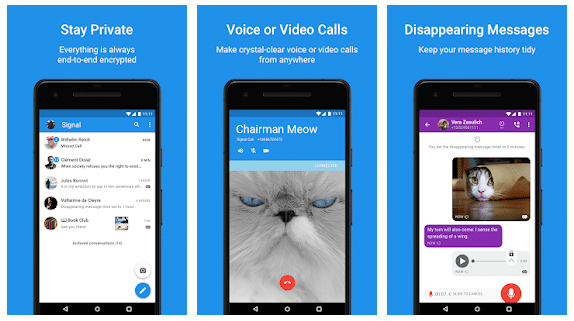 Signal Private Messenger is a simple and functional, fastest SMS app (Android) that is similar to most known instant messengers in design and way of working. SPM is also characterized by the presence of smart data encryption, provides group chats and correspondence without SMS. Available open-source and the audio calls feature. Available for all devices on the Android platform.
---
Yaata SMS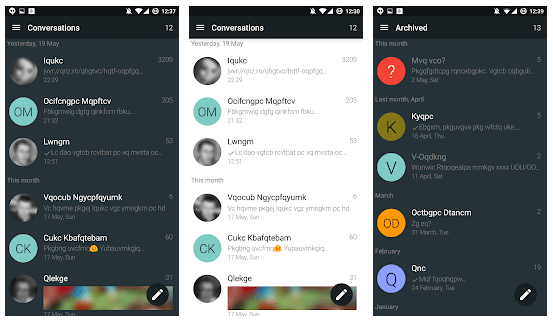 YAATA SMS is considered one of the few high-quality simple SMS app (Android) options in every sense. The application is equipped with all the necessary functions and even a little more: access to group chats, pending messages, and full MMS availability. These are all the features of the free version, which is already not bad. The inexpensive full version gives users access to an SMS blacklist, an answering machine, automatic forwarding and the option to backup and restores data when replacing a device. The simple and pleasant design resembles Facebook products at their best.
---
Text Free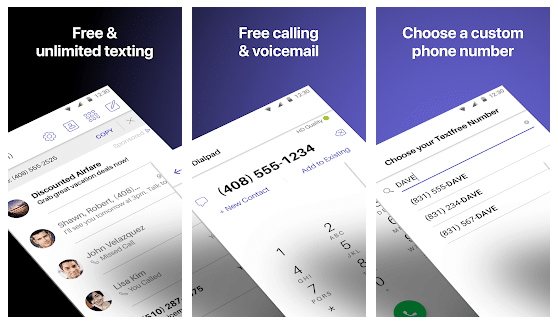 Text Free is one of the most popular and lightweight SMS app (Android). The application is quite minimalistic and follows the implementation of the main declared function, for which it is appreciated. The user must register to start correspondence with people. Available and free calls from the application with a limit of up to 1 hour per month for free. Additional services are subject to a small monthly charge. Focused on the US market, but also supported worldwide.
---
TextMe Up
TextMe Up is an almost complete analog of the previous tool and this is another one best SMS app (Android). To begin with, the user saves the phone number in the system to gain access to the message sending function. The application is free, but there is advertising. It is possible to make phone calls. Affordable weekly and monthly paid subscriptions are available that gives unlimited access to calls and remove ads. Free messaging is available within the USA and Canada only.
---
Textra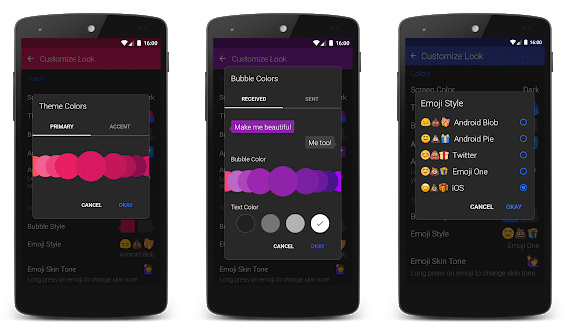 Textra SMS experts call one of the most reliable text applications in the list of the best. It is this fact that determines its popularity. And an additional feature is the incredibly stylish design. It is simply pleasant to work with it on a regular basis. Many themes are available with a choice of color settings, night mode. Also, the functionality includes everything necessary for full-fledged work: push-up notifications, delayed sending, best Android SMS backup etc. It includes direct support for Android Wear, Pushbullet, MightyText and others. The professional version includes several additional features and it is inexpensive.
---
QKSMS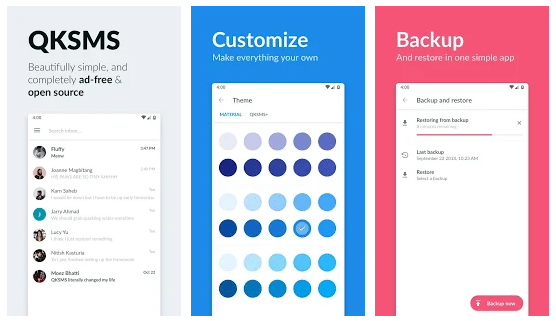 QKSMS can be called the simplest of the best alternative SMS app (Android) category. A simple and clean design serves as an explanation, although the functionality is quite extensive in comparison with other high-quality alternatives. Users can blacklist other contacts, include confidential settings, connect Android Wear and so on. An added bonus is open source. The application is fully functional for free, and several additional functions can be opened for a donation.
---
Thanks for checking our top 10 Android SMS apps' list and hope that you found the option to choose!