Developers pay a lot of attention to the sound and music component of gadgets. If you have a modern smartphone, it will be impossible to resist turning it into a portable music center full of your favorite music. But you need good music software for this. What can be installed on a smartphone or tablet so that everyone's favorite music can be heard from the speaker? (And even more: so that the user can make new musical discoveries and stay in the center of events.) Let's take a closer look at the most popular music applications available for download in popular app stores.
Pandora

Pandora is considered the most popular music streaming application. The biggest reason is that countless people say so.
The owner of this trending music app discovers a real new world of exciting music of any genre. It is enough to type a favorite artist name to get a very accurate set of recommendations. Just a couple of clicks will help each person to update the daily playlist with a hot sound. Or lounge, whatever. Here is also a feature for setting ratings. On its basis, a further system of recommendations is developed. The user can create a catalog of the favorite music of the new music not to forget to listen sometime later. Radio stations are available for listening, as well as a desktop version. The application is free for all popular platforms, and this is not only about iOS and Android, but also Windows Phone, Kindle Fire etc.
---
Audiomack Music & Mixtape App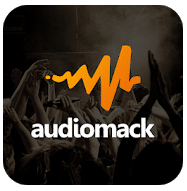 Audiomack Music & Mixtape trending music app offers a convenient search for music by preference, compiling playlists and listening. All this is wrapped in a convenient interface. It is a very thoughtful search by genre, and to find new items and the immortal classics of any kind of music is easier than ever.
A great advantage is that both an ordinary music lover and an erudite music lover can find a place here. This means that the database contains songs of famous and little-known performers. Music is clearly structured by albums and collections, which makes searches simple and accurate. Top music section makes great interest. Here the user can find trend preferences of listeners from all over the world.
By the way, all music is available for listening for free, and many songs can be downloaded for listening offline in the app. The user will not even have to register. There are some ads, and the app includes a paid version without it. This is a trending music player for iPhone, both with Android devices.
---
Spotify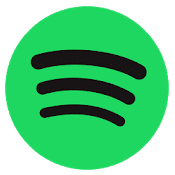 Spotify is the most famous brand in the world of streaming services of the 2010s. It is very easy to find here a lot of amazing music for every taste, creating a radio station for personal preferences. Another option for finding music is collections and ratings of interesting music from different genres. Here is real to find interesting content for fans of any genre. The user can share the collected playlists with others to demonstrate their personal musical taste. This reason is the backbone of the Spotify's popularity. An important role related to the notification system. Users will see notifications about new tracks and albums of favorite musicians almost immediately.
All the basic functions of the application are available in the free version, but there are some limitations. Buying a paid subscription will allow the user to hide ads, download music to listen offline, play music at any convenient time, and so on. Spotify is available for Android and iOS, as well as a number of other platforms, including the PC version.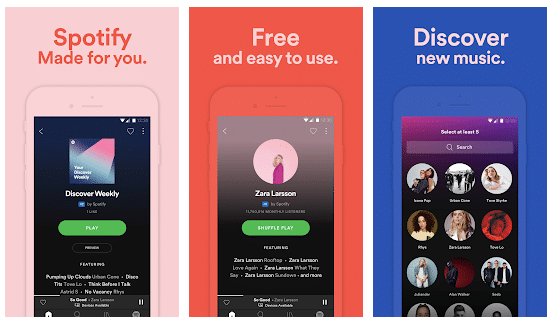 ---
PlaYo – Free Music & Radio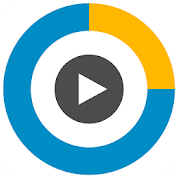 PlaYo – Free Music and Radio is a totally free trending music app for making lists of your favorite tracks and creating playlists without restrictions. Here is a lot of trendy music, so the user can stay up to date with the latest innovations day by day. Millions of songs are waiting for listeners without advertising breaks. PlaYo – Free Music and Radio include a lot of well-known and little-known music. This is possible through agreements with major labels, along with services like SoundCloud. Juggle genres and recommendations, playlists and albums to create a unique mix.
Also, a person can use the application as an ordinary music player. Just download music from the phone's memory and listen! Built-in radio station will help to find something interesting in addition. It also works well with other apps in parallel. PlaYo is a trending music app for iPhone and Android phones.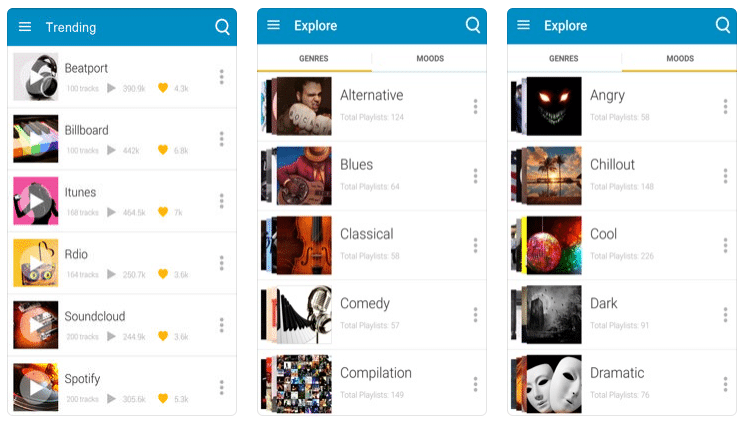 ---
LiveXLive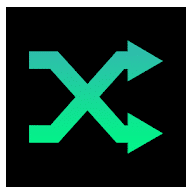 LiveXLive trending music app has a large collection of music streams of various genres. Music lovers of any order can find here the purest oasis of sound for every day. Radio stations have a very flexible preference setting, and the user can specify the exact format and extent to change the flow of music. Anything can be saved with quick access to the user's favorites list. Users can also follow the music that has been played recently.
In general, users appreciate LiveXLive trending music app online for the ability to listen to music without registration, quick access to any playlists, flexible setting of music bitrate and the availability of music news notifications.
There are a few differences between the free and paid versions of the app. The free version contains ads, does not allow playing music offline and does not allow skip a lot of tracks while searching for interesting content. The Premium version has no such restrictions. Available on all popular platforms.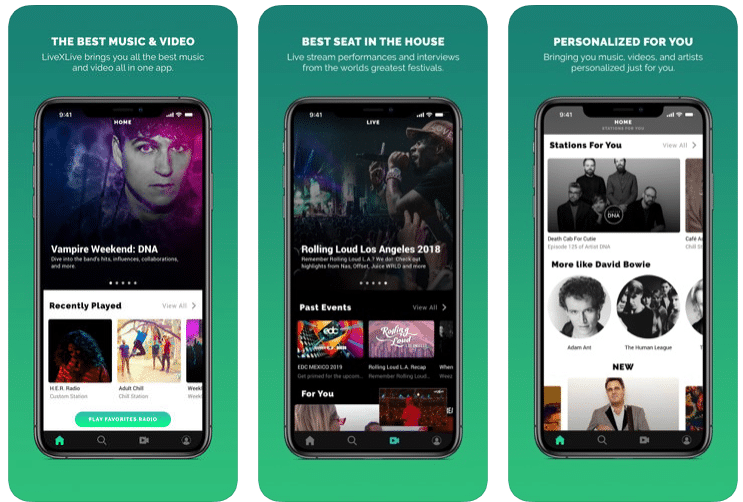 ---
Lark Player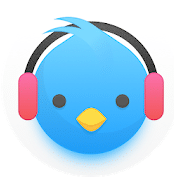 Lark Player is a handy trending music app with conveniently collected music from YouTube. Millions of songs for every taste in a convenient interface that are available in a couple of clicks.
It has a powerful search engine for genres, songs, albums, singles and so on. There are a lot of genre playlists in the app, which is constantly updated quantitatively by moderators. They are constantly updated quantitatively at the same time. A separate section includes information on charts around the world: listen to what is popular in all parts of the world at the moment. There are several design options available for the interface to choose from, as well as a high-quality bitrate. The application can be hidden without stopping playback.
There is no possibility to download music, unfortunately. And this is a trending music app for Android only.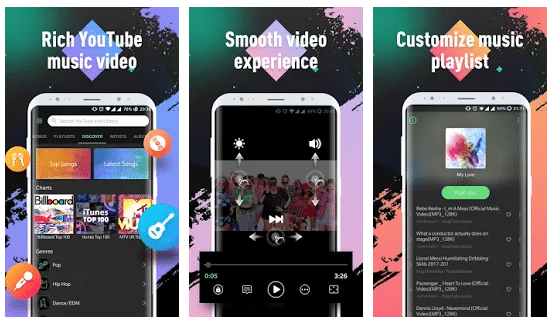 ---
TuneIn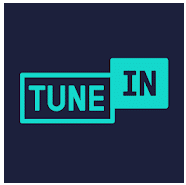 TuneIn is a cool free solution for radio lovers. This is a simple platform for listening to local radio stations anywhere in the world. TuneIn is widely demanded by travelers.
Here are smart search tools. It is enough to enter the name of the artist or genre to get working radio stations in any country where you can hear the songs. The user can select the chosen radio station from the list to listen without restrictions. Podcasts and sports radio stations are also available.
TuneIn includes a premium version that provides the ability to record live broadcasts. Also, the premium version removes ads. This is a trending music app for Android, iOS and all the popular platforms.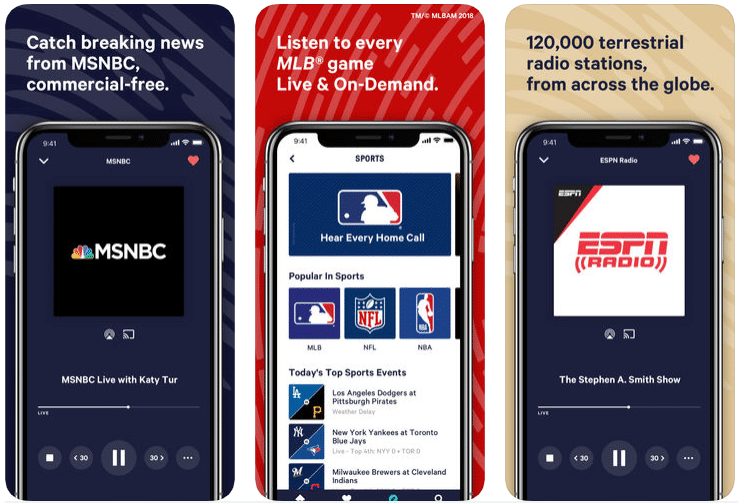 Download app (all platforms): https://tunein.com/get-tunein/
---
We hope you'll enjoy favorite music with these apps and discover a great amount of interesting track. Have fun!