Microphones are designed to convert sound into electricity to transmit information in the form of a signal. We use them for a huge range of everyday tasks, ranging from talking on the phone (microphone in a smartphone), and, for example, ending with karaoke. And here lies an interesting detail. A standard hand-held microphone is not always at hand, but it is desirable to have one for singing. But this does not always happen, and the same smartphone may be an alternative solution. This also applies to the wireless connection via Bluetooth to external devices. How to use the smartphone correctly in this case? A person will need a special bluetooth mic app tool. The best karaoke microphone app options for Android and iOS in this category are reviewed below.
EZ Voice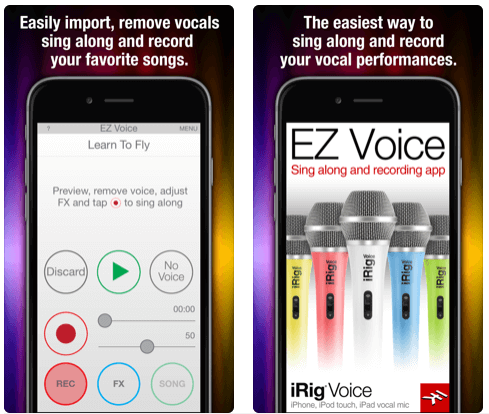 So, how to use phone as microphone Bluetooth? Here's a multifunctional bluetooth microphone app that surprises with a set of user options. This is a unique solution for the practice of singing and recording, karaoke singing and much more. A voice filter will help clear the track of unnecessary noise. Also, the application allows the user to clear the finished song from the voice so that the user can practice singing under the backing track. An additional volume of functionality is given by sound effects for modulating voice. This is a huge platform of opportunities for everyday vocal training for everyone. The interface of this bluetooth mic app is very simple and intuitive.
---
Microphone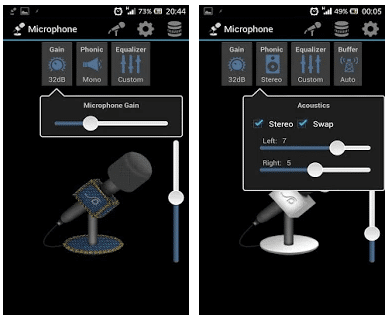 The microphone from Wonder Grace is a very simple bluetooth mic app that lacks functionality by analogy with the previous item on the list. Here the focus is only on the main task, but the application allows you to turn any smartphone into a microphone with high quality and clear sound in any conditions. Everyone can use this bluetooth microphone app (Android) in force majeure situations for any professional tasks. Support for mono and stereo channels, as well as widgets for connecting to third-party devices is available here. The settings are represented by a flexible equalizer, a choice of a linear output, and a frequency setting.
---
WO Mic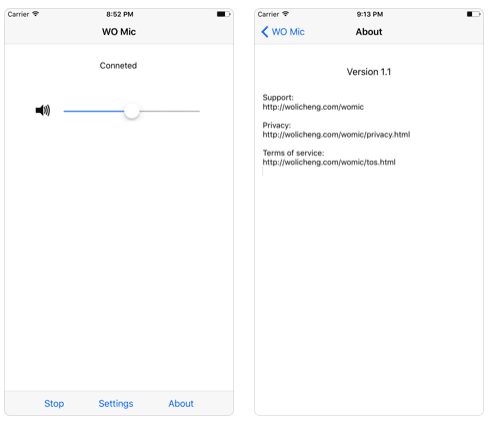 WO Mic is effective as a wireless bluetooth mic app. It is widely used for audio recording tasks, as well as making video calls. Flexible settings for connecting to external devices are included. In addition to Bluetooth, WI-FI connection mechanisms and wired USB integration are implemented here to use iphone as bluetooth microphone. Users also note a high degree of stability and accuracy of the application, along with a useful option to automatically connect to external devices during their emergency shutdown.
---
Microphone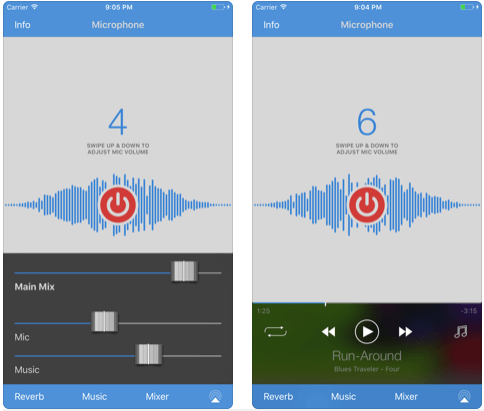 Microphone by Von Bruno is one of the most sought after and widely recognized bluetooth mic app solutions in its category. This is a simple and reliable bluetooth microphone app for iphone that provides wireless microphone emulation on a smartphone to enhance voice through external devices. Users note the maximum ease of use at every step, as well as high sound quality, taking into account the state of the microphone on a mobile device. Among the pleasant amenities, it is worth noting the quick on and off microphone on the application's home screen, flexible volume control, and additional effects.
---
Microphone Hearing Aid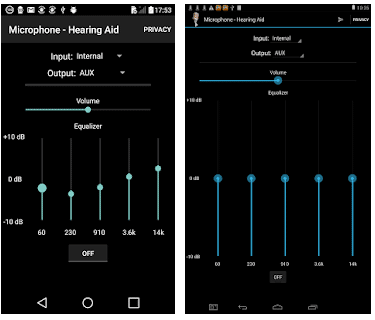 Another simple bluetooth microphone karaoke app that developers provide to all people who need to turn a smartphone into a simple and reliable microphone with a wireless external connection. It can be quickly connected to external devices and used for vocal practice or voice enhancement. Flexible settings are available, including an equalizer and volume control. The sound quality is very high regardless of user circumstances. This  app for bluetooth microphone is available for all Android users.
---
Microphone Mic-to-Loudspeaker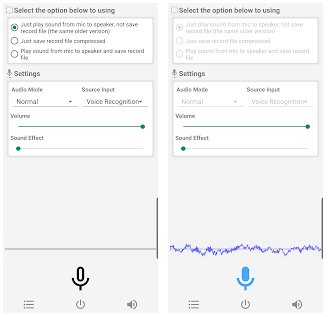 What about another best karaoke app for bluetooth microphone?  This is a typical application in its category, but only at first glance. If you study in more detail the capabilities of the microphone emulator, then the smartphone becomes a very powerful ally of a person. Among the unique features, it is worth noting a unique algorithm for filtering external noise, additional operating modes taking into account the surrounding situation (talk, meeting, theater and sports modes). External devices can be connected remotely or by wire using the USB port for this bluetooth karaoke microphone app.
---
Megaphone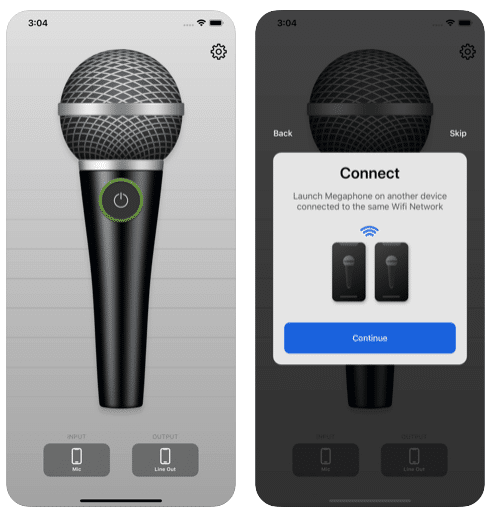 Megaphone is one of the simplest and most minimalistic solutions to use iphone microphone bluetooth. This karaoke app to use with bluetooth microphone offers standard functionality in a very simple visual and functional package. Understanding the application will not be difficult even for a child, and the sound quality will turn out to be very high without taking into account the technical condition of the smartphone and external means of connection. There are several ways to connect to external devices, including the wireless option.
---
AirMic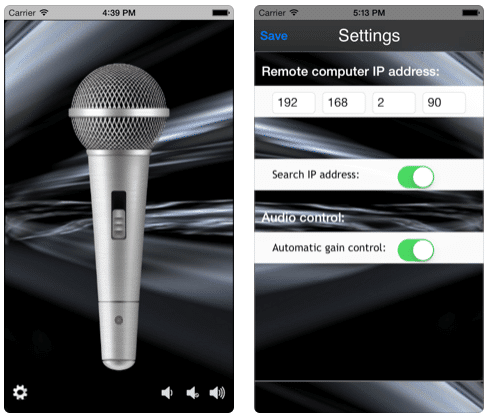 Another full-featured, but simple in every sense wireless karaoke microphone app for all iPhone and iPad users. This is a tool for transmitting sound remotely to external devices as a microphone, which can be used for professional purposes as a force majeure solution to the problem. A big plus of this best bluetooth microphone app is that high quality sound binding is ensured over a long distance between devices. The developers emphasized the high quality of the technical component of their solution and won. It belongs to the category of premium solutions in its category. An option is available to use phone microphone bluetooth for several (up to four) iPhones to one external device at the same time.
---
Microphone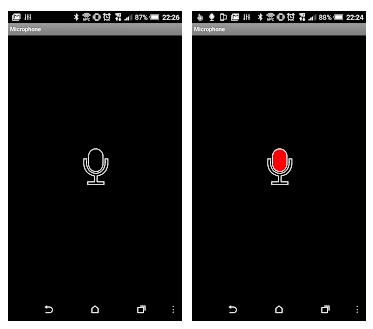 Microphone by Gaz Davidson provides the solution to the main task of the user in full. Connection is available wired and wireless. The sound quality is very high, and the application can be used not only for karaoke singing but also for professional purposes as a temporary replacement for specialized equipment. A huge number of users note the merits of this application, which is confirmed by ratings in the store. An additional plus is the simple and intuitive user interface.
---
Announcement Mic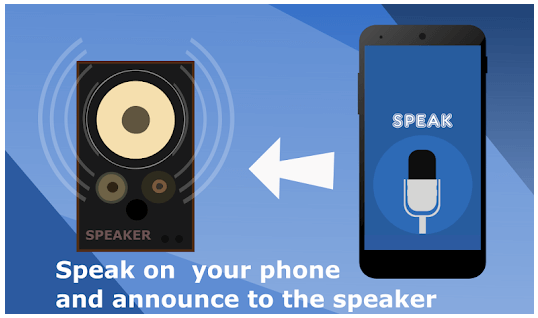 Let's end the list with another primitive at first glance, but valuable bluetooth mic app for android. This is a simple and free way to voice and amplify your voice using the microphone on your smartphone and broadcast it to external audio devices via wire or wireless. It is enough to install this application and start using it for domestic and even professional purposes, use phone as karaoke mic, etc, as the developers guarantee high-quality sound.
---
How to Use phone as a Mic for Bluetooth Speakers
In fact, the mechanism is very simple, and this is clear from the application description above. The user must find a suitable karaoke microphone app for Android or iOS for emulating a smartphone as a microphone and install it. Next, just open the selected application (recall, the best solutions are presented in the list above) and synchronize with external devices in accordance with the instructions. Most developers guarantee an intuitive user experience to solve this problem. Synchronization is available wired via USB cable, or wirelessly. The most common wireless options are bluetooth and Wi-Fi.
Conclusion
Let the list of karaoke app bluetooth mic options presented above help everyone in everyday tasks of voice amplification and its broadcasting through external devices, and professionals will solve their current problems with standard equipment. Our list of android record bluetooth microphone solutions will satisfy the needs of every person.