It is important to keep the activity of the human brain in good shape every day. This helps in the efficient execution of everyday tasks, as well as in situations where a high level of concentration of memory and attention is required. But how to do it every day and easy? Simple exercises are really useful. And in popular app stores, there are many interesting ideas on how to train the memory of any person. The most interesting and effective logic puzzle app solutions of various types are presented below. This is a list of various best logic games that entertain and develop the brain at any convenient time in any convenient place.
REBUS – Absurd Logic Game
REBUS logic games app takes its rightful place among the most popular and at the same time smart logic games that are available to Android and iPhone users. This is a combination of stylish design and smart puzzles, which helps to keep the brain in good shape all the time. Here are many interesting puzzles from pictures, letters, and symbols that need to be solved. The more people have vocabulary and erudition, the easier it is to guess the answers quickly.
What does it look like? Everything is very simple. The user launches the game and gets a visually bright puzzle on the screen. If the answer is ready, you need to enter it in a special field. Each victory brings the intellectual in-game experience points and rewards in the form of gold coins. The more coins a user receives, the more new levels he can unlock, and this is a typical situation for free thinking game apps.
---
Flow Free
Let's move with the top logic games for Android and iPhone further. Flow Free is more than just a collection of puzzles. This is an addictive arcade game with a simple goal in a pleasant visual design, where the user needs to connect dots of the same color with lines. It is important that the lines do not intersect during the execution of the task. Everything looks very simple, but the gameplay is impressive with originality and variety. Two game modes are available. Simple mode allows person to perform a task without any restrictions; passing levels with time limits is also available. In general, users love logic games (Android) here for colorfulness, simplicity, and intelligence in one package.
---
Brain Games – free puzzle pop mind games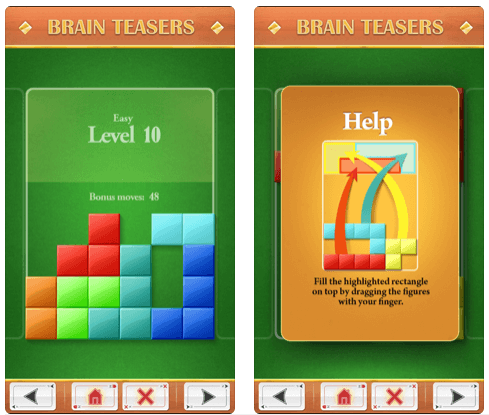 Brain Games is another fascinating set of puzzles from the category of free logic game apps. It will drag everyone into their networks for a long time. Many people will confirm how easily addiction is formed. This is a great way to kill time for the benefit of the brain and soul in any situation. The gameplay is extremely elementary, and the user needs to move the colored pieces into the playing field in the form of a rectangle. Over time, the complexity of the game increases due to a set of game items. In total, you need to go through 90 levels to the end. Some difficult levels require several days to find a solution, which must be taken into account in the process. Brain Games is available for all iOS devices, and this is one of the best logic games for iPhone at the moment.
---
100 Logic Games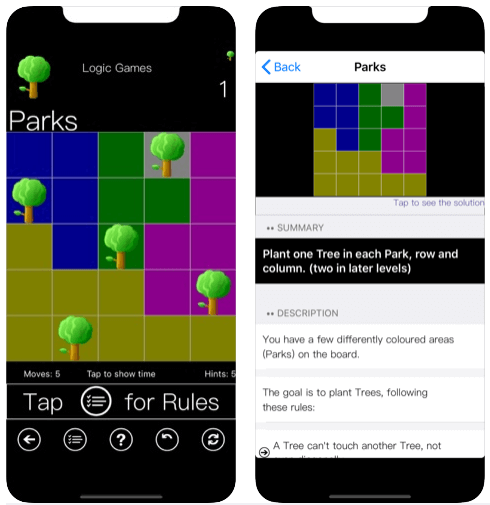 What about a lot of good logic games in one place? This is a breath of fresh air for everyone who is a big fan of crossword puzzles and sudoku puzzles. However, people should not expect these particular game options in the application. Everything is more interesting in this logic puzzle application, a lot of similar in meaning and fascinating puzzles with clear, but at the same time interesting rules. It is enough to take a little time to understand everything, and these games will absorb everyone for a long time. players are offered labyrinths, math problems, building skyscrapers and much more. Just free download logic games for Android and iOS here and then select a game from the directory on the main screen of the application to start playing. If the player is faced with difficulties in the gameplay, then he can use convenient tips.
---
Brain Games: Words & Numbers for Brain Training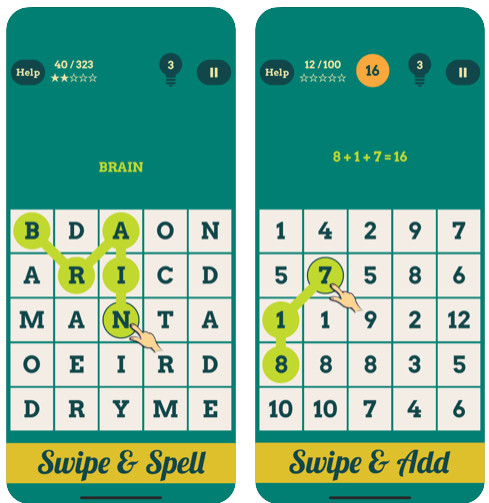 This application from the category of best logic puzzle apps is also available exclusively on the iOS platform, and it is developed by the same people as the second item on this list. The game presented in this case offers an interesting concept of mixing words and numbers. The game process unloads tension in the head and helps to cope with the current stress, and the game can take a little time. A positive effect will be the expansion of vocabulary and the strengthening of skills in mathematics. Two modes are available here. A word-oriented mode will require more erudition, and playing with numbers allows you to refresh your knowledge of mathematics in a very simple and convenient way. A simple and intuitive interface is important for mobile logic games and here it is a complement to the overall game concept of the application. The developers have added a large dictionary that can be studied if necessary for the verification of certain words.
---
Skillz – Logical Brain Game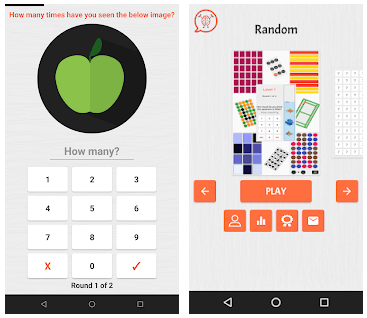 Skillz logical brain game (iPhone not included) is another way to spend some time is fun and useful at the same time. Perfect for sharing cognitive activities with adults and children. This game offers to learn to recognize colors and shades. Addictive gameplay can attract the attention of a user of any age. The gameplay is not tiring and addictive, and a wide variety of diverse puzzles maintains interest and involvement for a long time. For each successfully completed task, the player receives experience points and moves to new, more difficult levels. Multiplayer is available here with the ability to confront friends or random rivals. Skillz logical brain game levels supports from 2 to 4 participants.
---
You Must Escape
Let's look at more original and non-standard puzzles. This is the one from the best logic apps (Android, iOS) that will be interesting to everyone who loves classic quests. Those people who do not know this genre of games will also quickly become involved. And the reason is the perfect balance of all components. This is a game with simple and expressive graphics, which offers the task of finding the way out of the room with the help of an emergency door. The specifics of the assignment and surroundings are constantly changing, and this maintains user interest throughout the game. Developers have a lot of trump cards up their sleeve to surprise players from level to level. New tasks are added regularly, and the gameplay as a whole is quite complicated and requires a lot of attention. But each successfully unleashed puzzle will bring a lot of pleasure to the player, there is no doubt about it. These logic games (iPhone, Android) are free and have no restrictions.
---
Gears logic puzzle
This application from the list of the best logic game apps will make the player break his head and shake his brain, and this will be done in an interesting manner. Who is ready to remember the rules of physics and elementary mechanics? The gameplay is very simple: there is a free field and a set of gears of different sizes that need to be connected together. The user must apply the entire set of tools and make the structure rotate. Many levels of difficulty are available, from the most elementary to the very sophisticated and detailed. In total, several hundred levels are available, and developers are constantly replenishing the catalog with new tasks. This logic game puzzle app works offline without restrictions. And the graphics are very nice and realistic. It immediately creates a feeling of a real mechanism, coupled with animation.
---
Brain It On! – Physics Puzzles
We continue the topic of entertaining physics with this logic games app (Android, iPhone). This is another fairly complex thematic puzzle that requires serious brain effort. Users need to draw shapes on the playing field to move objects. To explain the specifics of the tasks as a whole is difficult since the levels are seriously different from each other. It is much better to try the game to understand its meaning and become loyal to the fans. Here there are a lot of diverse levels of varying degrees of difficulty, which allows you to hold the player for as long as possible. The catalog of levels is updated regularly in this logic puzzle app. Access to new levels opens upon completing achievements in current tasks. Each achievement is marked with an asterisk, which must be won upon receiving a certain number of points. Here are a lot of tricks that make the gameplay multivariate and unpredictable. Available multiplayer and the ability to share the results of passing games with the gaming community. Designed for Android and iPhone, and this is one of the free logic games for adults.
---
That Level Again
This is an original puzzle from the category of the popular logic games. It has a very original and stylish visual design. The player takes control of a character who is in the room. The whole room is studded with spikes and other dangers. The user must hold the game avatar to exit the team. Here, one game field is available, which the user can go through in dozens of different ways. This is what distinguishes the project from other logic puzzles (Android, iOS). The main character is immortal, and the number of passes is unlimited. All that is needed is to search for a new path and connect fantasy in the process.
---
Conclusion
The choice of puzzle games for mobile devices has virtually no limits. Users can find anything they want for every taste. And let the games listed here appeal to all those who like to kill time smartly and unconventionally. I hope everyone will find the games like trainyard, or games like cross fingers here.