Being in your best shape is important if you want to live a healthy and active life. Interval training is one of the most effective exercise options to keep you fit and having a modern timer app will make the process significantly easier. Once you install a stopwatch on your smartphone, you can make sure that you stay on track with your training and get the desired results quickly and with no stress. In this article, you will find the best timer app options to exercise with that can be installed and used for free.
What interval training timer app you need?
As you know, interval training is focused on the combination of high-intensity movement and rest periods between sets. For this reason, having an effective interval tracking timer on your device will help you immensely. You can set the stopwatch so that it beeps at 30 second intervals or choose other time frames depending on your particular exercise needs. Regardless of the interval exercise activity that you prefer, here are the best apps to help you get better results.
Runtastic Timer App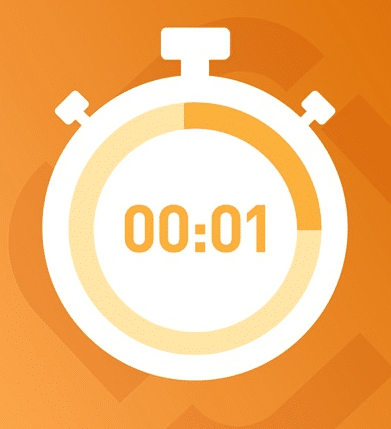 Runtastic is an excellent exercise timer app that can be used for any training where you need to keep track of your time, including HIIT, tabata, power, running, traditional, and more. With the help of this exercise timer interval app, you can easily create customized timers and use them during every workout session. In this way, you don't have to waste your time and you are ready to go each time you use the app. Whether you are at home or in the gym, the interval stopwatch app gives you an opportunity to create a personalized training system.
What is also great is that you get voice feedback concerning your intervals and there is no need to look at your phone while you are working out. The interval training timer app displays the remaining time and total time you spent during a workout, which is highly convenient.
The advantages of Runtastic exercise timer include the following:
Completely customizable timers that can be saved for later use
Voice guidance
An opportunity to set the duration and order of different phases (working out, rest, etc.)
You can choose a number of repetitions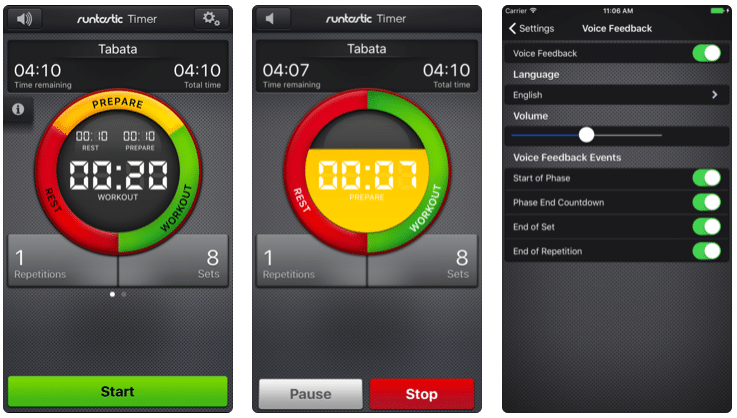 ---
Tabata Stopwatch Pro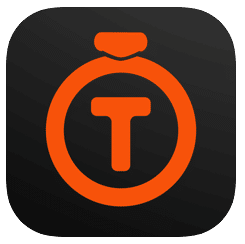 Tabata Stopwatch Pro is a convenient interval training stopwatch app that does a lot more than just keeping you on track when it comes to exercising. While it can obviously be used for setting intervals for Tabata, this exercise timer can be successfully used for HIIT workouts, functional training, running, and a lot more. If you are a fan of Tabata, you will appreciate the fact that this training timer app comes with a classic set so you don't need to adjust anything.
However, if you want to use this exercise interval timer app for other types of workouts, you are able to set the duration of the actual activity, recovery time, rest, or any other important steps. The app is easy-to-use and straightforward so it can definitely become a great addition to your practice.
The features of this exercise timer app are the following:
Set time for any step in your training
You can choose music for your workouts
It's possible to use it in a screen lock mode
Voice accompaniment
You can choose the signals that alert you about your time intervals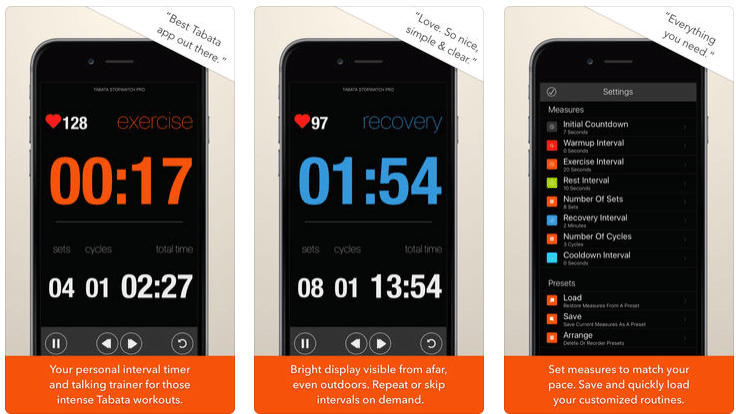 ---
Seconds Interval Timer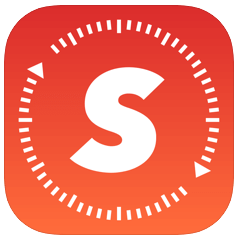 Seconds is widely considered the best stopwatch app for iPad and iPhone and it definitely has a number of excellent features. This app that beeps at intervals allows you to create your own timers and also comes with several templates for circuit training, Tabata, and HIIT. Similarly to other exercise timer apps, you will hear the interval names so there is no need to look at the screen.
With this interval training timer app, you can also match your music with intervals when doing your Tabata workout. The way it works is that you can use certain music for each interval, thus having more upbeat one for the active movement and have a slower track for your rest.
The features of this stopwatch app that beeps at intervals are the following:
Import and export of Tabata timers – you can share them with others or download
Coordination with music and voice guidance
Several interval templates for workouts
Seconds works with your display turned off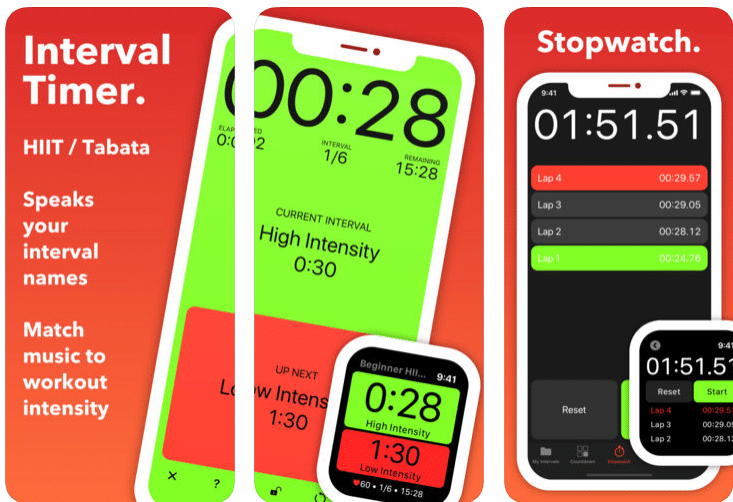 ---
Intervals Pro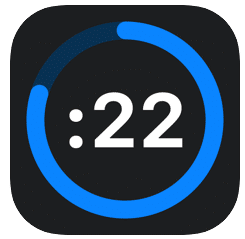 Intervals Pro is an exercise timer app for iPhone that is easy-to-use and makes your workouts go a lot smoother. The app can guide you through any activities that require set time intervals, such as running, boxing, circuit training, elliptical, HIIT, and more. This interval stopwatch app offers a highly customizable experience, so you can choose your alert sounds, timer types, interval names, and others, depending on your preferences.
You can play music while using any app on your phone and train at the same time. The exercise timer also has excellent Apple Health integration for even more opportunities to improve your workouts. It is considered the best stopwatch app for iPhone by numerous users because of its simplicity and a large number of functions.
This circuit training interval timer has such advantages:
Customizable timers with distance-based and time-based intervals
Apple Watch workouts
Can be used with the screen locked
A selection of training templates
Spoken alerts in different languages
Apple Health integration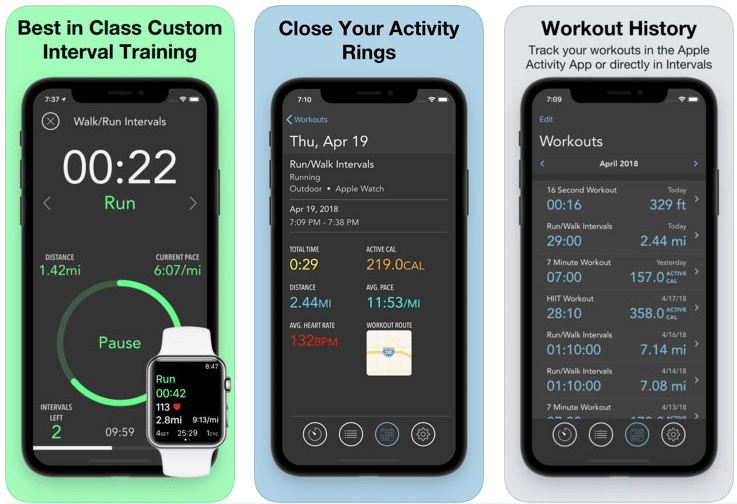 ---
Interval Timer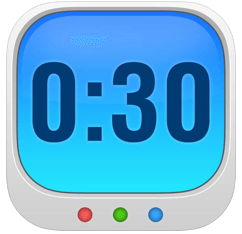 Interval timer is an exercise timer app iPhone that is a simple and minimalistic development that won't overwhelm you with a lot of unnecessary features. This free application makes it possible for you to add and save as many timers with particular settings as you need for your workouts. Regardless of whether you enjoy boxing, running, HIIT, cycling, lifting weights, or other activities, this app that beeps at intervals will make sure that you stick to your routine.
Just like other 30 second timer app options out there, you can have the timer running in the background or even when your smartphone is locked. This allows you to use other apps to play music or use other functions. Overall, it's a simple and effective app that brings you only what is necessary.
The functions of this countdown timer for exercise are:
Fully customizable exercise timer
An opportunity to save settings as templates
It's possible to play music while exercising
You can share your workouts on Twitter or Facebook
Can work in the background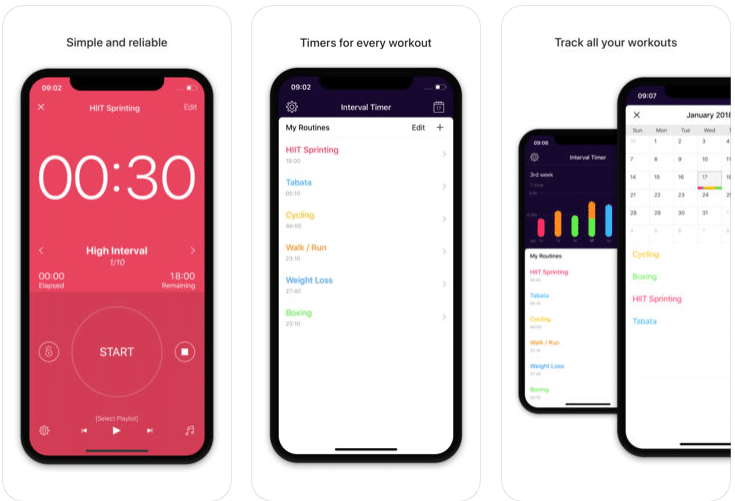 ---
Boxing Interval Timer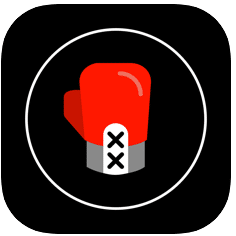 Despite its name, this boxing timer app iPhone can be easily used for other physical activities that require accurate timing. You can install this exercise timer for free on your smartphone and use to get better at MMA, boxing, wrestling, Muay Thai, and also workouts that are popular nowadays – Tabata and HIIT. If you are looking for the best stopwatch app for iPad or iPhone, this might be the one. You can set a timer for different training sections and also choose certain sounds for rest, preparation, warning, and more. You can even use colors to indicate different workout phases. This exercise timer app for iPhone can work with your display on or off, thus saving your battery. You can use Boxing Interval Timer as a 30 second timer app or set other time intervals depending on your specific needs.
The features of this app are:
Easy-to-use and simple interface
An opportunity to choose sounds for different phases
Full customization when it comes to time, color, and sounds
Running with the screen off is available
Allows you to create separate profiles for different sports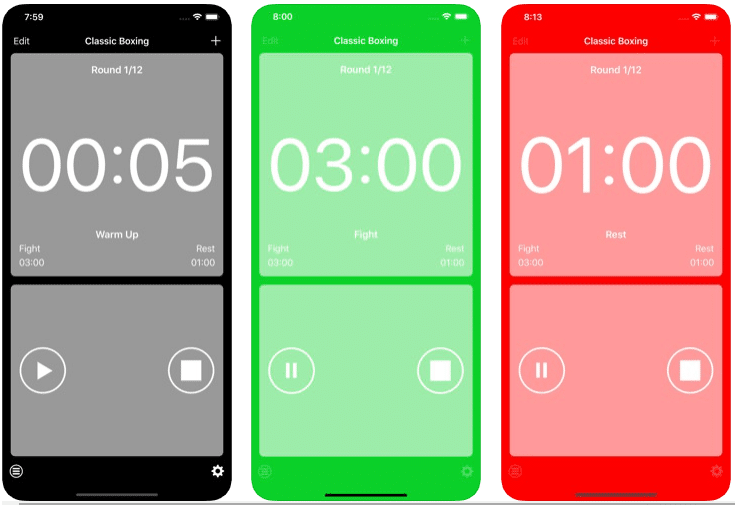 ---
Periodic Timer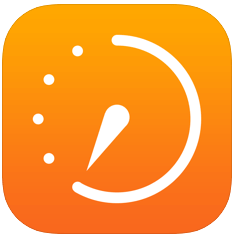 Period Timer is an extremely simple exercise timer application that can come in handy whenever you need to make sure that your training is as accurate as it can be. While it is a universal app for any activity, it can definitely be used as an effective interval training stopwatch app. There are three timer types for you to choose from – total time, countdown, or intervals, which is especially great for when you exercise and don't want to be distracted. You can choose if you want to have sound on or get alerts as vibrations. Another great feature is that you can pause or cancel the timer at any moment by simply shaking it, which is great when your hands are dirty.
This exercise timer app for iPhone has the following functions:
Running interval training timer in the background is possible
Minimalistic interface that is not too distracting
3 timer modes to choose from
You can have sound on or use a vibration mode instead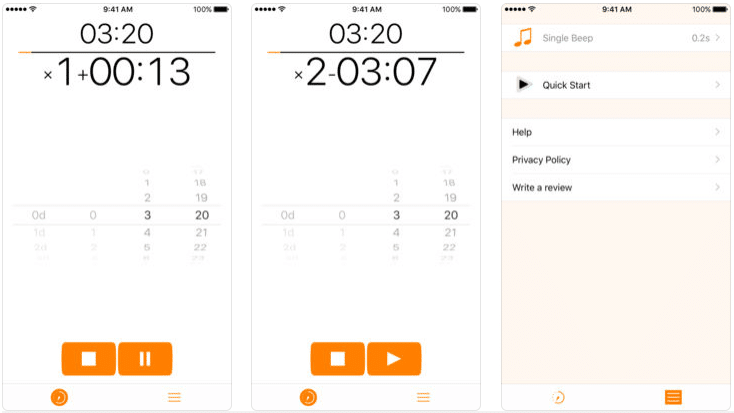 ---
Workout Timer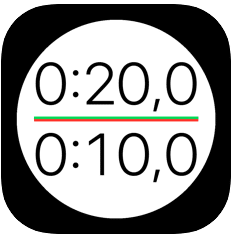 Workout Timer is a great exercise timer app for iPhone that you can install for free and use to get into shape with interval training or other activities that require set time frames. The application has several display modes you can use, such as rounds, Tabata, stopwatch, intervals, and workout of the day. The interface of this exercise timer is as straightforward as it gets so the user experience is pleasant and comfortable. You can display the duration and number of rounds and see how you progress during your workout.
Another great feature of this app that beeps at intervals is that it can be synced with the Health app and the data regarding your completed workout will be transferred to the Health application.
This exercise interval timer app has such advantages:
Several display modes
Straightforward and minimalistic interface
Syncing with the Health app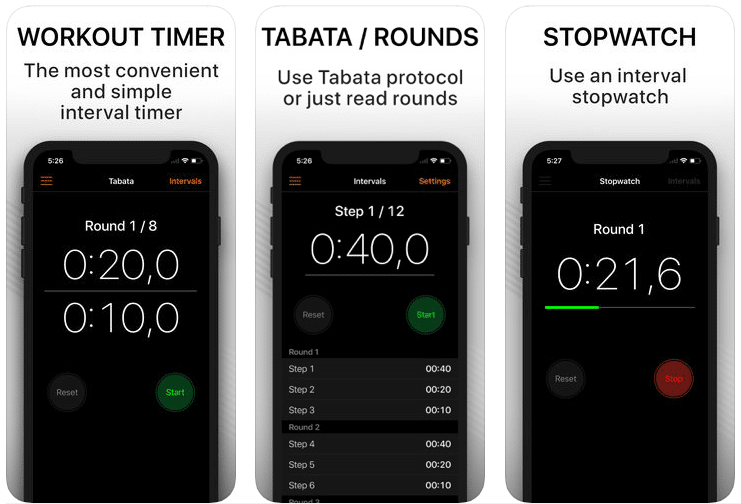 ---
HIIT & Tabata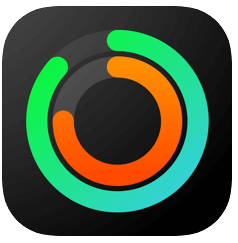 HIIT & Tabata exercise timer app is an excellent solution for when you need to time your workouts just perfectly. It is a simple application to use and it has everything that a timer should have – you can select a number of sets and customize the intervals the way you need them. This 30 second timer app can be used not only for this time frame but any that you require. It is just what you need for any training, from running and boxing to HITT and Tabata. Overall, this gym interval timer app has everything you need to keep your exercises in check and allow you to get the most out of your training. The app is free to use but there are additional features you can get with in-app purchases.
HIIT & Tabata exercise timer offers the following advantages:
Extremely simple interface that is easy to figure out
Suitable for any time of interval training and gym workouts
Can be used to measure your heartbeat (if you have a device for this)
Customizable intervals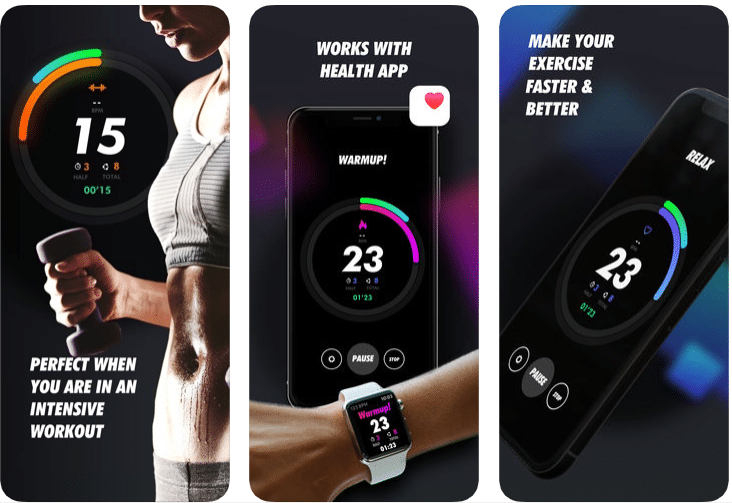 ---
Timefit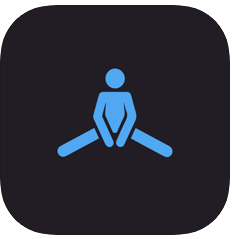 Timefit is another exercise timer that can be used for any kind of physical activity you may need it for. You can change how your timer looks depending on your preferences and customize the set intervals by creating sets, choosing the time, etc. With the help of this exercise interval timer app, you will create a personalized fitness session for you regardless of the sports activity that you like. The Timefit exercise timer app iPhone allows you to organize your workouts in a convenient so that you don't have to think about anything – just press the button and start your training. This application can be installed for free on your smartphone and will become a perfect addition for your training, whether in the gym or outside.
The exercise timer app for iPhone has such features:
User-friendly interface layout
Easy workouts organization
Great timer features and full customization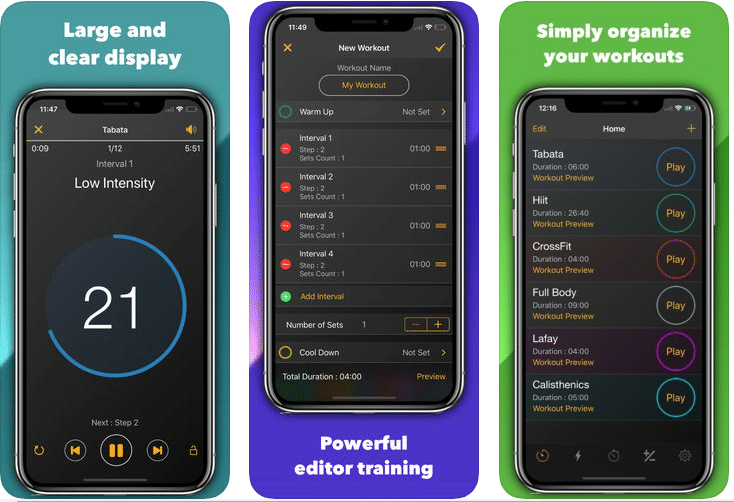 ---
Intensity Interval Timer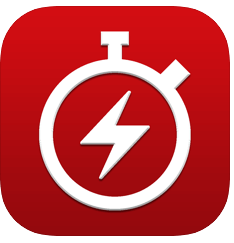 Do you need a timer app that beeps every 30 seconds? This can be the app you need. Intensity Interval Timer is an exercise timer app that will make your training process significantly easier. The application has plenty of features and allows you to set up your workout intervals, including warm-up, rests, cool down, and even caloric burn. This exercise timer continues to run in the background which means that you are free to continue using other apps or turn on your music. With this app, you can also track your progress as it provides a workout log for you.
This app that beeps at intervals has such functions:
30 second timer app or you can choose any other intervals
Allows you to play music as it works in the background
Provides a workout log
Easy integration with the Health app for iOS devices
Subtle sound alerts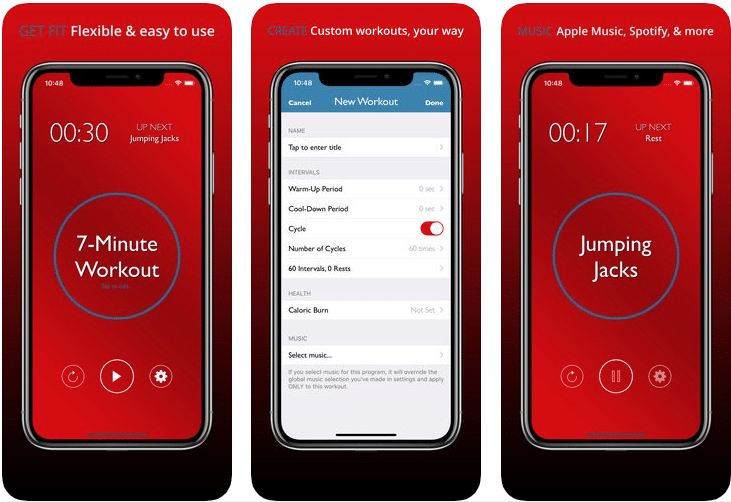 ---
Workouts+ HIIT Interval Timer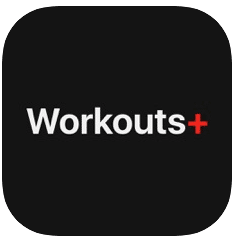 Just as the name suggests, Workouts+ HIIT Interval Timer is an exercise timer app that can be used to track time when you do interval training. It is more than just a simple exercise timer because it makes it possible to create entire workouts and set audio signals and speech to guide you while you are completely engaged in your workout. There is no need to look at the screen, as this exercise timer app iPhone does everything for you once you set up the right time frames. Another great thing about this HIIT and circuit training timer app is that it comes with a number of exercise plans for you to choose from, such as Tabata, stretching, running, mountain climbers, kettlebell, gym, and more.
The features of this 30 second workout timer app are:
Numerous workout plans available
Customization of your own intervals
Continues to work in the background while you open other apps
Suitable for any activity