Who does without regular training? There are such people, but we want to emphasize that today many people adhere to a sports lifestyle. This includes jogging, exercise, fitness, a gym, and more. To summarize, the right approach brings very positive results and allows you to maintain the human body in a healthy state. All the tools that help people to maintain the correct training are appropriate. And the exercise time factor is very important. What is needed to maintain accuracy in time? Everything is very simple. A man needs a timer. But do not run to the sporting goods store. An ordinary smartphone will do. Today, a lot of best interval timer app options are available. They will turn it into a full-featured sports stopwatch with many features and utilities. This will make your workouts as productive as possible. A few examples of the best free interval timer app solutions are presented below.
Tabata Stopwatch Pro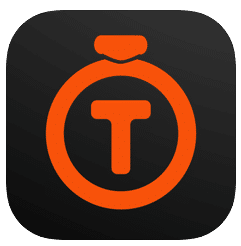 Introducing the bottom of the best apps in this category. This best free interval timer app for iPhone and Android devices has a lot of very positive reviews on both platforms. It is important to note that the application is almost free. This means that the basic functionality can be used without restrictions.
The application is designed for a wide range of training, including running and power loads of various types. A well-thought-out system of sound alerts will help the athlete to clearly navigate with time in the process of performing certain tasks. The user does not need to switch the timer by hand since voice control is available. The timer display is very distinct, and the user will see the numbers in almost any conditions and without interruption from the process.
In addition to this, this best timer app contains a schedule for counting calories burned, as well as the ability to start music during the workout. The design is very stylish and minimalistic. It is pleasant to watch it, but the athlete does not want to be distracted from the functions at the same time.
What is not included in the no-fee version? There are two root differences. The user can create any set of settings for work. However, they cannot be saved quickly, and the user has to create settings every time again. Also, this best timer app (Android, iOS) does not work with a locked screen. This creates certain inconveniences, so the user should consider purchasing a version if they need to use the application regularly.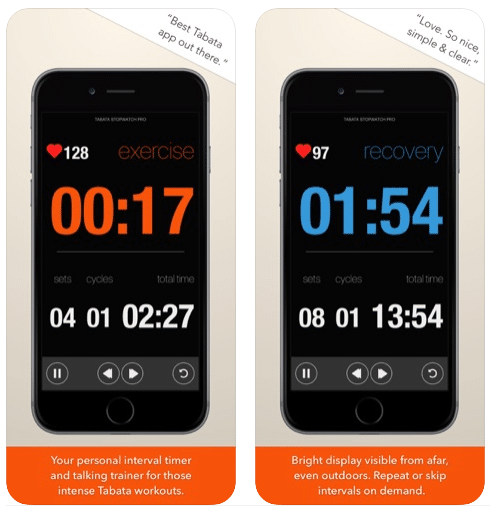 ---
Seconds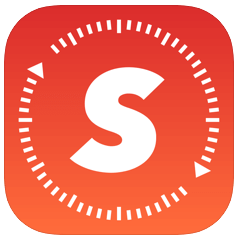 There are not many high-quality and popular sports timers that are available for Android and iOS at the same time. Second is one of the few representatives of this tribe. And the application is rightfully one of the best of its kind, as evidenced by the abundance of positive reviews in Google Play and App Store. A lot of professionals recommend this best stopwatch timer app (Android, iOS) for everyday use.
It allows the athlete timers for sporting issues. Most of the features are available in the no-fee version, but there are some limitations. They force every user who needs such an application for every day to consider buying a paid version of this best HIIT timer app (Android, iOS). For example, a user can create a timer in accordance with his training program, but it cannot be saved. The user needs to create a new similar timer always.
Among other positive aspects, it is worth noting the convenient display of information on the screen, which is useful in the process of hard training. Also, the voicing of intervals and sound alerts for various events are implemented here.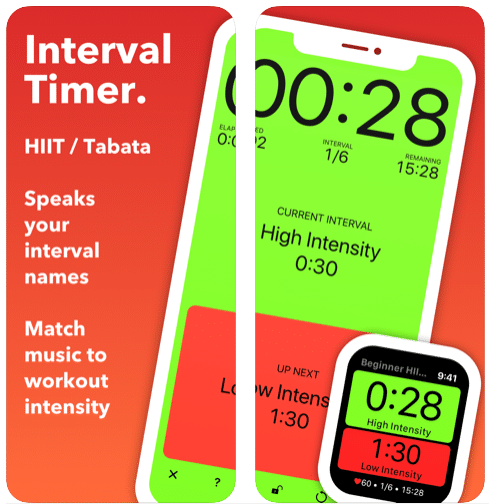 ---
Runtastic Timer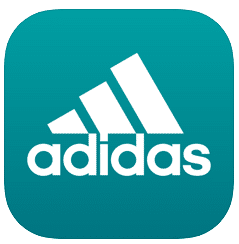 We recommend everyone to pay attention to another best exercise timer app. This application provides a wide range of sportsman data counting, including routes, speed, time and distance. This is a full-featured solution that will allow the sportsman to collect maximum statistics on physical activity. It is intended for runners in the first place. Another area of ​​this best interval training timer is the bicycle train. A data acquisition system through GPS synchronization is implemented here. The collection of statistics is very convenient and visual. Data can be viewed at any convenient time, taking into account any length of time. Also here, the user can find additional useful functions, like a running counter for running shoes. The user can choose one of the goals to adhere to a specific training program. All the options can be saved and exported quickly. It is possible to turn on the music in the application for the correct tone.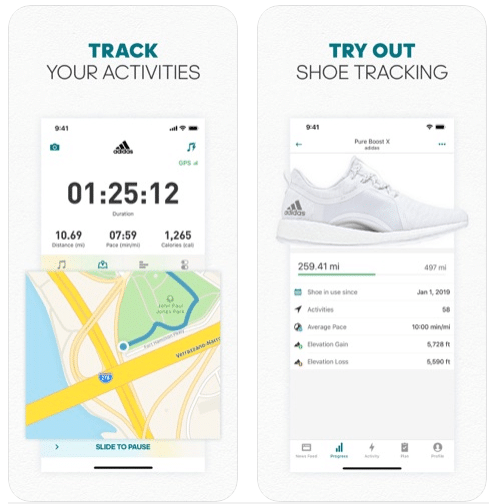 ---
Tabata Interval Timer for HIIT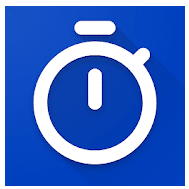 Now let's move on to exclusives that are available for only one platform. This is the best workout timer app for Android. It immediately attracts attention with an extremely simple and intuitive interface. Each function is obvious, and even a child can figure out all the possibilities. The design is very noticeable, and the numbers are visible from afar, and even during the most difficult training (the color scheme can be flexibly adjusted to your liking). It is worth adding that a very flexible system of user settings is implemented here, and each athlete will be able to customize the functions to their needs as finely as possible.
Basically, this best fitness timer app is designed for strict interval training. It offers more features than a regular timer. The user holds an opportunity to create a system of timers for training with sounds and animated pictures. If desired, the user has the opportunity to add custom sounds. It is also possible to make several interval chains that start in turn.
The application runs in the background, and the user can turn on the music for training in parallel. The order of intervals will be saved for quick access the next time. Saved custom workouts can be sorted. The application integrates with external gadgets and collects statistics.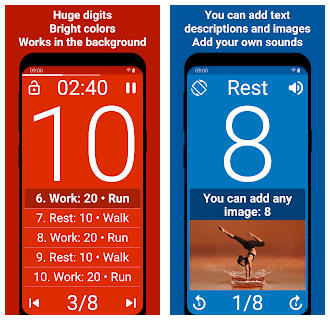 ---
HIIT & Tabata – Interval Timer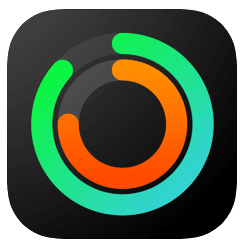 Introducing one of the best iPhone interval timer. It is characterized by absolute ease of use and a full range of functions for different kinds of training systems. The user has access to all the features described above. Here the user is given the opportunity to create unlimited intervals. Timers can be saved and used next time in quick access. Among the additional functions, it is worth noting the possibility of synchronization, for example, with a clock, which allows you to measure the heartbeat and take this information into account during training. Most of the functions are available in the free version of this best interval timer, but several useful options are available to the user only in the paid version. Also, the last one does not contain ads.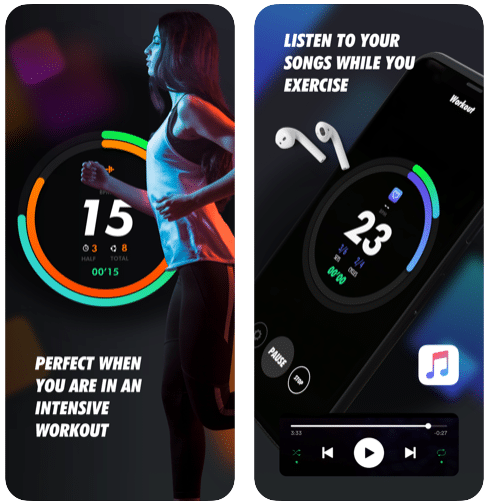 ---
Interval Timer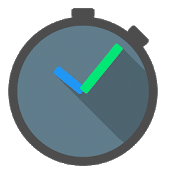 What about the absolute quintessence of simplicity and minimalism for users of Android devices? This best boxing timer app (and the tool for other activities too) is designed for those who value convenience, practicality and a smart minimum of functions. (The popularity of this approach is obvious since the application has over 80 thousand reviews at the moment. The average rating is very high at the same time.) This means that the user can perform all daily tasks, creating interval timers of any degree of complexity and quantity.
However, each function looks obvious, and the athlete does not need to spend extra time and effort in the training process. The design is a bit rough, but it serves as an added plus. The combination of bright colors and large numbers makes the appearance as clear as possible. This best Android interval timer is completely free. However, this does require an internet connection. The thing is that the display of advertising is mandatory.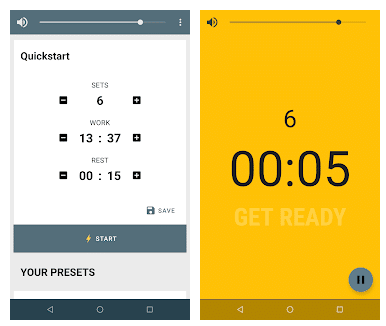 ---
Intervals – Workout Interval Timer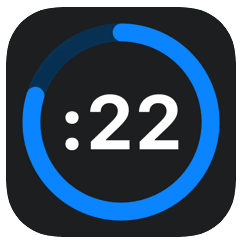 We move on, and the time has come for another widely functional and very understandable in all senses interval timer applications for iOS. This best iOS timer app offers a wide range of functions that are useful in any situation. Users massively rate this app highly, as it is convenient to use for strength training, running, yoga, meditation, and so on. The user of this best gym timer app can set the timers very flexibly. Also here a visually pleasing interface is implemented, which is characterized by the ability to adapt to the needs of each user. That is, a person can set any color gamut and font size to see numbers, even in difficult working situations. Available synchronization with external devices, which allows users to collect statistics. History stores all the user's progress for any period of time. If necessary, the athlete can create several timers and start music in parallel.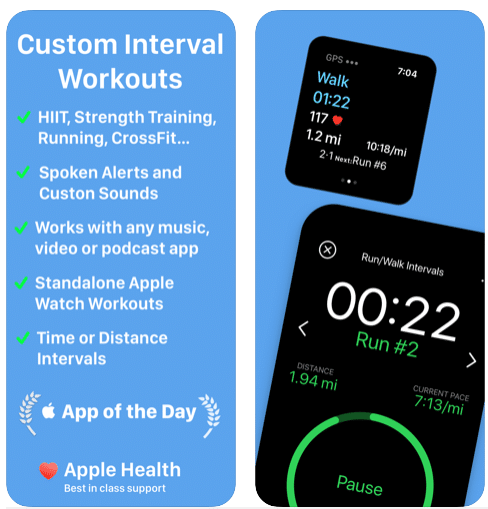 ---
Seven – 7 Minute Workout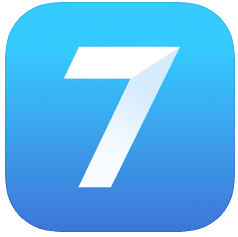 Let's get back to multi-platform solutions. There are still interesting options to choose from. This best interval timer app (Android, iOS) is designed for those who want to get the maximum charge of energy and health with regular training, but do not have enough time for this. So, here the user will have to master the concept of seven-minute exercises. This is not enough for an athlete, but such a program is quite suitable for an ordinary person to maintain their tone. Here are selected training plans with the ability to control the implementation of exercises. The user can choose a workout for a specific goal. For example, workouts to lose weight or increase strength. All exercises are designed to be performed without any additional devices, and they can be used in any conditions. This best timer app for iPad, iPhone and Android devices provides the ability to communicate and quickly share results with friends. In total, over 200 different exercises and training plans are available for seven minutes of time per day.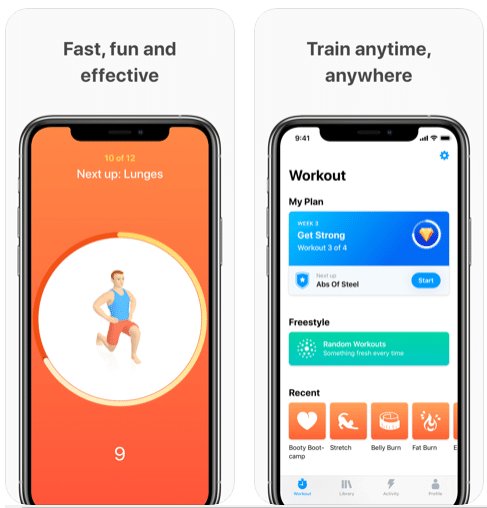 ---
J&J Official 7 Minute Workout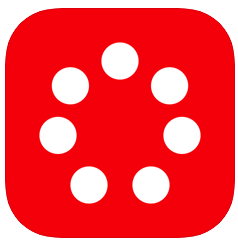 Another high quality interval timer free option for regular high-intensity training, which is suitable for everyone. And this proves the enormous number of reviews that merge into high ratings on Google Play and App Store at the same time. This application was developed by specialists in the field of physiology, and it is intended to give maximum efficiency to sports exercises. In total, more than 20 training options of different intensity levels are available, which cover a range of 7 to 32 minutes of exercise. A total of 72 exercises are available, and these complexes cover all basic human needs. Each application has a video tutorial. This free interval timer app also creates its own sets of exercises at the request of the user. Here is the ability to play music and a very visual display of data. Training results can be exported to social networks with a couple of clicks.
---
Impetus Interval Timer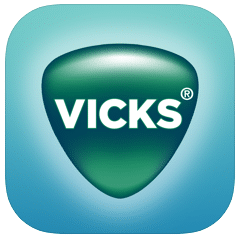 Let's finalize the topic. A simple solution for Android devices will help to do this in the best way possible. This interval training app (free) is characterized by functional minimalism, which provides good results in conjunction with ease of use, an interesting and extremely friendly user interface. For this reason, the application has several thousand reviews of Google Play and a high average rating.
The application is designed for interval training, and it is suitable for most types of training processes that are in demand today. This is HIIT, Tabata and even yoga.
Individual settings or ready-made timer presets are available to users of this interval timer app. The ability to create your own interval system has no limits. Each preset can be saved for quick access later. If necessary, the application voices the intervals aloud for convenience in the process of physical activity.
The paid version adds some more useful features, including working in the background, pausing the music player at the time of sound interval alerts, and so on.
---
Boxing Timer App Free
In total, application stores offer a large number of interval timer app (Android, iOS) options for all occasions. A high-quality tool is characterized by maximum ease of use in the process of physical activity, the ability to create custom settings and useful presets. This should be considered when choosing a solution for every day.
Conclusion
The apps above are some of the best interval timer app (iPhone, iPad, Android phones and tablets) options. However, users can research Google Play and App Store for more specialized solutions for specific tasks. Also, if desired, there you can find other options for universal applications.