High-intensity interval training or HIIT is a very popular concept of physical training. Its relevance is related to the pace of life of a modern person in a big city: a lot of things and worries, a minimum of free time. But the city dweller needs tangible results immediately. HIIT offers this. For this reason, lots of apps that allow you to take control of this type of training are available at the market. How to figure out which applications will suit you best?
We have made brief descriptions of the best free workout timer app for Android and iOS based on user feedback and search results. (There's other physical training models described below, not only HIIT tools). And we will be happy to share this information!
Seconds
Seconds is a free app for all Android and iOS smartphones. High quality, optimal feature set, and absolute simplicity are its defining sides.
Best workout timer app proposes to create personalized application timers. You can create your own timers, or use predefined templates. There are several important settings that determine the success of your undertaking: the time of the stages of high and low intensity, the number of steps to do and more.
The practical component is implemented simply and has its own charm. You will not be off the beat in any situation. In the process of training, you receive clear signals about the start and finish of the stage. The screen has a large countdown timer. Even when a person does not have the strength to adequately perceive reality, such a screen will let anyone see how much time is left to run.
In addition to workout timer app free version, Seconds Pro is available to buy. Here a person can save the timer preset, which is for graphs that are regularly repeated during several days.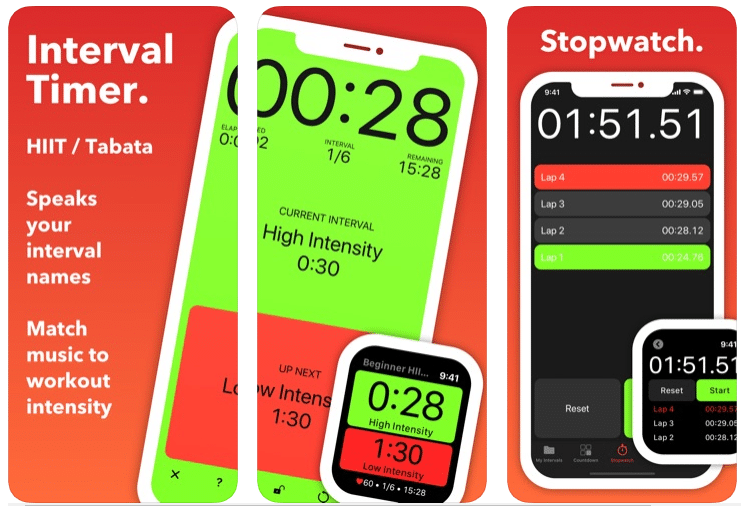 ---
Runtastic Timer
Another one best free workout timer app. On the first hand, the application is not overloaded technically, functional and optimal in a full bunch senses for a wide range of users. But we'll point several reasons that distinguish Runastic Timer from the crowd of colleagues.
Suitable for all traditional and trendy programs of training, including CrossFit and army disciplines. The user has the full right to create an infinite number of timers, each of which will have a personal setting for the situation. If you go through several workouts, this gym workout timer app can be very convenient. The user must find the desired timer and start it. The constructor allows you to alternate different stages in the desired order, and so you can set the phases of rest and intense load in the order and format that will allow you to set the best training process. Phases of the training be changed by voice via this best workout timer app settings.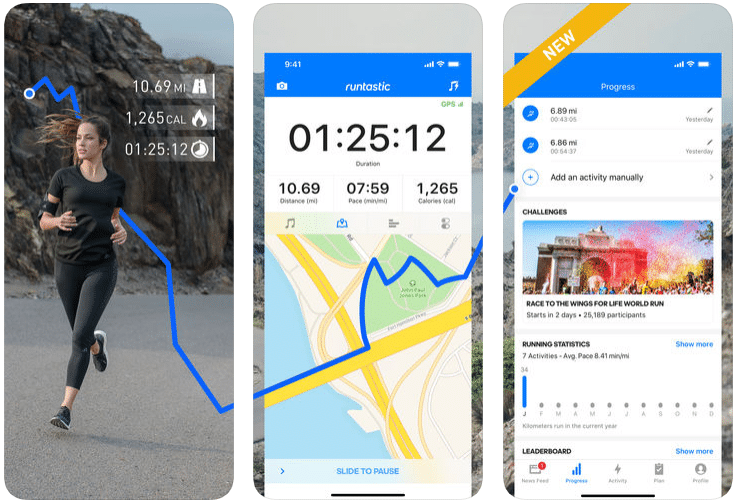 ---
Tabata Timer Interval Timer
Tabata Timer is very simple, but this is an application that is really cool in practice. It is necessary to turn on the application, and the user sees simple tools for configuring time periods, number of cycles and more. The user sets the required parameters and goes to his sports trip along with pressing the Start button.
Users appreciate the ability to work in the background. You can switch the track in the player and not touch the timer. This workout timer app is also synchronized with Google Fit and transmits data to the service automatically, if you allow it. If third-party gadgets are connected, you can see information from them on the screen (for example, heart rate). Pleasant trivia: works through Bluetooth, has different sounds for different phases, offers a convenient calendar.
The free version is available in the public domain, but premium version exists. It is worth using if you looking for a lot of pre-set workout plans and intended to keep more than two personal plans in the app timer workout.
Person turns off the brain and concentrate only on the physical aspects. This is the common advantage of choosing such a best free workout timer app called Tabata Timer.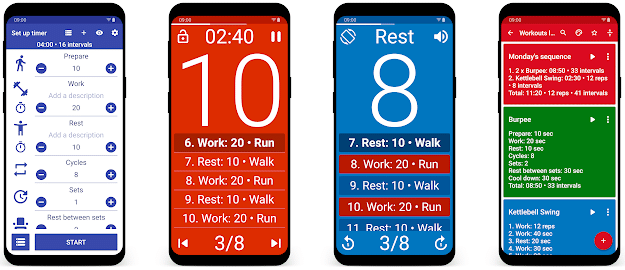 ---
Interval Timer
If you are looking for a totally suer-friendly app on our topic, feel free to choose this workout timer app (iPhone, Android devices). Interval Timer provides you an opportunity to plan workouts with flexible intensity settings. Its concept is designed in such a way that it is possible to use the application both during home workout and in the gym with maximum productivity in the process.
Here you can customize the actions for high-intensity and low-intensity workouts separately. Available to work with multiple training schedules. Users can also prevent surprises by continuing to use the application with a screen lock. If a person exits the interface, he can use this workout timer app with music. All achievements can be published quickly on Twitter and Facebook in a single click. Workout settings can be saved in templates.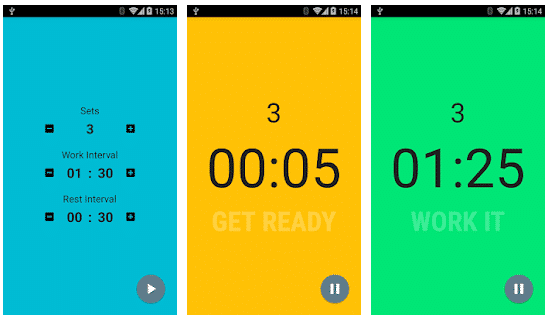 ---
Tabata Stopwatch Pro
Another one useful Tabata tool for you, which is also maybe the best workout timer app (iPhone and Android devices) Everything here is implemented for this type of physical actions. And user will be surprised about its simplicity. Many people consider this application the most acceptable of its kind.
The main advantage is the workout timer app free version has almost no differences from the premium.
In the process of use of this workout interval timer app, the user will hear a range of types of audio notifications, which give clear instructions on the beginning and end of the phases. If your workout intensity is too high, use voice alerts for clear control. For complete convenience, the colors of timers of rest and activity are different, which allows you to see the process visually.
Among the interesting additional features that able to make it the best workout timer: counting calories, downloading music, among other things.
What are the limitations of the basic version? You can create your own workout system, but it's impossible to save it. If there is an issue to repeat today's steps tomorrow, you will have to enter all the values ​​again. Also, the basic version does not work with a screen off, which significantly complicates the processing during workouts.
---
My Tabata Timer
Another best free workout timer app for Tabata is worth mentioning. The application does not tear to shred competitors from this article but has its own convenience and charm. The main emphasis will be on user-friendliness, which is pointed by interface, design and the full range of small details. Nothing distracts the user from the main goal.
The functionality of this free workout timer can be described and total minimum, and here everything is tied to only one functional button. Click and run, another click and stop. Press the button to restart the timer from scratch. Sound alerts can be disabled in the settings at the same time.
What else is in the settings of My Tabata Timer? For example, here it is possible to set the color of the timer numbers. The palette of the application is nice; colors do not hurt the eyes. Everything is soft but clearly displayed. It doesn't matter what your training program is, such a simple and elegant application will definitely suit everyone.
---
Tabata Timer
Do not confuse this type of best workout timer app with those described above. Visually, it is different, but the essence, as everyone understands, is the same. But everything is done at the fine level, and this option can also be considered for their purposes.
Here the standard Tabata program is implemented by default. Take it and explore it right now. But if you have your own goals, this is the best workout app because of its flexible settings.
It is important to note that the functional space here is not as bright as in other apps. The compensation is the presence of extra features that will surely please everyone. Users can track his workout plan and weight right inside the app. Order of changes is displayed in history after each workout. You can also run background music.
Do not be afraid of clumsy advertising and the boring visual design, athletes do not come here for this while choosing best exercise timer app, is not it?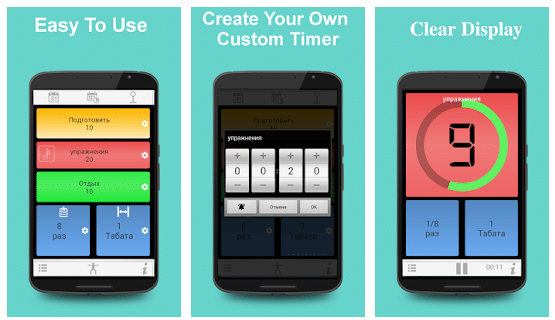 ---
7 Minute Workout App
7 Minute Workout App is probably the best workout timer app iPhone. This is a well-thought-out application for a busy person who cares about every minute and for whom it is important to spend every free time with maximum efficiency. The basic meaning is simple: working intervals, breaks, readiness for training, let's go!
The app is available in the free version, which is quite limited in functions. Practice it freely, but for full functionality, you need to buy a full version. It reveals the whole essence of opportunities for productive training: sound alerts about switching between modes, voice messages, recording training history and the ability to compare achievements, video tutorials for training (high-quality HD videos).
Make your trainings as best as possible with the best free workout timer app! Quick 4 Minute Workout will help everyone to do their lives simpler and better.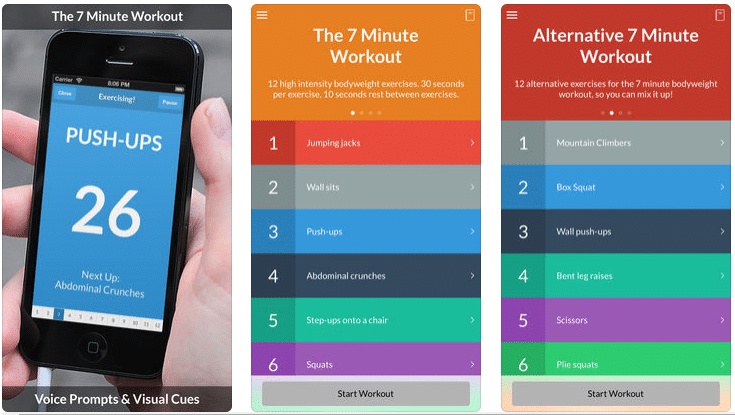 ---
Timewinder
Timewinder will help you to build an exercise program with timers. And maybe this is the best timer for workouts. A free version is an impressing advantage because it'll be enough for a productive workout. Other apps do not allow saving interval training templates without purchasing the paid version. Here, the number of slots for free storage of working presets are 35. This will be more than enough for each person to do full-fledged activities without being distracted by the technical aspects of the training.
Timewinder offers the ability to synchronize data with Apple Watch. Just adjust the intervals manually, and you can make a unique photo and description for every workout program for your convenience. During the training, you can quickly record a voice message. Also, the screen can be locked in active mode. This is one of the best workout timer app which deserves a place in the list.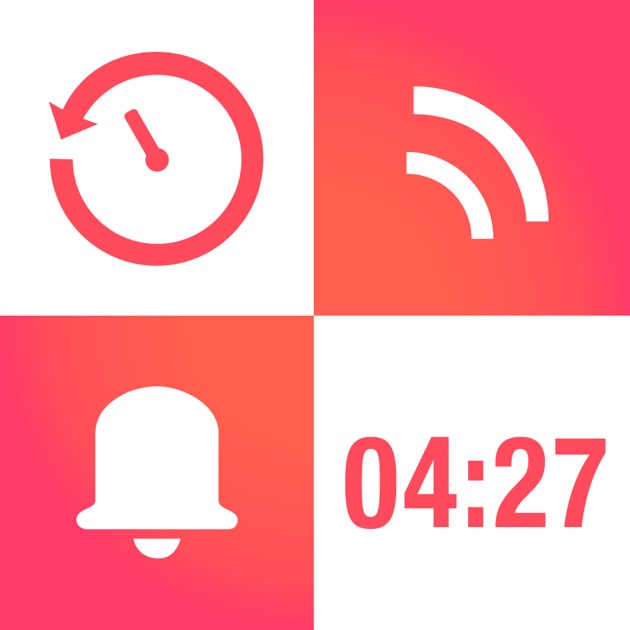 ---
Workout Timer for HIIT
Great workout timer app for Android users. Everything in it is thought out to perform high-intensity short workouts. Users like this app widely due to several factors.
Firstly, it is a modern and intuitive interface. The application is convenient to use even in moments of strong physical exertion. You do not miss the end of the interval! And an additional advantage would be a well thought out timer displaying. The color scheme varies depending on the period of activity / rest, and it helps to navigate even better. And if necessary, you can set the order of training for yourself.
It is very important that the application is totally free. All useful features are available to you right from the start. There is a price for using the best free workout timer app: there is enough advertising and it makes some distraction. But if you are not ready to invest some money, this application will be the best. It will be easy to put up with all the inconveniences.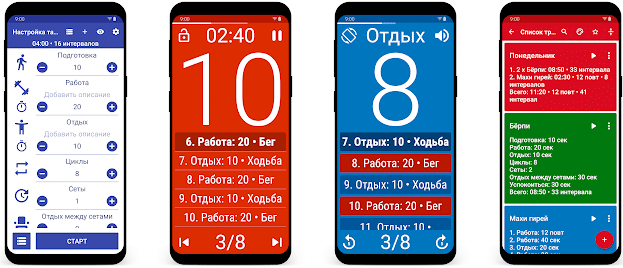 ---
Intervals – Workout Interval Timer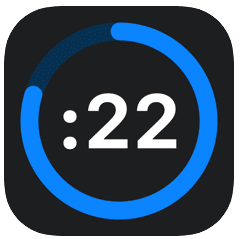 Intervals is good or maybe the best workout timer app iPhone. It offers to work with all types of interval training. In addition to training, Intervals are useful for yoga, meditation, and other things. The application has an editor that allows you to customize the order of training. You can also choose a convenient visual design for the timer: sizes, colors etc.
It can be integrated with devices that support Apple Health. Accordingly, you can monitor the state of the bod during the workouts in real time. All received data is saved in history, can be viewed and compared at a convenient moment.
Forget all unnecessary things and enjoy only the process of training and the results achieved by using the best fitness timer app! Intervals will help you conquer the planned peaks.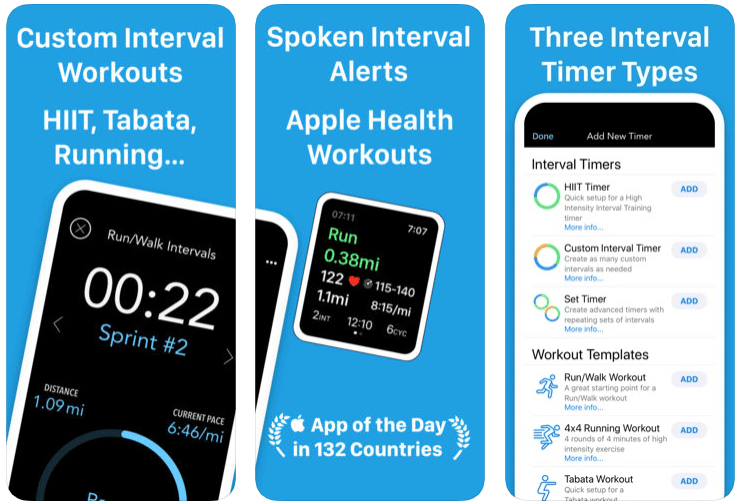 ---
Periodic Timer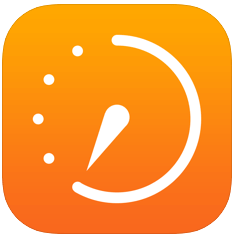 Fans of simplicity and practicality will definitely appreciate the cute Periodic Timer for iOS devices. Someone calls it the best workout timer app iPhone. It deserved popularity due to thoughtful attention to detail, which is wrapped in a very simple visual wrapper. This is the charm of the application for the discerning user.
Here you can customize and conveniently conduct interval training of any type. Information display is very comfortable and intuitive. Lots of users cling to it for a clean, no-frills interface that simplifies the perception of numerical information.
Sports is necessary, but the app can be transferred to other areas of life, by the way. Use it in the kitchen to prevent dishes from burning. Or during study, or making presentations. There are many useful applications for it.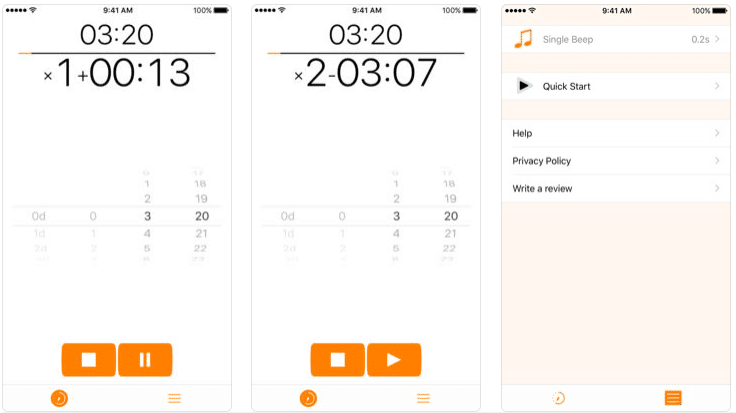 ---
Conclusion
We told you about the popular options for a workout app timer that is available on Google Play and / or App Store. Almost all are similar in function. But this does not mean that it is worth choosing the first one that caught your eye. Somewhere there are differences in individual functions, somewhere the interface and usability are very different. Everyone will like something their own. Therefore, we recommend trying out several options to find your own best solution.