The pace of modern life in a city dweller is inexorably fast. It is very difficult to keep track of many aspects of life in this stream of worries and deeds. This is especially true for health and appearance.
Unfortunately, the situation cannot be solved always and not everywhere, and we have to look for quality alternatives within the current flow of life. No way to go to the gym on a regular basis? This is bad, and we recommend that you still find time for it. But if this is an unsolvable problem at the moment, do not throw the problem completely.
What about the idea of ​​optimizing everyday activities in light training sessions? This is a mild and gentle alternative to a full workout, but something is better than nothing. The main secret of success is regularity, and soon everyone will be convinced of this. Therefore, it makes sense to be motivated every day to perform everyday tasks. Everyone should start by tracking the steps taken per day.
Convenient tools are in the pocket of every person, just the right application. The following are the pedometer step counter tools for Android and iOS for all occasions. It is enough to choose the most convenient option, and desire has every chance of becoming an everyday habit.
Pacer
Pacer can be considered perfectly balanced and probably the best pedometer app in every way. It works efficiently and accurately regardless of the position of the phone. Steps are clearly tracked when the phone is in the owner's pocket or bag. In addition to the steps, a strict calorie record is kept, which allows everyone to clearly control the human diet for example. Pacer offers everyone to share achievements with friends through the internal network of the application. This is an easy way to show everyone who walked more steps in a day and burned more calories. Why not introduce competitive interest in everyday life? There is such an opportunity. This best free pedometer app is offered to all users of Android devices and iOS; It is characterized by simple and convenient design, as well as a very friendly user interface.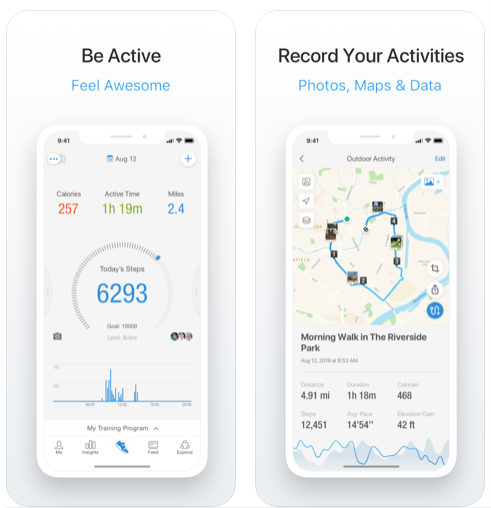 ---
Map My Walk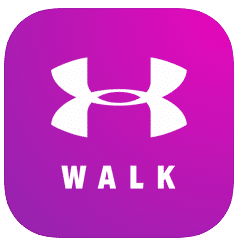 Map My Walk – GPS Walking & Step Tracker free pedometer app is a quality in every sense alternative to the previous version. Here the user can record the routes traveled according to the map, and tracking is carried out online. A huge amount of additional statistics is also subject to collection, sorting, and storage so that the user can draw the right conclusions and monitor their own health. For example, here the user can track sleep time and active workouts. There are several modes for working with training tasks. The user can use separate modes of running, active walking, exercising in the gym, cycling, fitness, and so on. Check this reliable and holistic tool for developing good habits. This is a great option of pedometer app for iPhone and Android devices in all senses.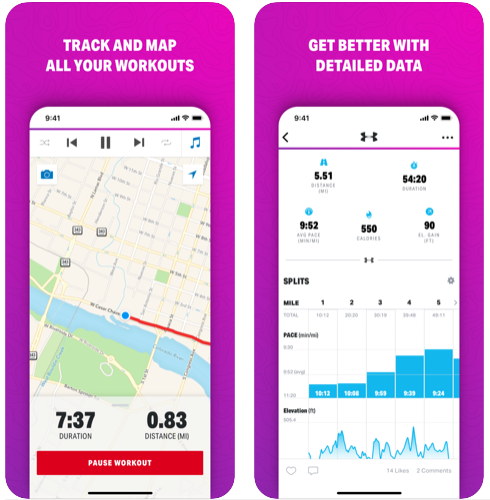 ---
Argus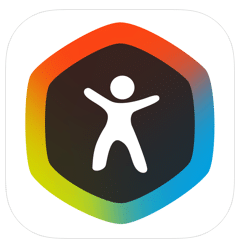 Argus pedometer free app for Android and iOS is positioned as a revolutionary and user-friendly application in the field of health and fitness. This is a useful everyday assistant for those people who strictly follow the daily activity schedule and diet. It will help to develop useful settings and monitor them every day for such a period of time as the user needs. If the user adheres to the recommendations strictly and responsibly, this will lead to impressive results. Changes in health and appearance are sure to impress the user. The set of tools for this best pedometer app for Android and iOS is very simple: reminders, diets, step counter, and all this is done in a very convenient and friendly interface.
---
Accupedo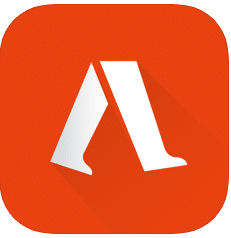 Accupedo Android and iPhone pedometer is a very accurate and convenient tool for tracking the number of steps taken per day, calories burned and other indicators. The developers endowed the application with an intuitive interface where all functions and information are clearly visible and accessible at a glance. The design is simple and pleasant, does not distract from the information. The application collects the information received, which allows the user to monitor activity and make adjustments as necessary. The obtained achievements can be quickly exported in any convenient way to show to friends and relatives. Available for all gadgets based on Android, as well as iPhones. It can be used as Apple Watch pedometer.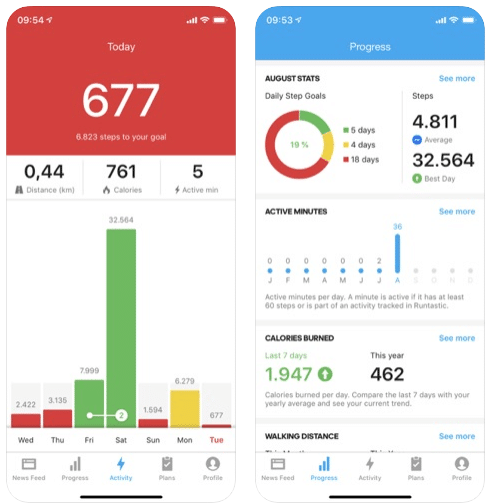 ---
Runtastic Steps – Step Tracker & Pedometer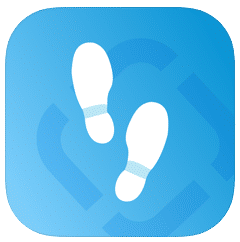 Runtastic Steps pedometer (Android, iOS) is a very smart daily activity data collection solution that will appeal to a wide range of users. This is a reliable step counter that works in any environment, and also includes a number of additional useful functions and powerful statistics collection tools. In addition to the step counter with the output of routes and detailed statistics, the user has the distance traveled, calories burned, reports for the week or month and much more. Fast integration with Google Fit is also available. The user can set everyday goals so that the application helps them to achieve. Most functions are available in the free version of this free pedometer app for iPhone and Android phones, but the premium package contains several nice paid options: training plans, recommendations for losing weight and a lot of useful theory in general.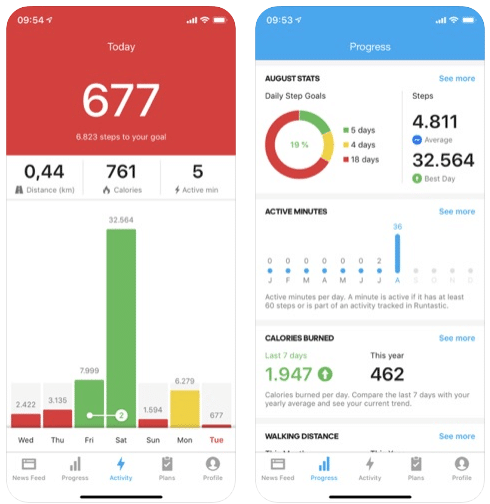 ---
Noom Walk: pedometer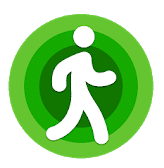 All users of the Android platform should evaluate this means of measuring steps and maintaining a healthy lifestyle. This is a simple and multifunctional pedometer app for Android that performs the functions of a step counter in any environment clearly. A number of additional options are also available here, which will be useful to a person every day in the struggle for health and well-being. Detailed statistics are provided for each day, and the user can leave notes on this subject. All data can be downloaded for viewing to others, quickly sent to relatives and friends so that they are happy and inspired by achievements. This best Android pedometer has integration with all sensors of the mobile device, which ensures high measurement accuracy.
---
Stepz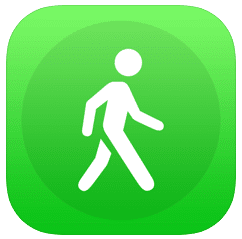 One of the most popular and recognized applications in its category of those that are available on the App Store platform exclusively. So, this is probably the best pedometer app for iPhone. All versions of Apple technology are supported, and this is also the best pedometer app for Apple Watch. Powerful and accurate tools for tracking the number of steps taken and calories burned are built-in here. An important achievement is the minimum resource consumption of the application, which allows you to save battery power as much as possible. A convenient interface makes it possible to clearly observe everyday information and make adjustments to activity.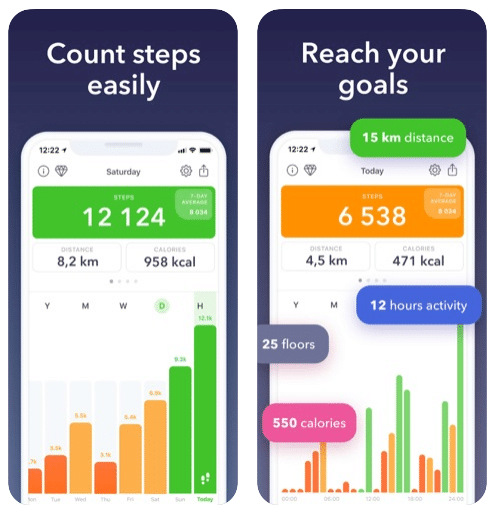 ---