What to play with friends or any other people online? The mobile options for Android and iOS devices are countless. But we suggest paying attention to the category of board games. The opportunity to get together is not always and not everywhere, so you can take advantage of the capabilities of mobile applications for this purpose. Moreover, developers offer a large number of applications in this category. It may not have occurred to most people to play these games on phones and tablets, but such a process gives no less excitement. One of the widely presented options for board games to choose from is Monopoly. Popular app stores contain some cool options to choose from. We offer to consider several monopolia online multiplayer Android & iOS apps and thematic variations of the game.
CrazyPoly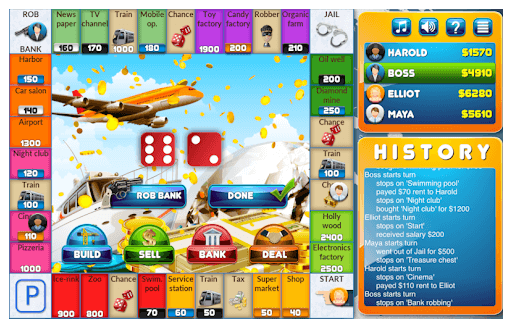 We invite everyone to try a simple and visually attractive, best online monopoly multiplayer option, which contains all the classic rules of the game and a little more. Players still need to move around the playing field with a chip. How many people throw on the bones, so much and need to be walked around. The user must accumulate money, buy real estate (cards on the board), build a monopoly, crowd out competitors and playback the accompanying game situations, which the game board is rich in addition to property cards. The ultimate goal is simple to the maximum, as the user must lead to the bankruptcy of all other gaming actions. As for additional features, here, for example, two variants of the playing field are implemented. This is a classic field and wild west style field. If desired, you can play with friends or with a computer. Easy, medium and advanced difficulty levels are available for this best Android online monopoly multiplayer game.
---
Arctopia: monopoly power
We also suggest that everyone try their hand at an interesting alternative to classical Monopoly. This is a good alternative solution to any best online monopoly game. Arctopia takes place in a fictional town of the same name, where the protagonist must build and develop his own coffee empire. It is important to become a monopolist in this area, and there are many ways to achieve success in all economic ways. Users have the opportunity to enjoy a pleasant visual design that pleases the eye in every gaming situation, as well as a smart economic system that will not leave disappointed connoisseurs of smart economic games. Many elements of the classic Monopoly are integrated into the gameplay of this kind of best online monopoly mobile game.
---
Banker Free

Pay attention also to this best monopoly online application. Banker Free is another alternative to the classic monopoly, which allows players to feel like a monopolist in a different way. This is a completely free and widely popular game that is available to all users of Apple gadgets and is an absolute hit in several countries. For example, it is widely played in Indonesia, the Philippines, and Hong Kong. The user has unlimited game options for building an economic empire in a bright cartoon world, and there are many smart tools available for this. Particular attention is paid to the small details of "capitalism", and everyone can feel like a successful entrepreneur, writing checks, withdrawing cash from a bank and much more while playing this monopoly online multiplayer (iPad, iPhone).
---
Rento
Let's go back to the roots with this monopoly iPhone online multiplayer option. Rento is one of the best Monopoly apps with classic rules, where players must build an empire on the analogue of a game board of a well-known board game. Virtual dice show the number of moves, chips of a player or several players while playing multiplayer walk on the field. Players buy real estate and act out additional scenarios, like fines and imprisonment for several moves. The task is to buy up all real estate, force players to pay heavy fines for getting into property cells and ruin everyone else to the point of bankruptcy. There will be only one winner. This is an ideal, proven for decades, gaming concept of a board economic game that looks attractive including on the screens of smartphones and tablets. This monopoly online multiplayer (Android, iOS) game is a good way to spend time with friends!
---
Europoly
Europoly is another classic monopoly online multiplayer (Android, iOS) game option. The traditional playing field is available for parties of 2, 3 or 4 players at a time. It can be players on one smartphone or tablet, or players online. The application is characterized by an intuitive interface and technical excellence, which provide a very comfortable user experience. The win-win traditional rules of the Monopoly do not require special representations, and where everything is done with careful attention to detail. The main thing is to destroy competitors in economic ways and become the sole owner of the real estate monopoly on the game board. Also, the user can try their luck in the game against the computer. It is flexible artificial intelligence that is the highlight of Europoly among other classic versions of Monopoly, as there are nine levels of difficulty playing against a computer. It makes purely better online monopoly multiplayer for mobile gaming.
---
Conclusion
Unfortunately, the list of cool best online monopoly games for playing with friends is not as large as we would like. Popular app stores offer a relatively small number of classic app Monopolies, but anyone can find a good option if they wish. We hope that the list above will be useful to all fans of good board games and everyone who wants to play monopoly game online right now!