Everyday life is the focus of negativity. Even a person of a positive attitude slides into stress sooner or later. There are many potential causes, including work, family problems, and personal setbacks. Do not run away from this.
Should a person leave it to chance and wait until the effect of the problem disappears? He should not spend time waiting for an unpleasant state to be taken under control. A simple way is to have positive affirmations.
This is primitive, but pronouncing positive things rooted the positive state of man and the world around him. Start small: talk and think about the pleasant. And applications for Android and iOS will help keep this key of balance always at hand. Let's see the great thinkup app review for the best ones.
ThinkUp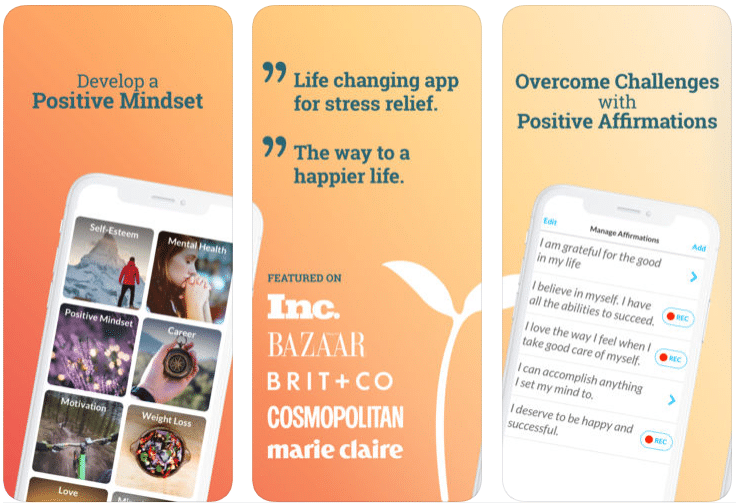 ThinkUp is the best motivational thinkup app of 2017. It allows user to record positive statements in his voice to use them at the best moment. When the user feels good, he can quickly and easily write thoughts into the application and save them until a better time. Universal positive statements are also available in case the user does not know what to express clearly. Having a set of records behind the eyes, a person can use them at the right time. Everything is implemented visually and very friendly. It is also possible to add music and set up a schedule for working with positive things. It is recommended to make record regularly. A novice user can safely opt for this thinkup app for indroid and iOS. It is very understandable from the point of view of the working mechanics.
---
Smiling Mind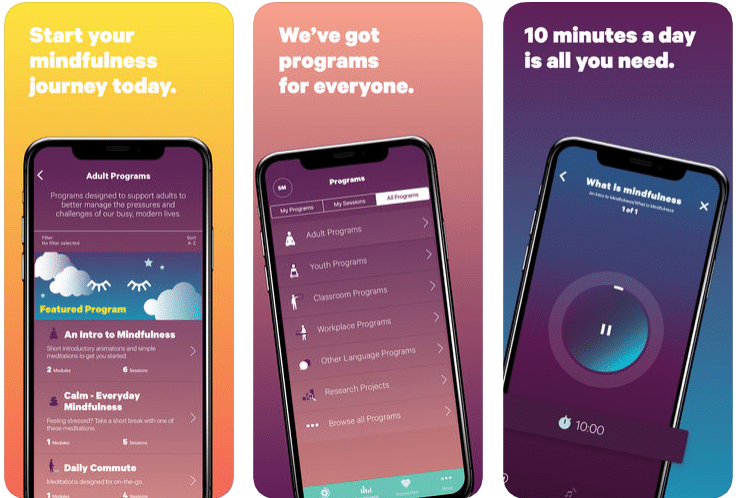 Smiling Mind is an organization that provides global education on mindfulness meditation. The app of the same name is their quality tool for this business. It is developed with taking into account the experience of professional psychologists and teachers, supported by real research. The mechanism of use is aimed at the progressive formation of positive habits.
Here are meditation programs against negative thoughts and to accumulate the beautiful visions of life. Programs focus on different age groups and areas of application. Children from 7 years old can use it. Diverse meditations are available for sports, work, and so on.
The statistics system allows to take into account the working process and adjust the further actions. The application is completely free, but donations for the fund are welcome. Donate can be made via the app. Smiling Mind is a thinkup app for Android and iOS devices.
---
Louise Hay Affirmation Meditations

Louise Hay is considered a top expert in the field of positive thinking. This woman released bestsellers in 1970-1980 that inspired millions of people to live happily. The Louise Hay affair lives and thrives even today, after her death. This application is direct evidence of this fact.
What is the idea of ​​her philosophy? The basic idea is healing the body through positive beliefs and attitudes. We do not offer to go deeper to such an extent, but the phrases from the application will help to break the negative in the head after a busy day. This thinkup app offers a set of tools that give a simple and effective result. Here are the best phrases of Louise Hay, meditation exercises with nice animation. Everything you need to quickly recover from stress.
---
Instar Affirmation Writer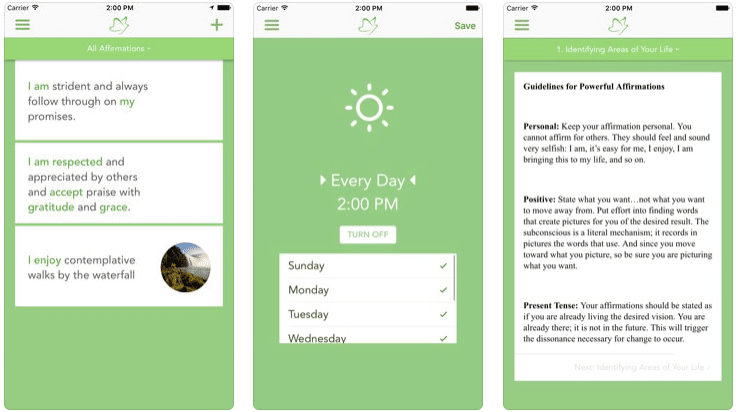 Instar Affirmation Writer is a thinkup app created for people who prefer working with personal positive statements. This is a simple and minimalistic tool for recording them in everyday mode. Here the user can create his own space of positive theses, if he knows how it is better than standard phrases on an individual basis.
The user can create an alert plan for positive phrases. It is important to write notes regularly so that the notification system will work efficiently. A voice recording function is available, which is a useful form of exercise. All entries can be cataloged to automate use. This is a thinkup app for iPhone and other iOS devices only. Recommended for those who is ready to work hard on their own. There is nothing superfluous in terms of interface. Nothing will distract user from key tasks.
---
Calm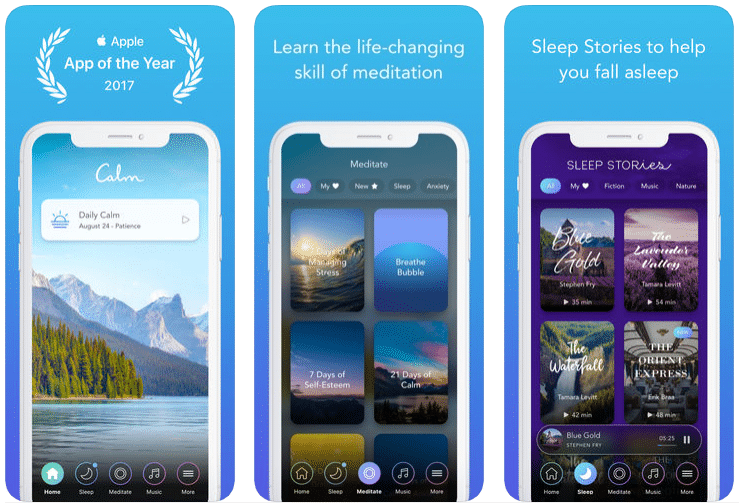 All the persons need to pay attention to a high-quality meditation app, which can be used as an alternative to thinkup app options from this list. It also destroys negative thinking in the user's head qualitatively and allows to get an antidote in the form of positive thoughts.
Here is a catalog of meditation systems. Each version of the list is adapted for specific purposes. The user can remove the panic feelings with one tool, and fill himself with love using another mechanism. Relaxation tools through deep breathing are also available.
A great convenience is the meditation calendar with alerts. This will allow to be more attentive to the process of working on yourself. It is worth paying attention to the built-in multi-day programs of diverse meditations.
The Calm app has received great recognition among users in its category. This thinkup app downloaded a lot of times.
---
Happify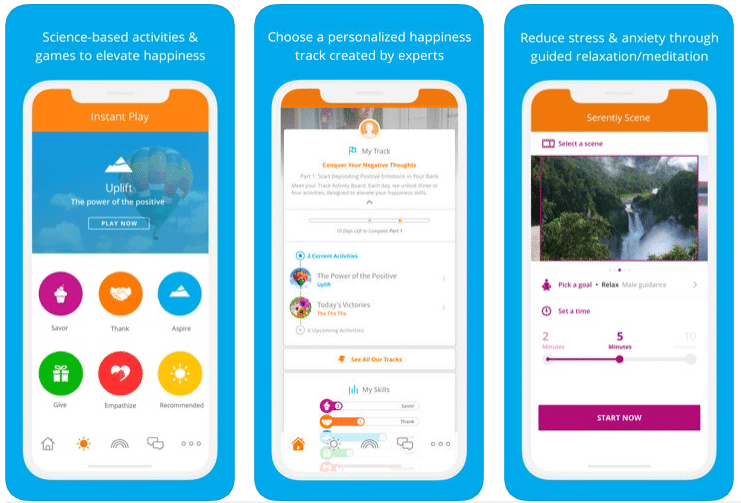 Happify thinkup application offers an interesting opportunity to measure subjective feelings of happiness in given periods of time in order to observe sequences of emotions, control them and make changes to achieve better conditions. Thus, the habit of positive thinking and happiness will be formed.
The app offers a set of tools for working with negative thoughts, burning stress, building confidence and understanding the world. All this gives a person a general opportunity to relax from the inside. Life becomes much more pleasant and easier. Meditations will help maintain the condition in any situations.
This is a thinkup app for Android and iOS users. The standard version is free; a person need to pay for additional features.
---
Shine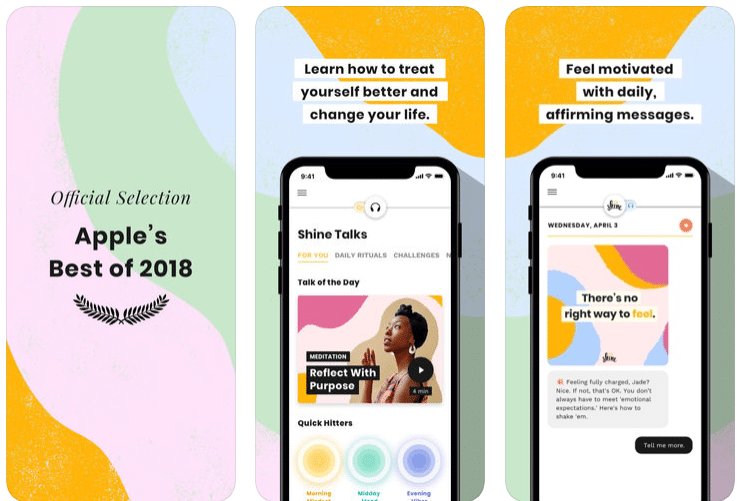 Shine thinkup mobile app is a kind of messenger that helps with phrases of positive thinking. The user can count on a text message every day. He needs to register at their website to do this. Then the user receives many useful tips, phrases and instructions for everyday use. All this appears in the application. These are simple steps to achieve harmony with yourself, inner thoughts, and the world around. Developers claim that more than 9 out of 10 users of the application achieve effective results with its use. The application offers a referral program that allows user to receive additional content and gifts by inviting new users. This thinkup app affirmation tool is available to all iOS users.
---