Presentations and slideshows were once a problem to create, and there were a couple of bulky PC programs. Today, users have the opportunity to create a technological, interesting slideshow anytime, anywhere, using only a smartphone or tablet.
So, how to make a slideshow on an iPad or iPhone?
In App Store, any person can find a lot of interesting applications of this kind, which are suitable for any version of the iPhone and iPad. Which of them are the most popular and worth attention? We made a list called "best slideshow app for iPhone" to cover the very best free slideshow tools. Almost all of them offer additional features for a small fee, but the main package of features is enough for reading and creating high-quality slideshows. Some of them are Android slideshow tools too.
PicPlayPost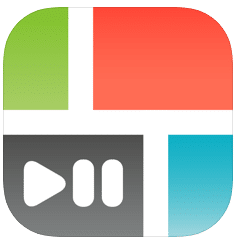 PicPlayPost is the most advanced slideshow app (iPhone). This is a professional-level development, accessible to everyone on the screen of a mobile device. The user can quickly create a spectacular presentation based on ready-made templates. Here is a lot of additional content in the form of stickers, animations and fonts (texts) that will help to unify the slideshow.
This iPhone picture slideshow app also allows a user to create videos, voice-over comments and much more. This is a paid application with several purchase packages, but everyone can try the basic version for free for 14 days.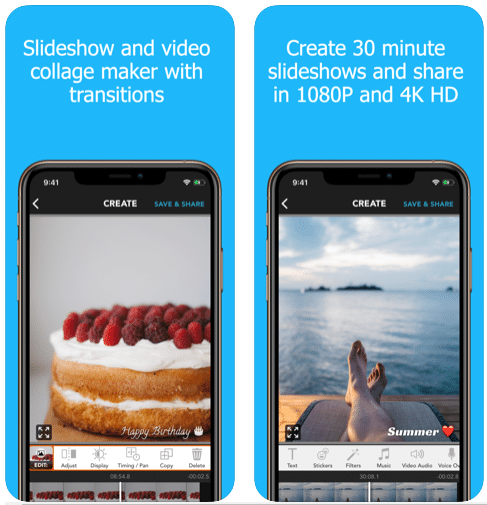 ---
SlideLab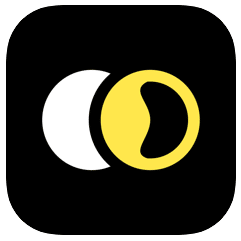 SlideLab (slideshow app, iPhone) is designed to work with a square format, which determines its orientation for Instagram photos. The photo editor offers the opportunity to work with high quality material. The user can use various filters, transitions and a library of music. The lion's share of the content is available in the paid version, but the free version will be enough to create a good slide show. Managing photos is very easy as far as setting options and sizes are concerned. The user of this video presentation app for iPhone can set the display time for each photo in the slideshow. The result can be quickly exported to YouTube and popular social networks without leaving the application.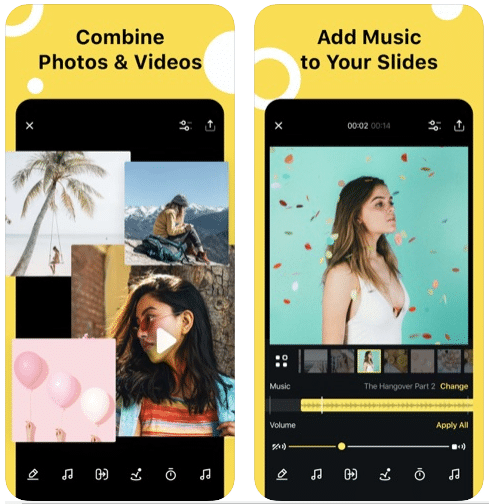 ---
Photo Slideshow Director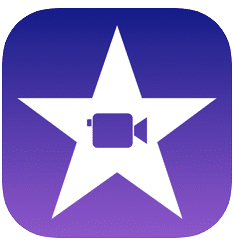 Photo Slideshow Director is considered to be best slideshow app for iPhone. It allows a user to turn the iPhone or iPad of any model into a powerful platform for creating and editing presentations for work and other purposes. It includes many tips for beginners, a user-friendly interface, the ability to add audio and constant updating taking into account the wishes of users.
Completed presentation created with this best photo slideshow app for iPhone can be exported to any social network with a couple of clicks instantly.

---
iMovie
iMovie slideshow app (iPhone) also belongs to the category of the best exclusives for iOS in the category of slideshow applications. The developers have created a high-quality product with convenient controls that offers a large number of functions for creating professional presentations. Most users use iMovie even for basic video editing tasks.
The user has the opportunity to choose themes for creating slide shows, edit audio, integrate bright transitions between slides from a large library, add text descriptions. Please note that this application, not like other good slideshow apps for iPhone, is focused on professional use, and it will be difficult for a beginner to understand all the functions the first time.
---
VivaVideo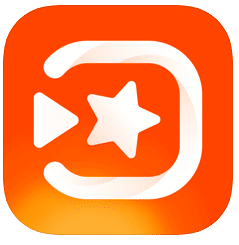 VivaVideo is already a more universal choice from the category of good slideshow apps for iPhone, which is available not only for Apple users. The application includes basic and premium versions. The first is free and offers all the necessary tools to create a cool presentation. If the user needs more content, he can buy the full version for little money. This is a quality investment, especially in comparison with other paid applications in this category.
Two main operating modes are available for this video slideshow maker (iPhone): automatic and professional. Auto mode performs average processing of images and their layout, which saves the undemanding user time. The professional mode makes it possible to adjust all the parameters without rushing, in accordance with the subtlest wishes and needs.
Shooting video via this photo slideshow app (iPhone), a large library of video transitions, special effects, and background music are available. A big plus is the automatic saving of progress even when the user exits the application suddenly.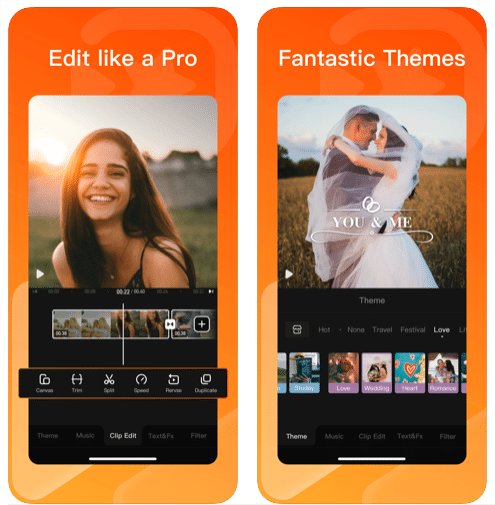 ---
MoShow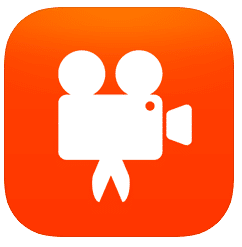 Need to make slideshows for entertainment? The best set of tools is offered by MoShow application from the list of good slideshow apps for iPhone. Here you can compose photos with bright additional content, which includes transitions, graphics, stickers, captions, and audio from the library. It is especially appreciated by users of Instagram, who form square videos for the news feed here, or vertical videos for Stories. Two versions of the application are available to users: free and full. Freeware contains most of the features; the main limitation in the duration of the clips (half a minute for square videos and 11 seconds for vertical videos). The cost of the full version of this mobile slideshow app is small, and this investment will quickly pay off.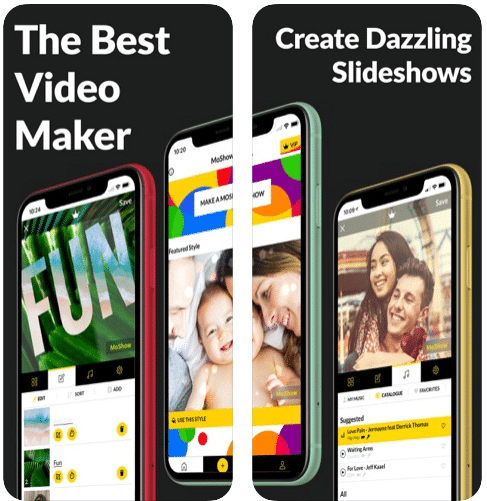 ---
Videoshop
Videoshop is one of the best slideshow creator for iPhone that has no fundamental differences from other apps for slide shows on Apple devices. However, the high-quality implementation of all components has allowed developers to gain popularity with the user. This is ensured by a combination of rich and diverse functionality, as well as a user-friendly interface and a pleasant design. A number of options are available for the professional to work with, including color grading and image rotation. The user can publish the finished result with a couple of clicks on any popular social network. This best photo slideshow app for iPad and iPhone supports all the actual versions.
---
Photo Slideshow Director Pro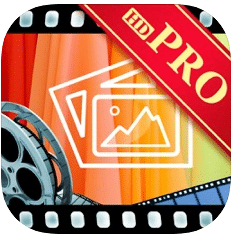 This iPhone app to make slideshow with music is simple and effective, and it includes all the necessary functions at an affordable price. It features a very simple design that does not distract from the main task. The interface is minimalistic but distinct, and even a beginner will not get lost in functionality. Creating cool presentations for any purpose is an easy task! The developers took care of the variety and provided users with tons of additional content, such as outstanding graphics, video transitions and audio tracks for the background. The completed video can be saved in high resolution. Available for all current versions of iPhone and iPad, Android picture slideshow version is not included.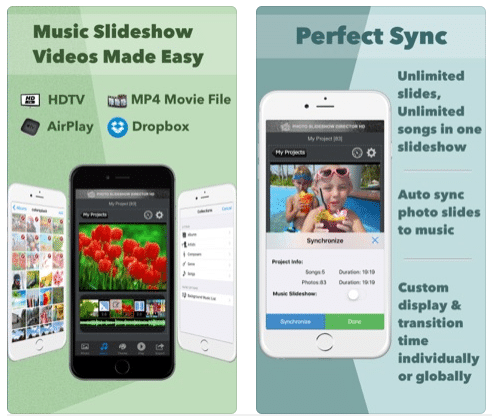 ---
Pic Slider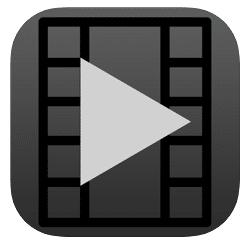 Looking for something simpler, but without compromising on quality? There is a solution! Pic Slider slideshow app for iPad and iPhone allows users to create full-fledged slide shows of high quality on any current version of Apple smartphones and tablets. Just install the application, upload the photos from the gallery or the Internet and add the effects you need. Make a cool high quality video with sound. The user has access to a lot of free visual and audio content for processing slideshows. Even a complete novice will figure out the interface that the developers suggested. Quick export to social networks is available when using this photo slideshow maker for iPhone.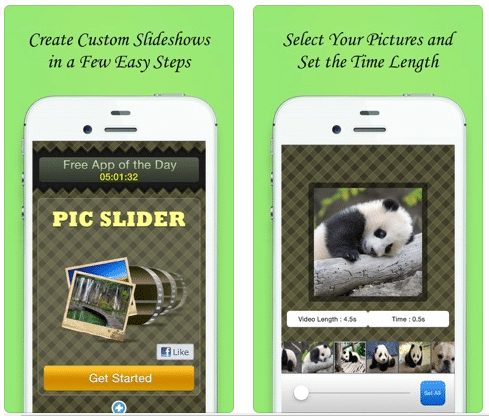 ---
PicFlow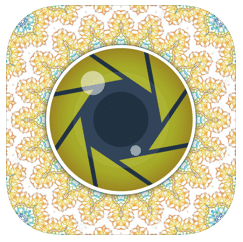 PicFlow (also iOS, not Android photo slideshow) offers an interesting and innovative tool for composing images and audio. Suitable for all current versions of iPhones and iPads. Contains all the popular settings for managing video in this category. Users will appreciate the simple interface and stylish design that pleases the eye and does not distract from work. Beginner and professional get an excellent slideshow maker app for iPhone, where each of them can manage each part. The finished result can be shown to friends in a couple of clicks through quick export to Facebook and other popular social networks.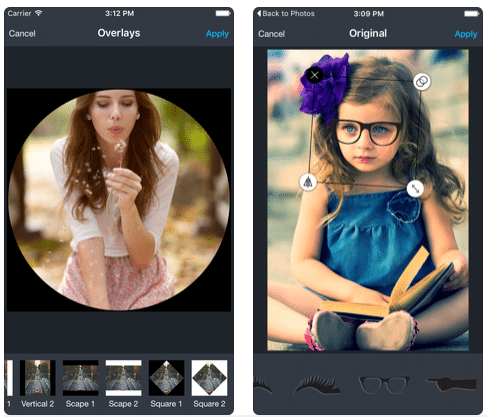 ---