People have different opinions about horoscopes. Some consider it pointless, others extol the cult. Let's not dissuade anyone, the point is different. Horoscopes aside from sacred meaning are a rather interesting social concept that creates an unobtrusive topic of interest for a wide range of people. Why not read something interesting and share this information with friends? Horoscopes serve this simple purpose very well. And there are several ways where to find it. Check some horoscope apps (free).
Daily horoscope app free download
The most familiar place for horoscopes is newspapers. But who is buying them today? All have long since moved to the Internet, and the current horoscopes should be sought there. There is an even more convenient option in the face of the horoscope app. They provide information in the most convenient form possible, and the user does not need to search for information on sites every time. Everything here is available in a very friendly manner. Consider the best free daily horoscopes apps from Google Play and App Store in this article.
iHoroscope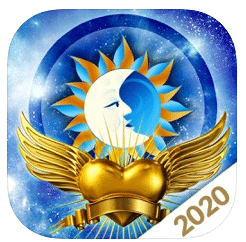 We immediately represent the best horoscope app for Android and iOS. Hundreds of thousands of ratings prove this. This is a simple and practical way to get information about what a person should expect in the future. And this applies to every day. This horoscope app for Android and iOS is available completely free of charge, and it provides information for the coming days. You can also view horoscopes for a week, month or year.
Application developers claim that the information in the application is created by real astrologers who constantly monitor the situation. Also, a lot of additional interesting information is available here, such as, for example, checking the compatibility of people according to the zodiac signs. This will help to better navigate the realities of everyday life.
Online chat provides the ability to contact a psychic directly. This is an opportunity for everyone to know the future directly using a smartphone, in real-time.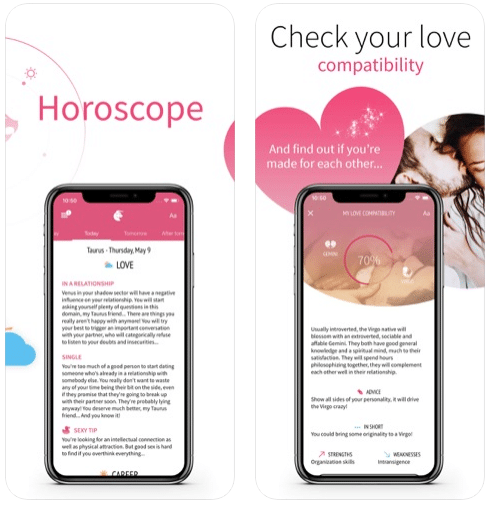 ---
My Horoscope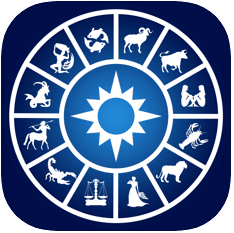 Another good and universal horoscope app for all comers, which has all the necessary information for every day. Updating the application is carried out regularly, and a person can be in the know about their own fate constantly. My horoscope app has a very convenient design and interface that help everyone find the information they need on any zodiac sign quickly. Text display is very convenient at the same time. If necessary, the user can configure the sending of daily notifications, which will send the current horoscope forecast for today. Also in the application, the user can view the horoscope for seven days. The application is free and it supports many languages. The true horoscope app is popular in all corners of the planet, and this is emphasized by the large number of downloads and recalls from both platforms. If desired, the user can buy a paid version and remove all ads from the application. Information is compiled by real astrologers.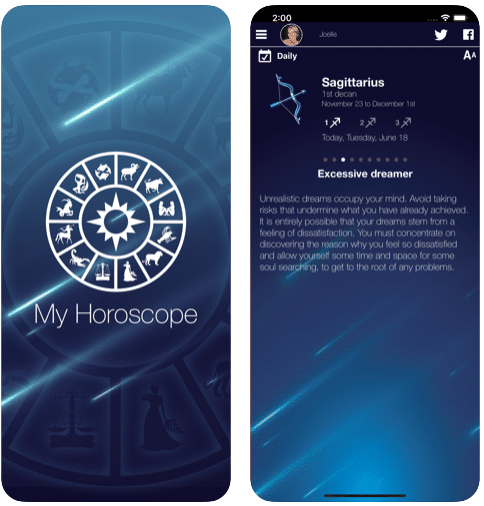 ---
Daily Horoscope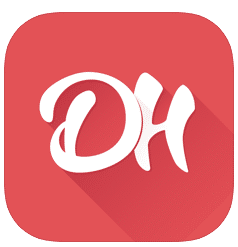 Who wants to know all about fate? This free horoscope app (Android, iPhone) perfectly copes with this task with the help of real astrologers who update information every day. Users can rely on a comprehensive quality experience and accurate information. The popularity of this application is confirmed by hundreds of thousands of high ratings on popular platforms.
What features do developers offer? There are several modes of horoscopes, including daily alerts for representatives of all zodiac signs, as well as weekly and monthly texts. The horoscope widget launches very simply. Several annual horoscope apps (free download) are also available. If desired, the user can view messages from past days. The interface is very convenient, and the user can also adjust the size and display of fonts.
Information on the compatibility of different zodiac signs is presented separately in expanded form.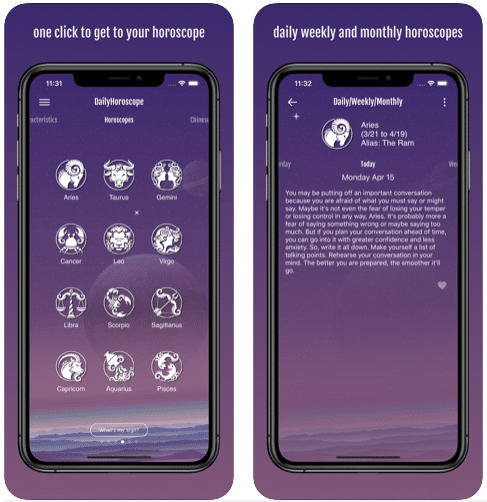 ---
Sun Signs: Horoscopes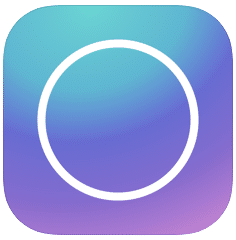 Another repository of capacious information about what is coming. This free horoscope app for Android and iOS is available for each zodiac sign for free and without restrictions. Users note very accurate and concise messages that span many different areas of life. It also includes readings of Tarot cards, subject literature, games, and much more. More than 25,000 users praised this app horoscope.
Horoscopes are updated regularly. In addition to daily messages, users can read strategic information for a week, a month, and even a year. A lot of extended additional information on horoscopes is also available, along with specialized topics: money, love, and so on. Professional astrologers work on the content.
Also, users can find a lot of information about the compatibility of various zodiac signs in a love key. This will help to understand relationships and preferences. Several interesting astrological games will allow each person to have a good time in the future. In conclusion, it is worth mentioning a pleasant minimalistic design, which differs from most horoscope app. Is this the best horoscope app for Android and iOS? Probably, yes.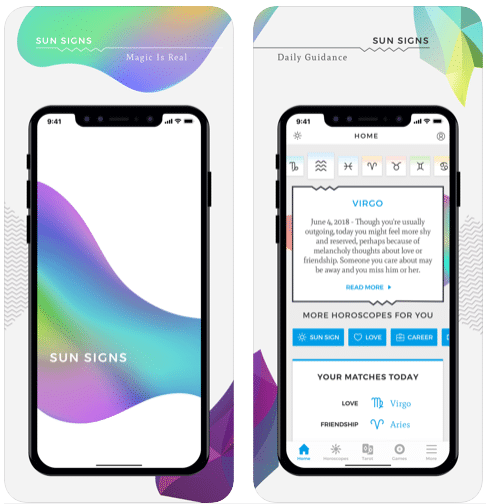 ---
Horoscopes & Tarot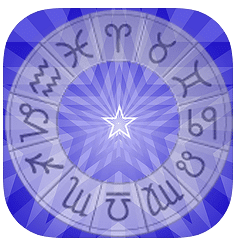 We move further on the best iOS and Android horoscope opportunities for knowing our own destiny. This is another useful option of the daily horoscope, which offers alerts regularly, and also makes it possible to get acquainted with the actual astrological information for each zodiac sign for longer periods: a week, a month, a year, and even more. This will help build a life strategy, get the most out of positive moments and prevent negative ones.
The user of this best horoscope app for Android and iOS receives three horoscopes every day after installing the application. Information is compiled by professional astrologers, and this application is completely free. Also here, the user can see the results of tarot cards for every day. There everyone will find important answers to what is happening and the past, as well as future events.
Individual horoscopes on certain topics are available, including love, earning, career, among other things. A lot of useful information is presented in the compatibility category of different zodiac signs. This horoscope application is available for Google Play and App Store.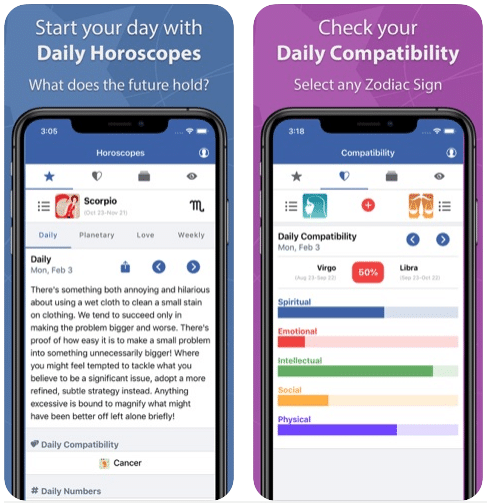 ---
Chaturanga Astrology Advice & Daily Horoscope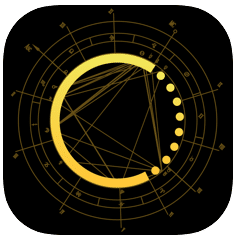 Who thinks the list is already over? Do not rush, because there are several more worthy horoscope app that can please with content and ease of use. Each of them will also have separate unique distinctive features, no matter how monotonous this category of applications is.
In this case, everything converges for Chaturanga Astrology daily horoscope app (free download). This is a simple, but effective in every sense horoscope app, which will fill the life of every person with a stable and reliable knowledge of the past, present and future. Here, each user can chat with real astrologers who will provide relevant information and help plan the future life of a person correctly.
Users note how amazing it is to remember what they heard, what happens afterwards. All that the user needs are to indicate relevant basic information, such as the date of birth and the required question. A team of astrologers will help to solve any problem.
With this daily horoscope app (iPhone, Android), everyone can also find out more specialized information about love, a better place of residence, business and career tips. The results will pleasantly surprise even skeptics!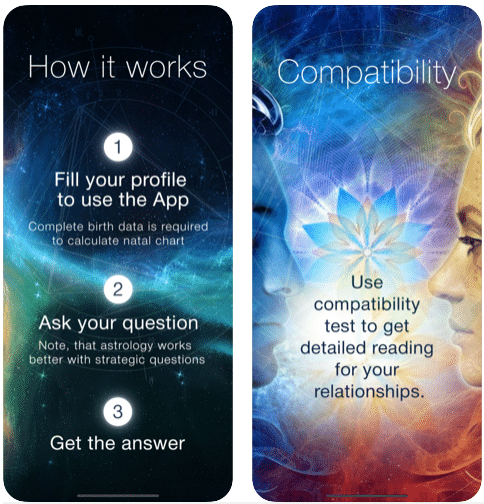 ---
Easy Zodiac Star Signs Daily +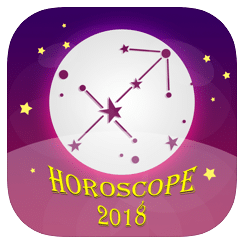 A visual pleasant and friendly horoscope application (iPhone only) for everyone who wants to know more about the signs of the zodiac and everything related to them. Here, users can count on the timely update of the daily horoscope, which will leave everyone in the know about fate's events constantly. Information is also available for the week, month, year. Additional information on your love calendar will help you find perfect compatibility for everyone. A lot of useful astrological information is presented for career and money. If necessary, the user can always see yesterday's forecast. A new forecast comes always early in the morning. Also, users can quickly find out compatibility with their favorite celebrity. It is enough to enter basic information to get the result. The application interface is simple and intuitive. This free horoscope app for iPhone is available for all current versions of iOS.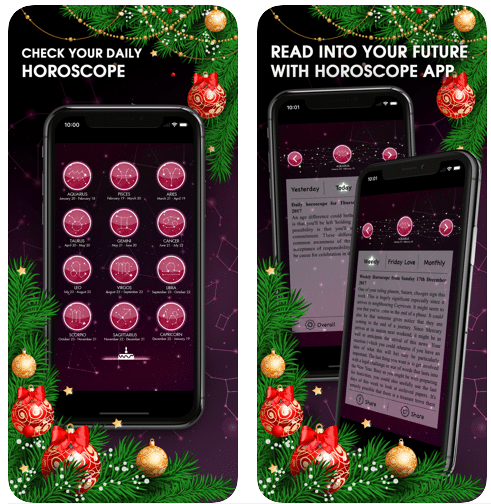 ---
Horoscope- Daily Zodiac Horoscope and Astrology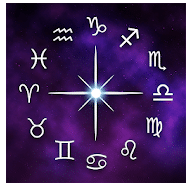 We continue to accumulate information on the best ways to predict fate for every day. This horoscope app for Android (download it by the link below) is available for all Android users, and it provides the most accurate informational forecast for all zodiac signs. Only experienced astrologers who know what they write are working on content. Daily alerts help everyone stay up to date regularly. Also here is a lot of additional content. Users can spend time reading thematically interesting articles on astrology, as well as build compatibility with different people by matching the zodiac signs. It is enough for the user to specify a minimum of personal data to get accurate information about himself. Information about the date and year of birth is usually enough to say really a lot. The popularity and reliability of forecasts in this application is confirmed by many years of popularity and high ratings. Get the best advice from the stars today! Horoscope download for mobile is presented here.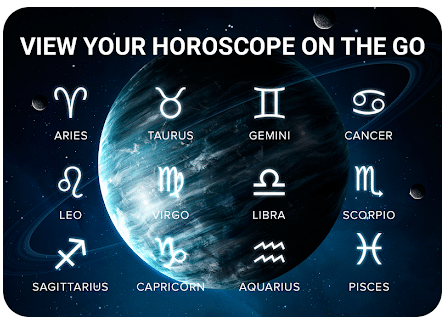 ---
Astro Horoscopy & Tell Fortune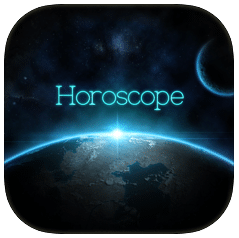 Useful and informative horoscopes for every zodiac sign for every day! This daily horoscope app for Android and iOS allows a person to clearly keep in mind all aspects of fate and bring to life the correct sequence of actions in the name of happiness and harmony. Application developers are constantly updating to make it convenient and working correctly. There is also a team of experienced astrologers who make accurate predictions for every day. The effectiveness of information is confirmed by the large number of positive reviews from different people in App Store. More strategic life forecasts are also available. Each zodiac sign can be found at any time that it is destined for the next week, month and even year. All this is framed by a pleasant, very aesthetically pleasing design of this daily horoscope (Android not available). Also available here are thematic predictions about love, career, income and much more.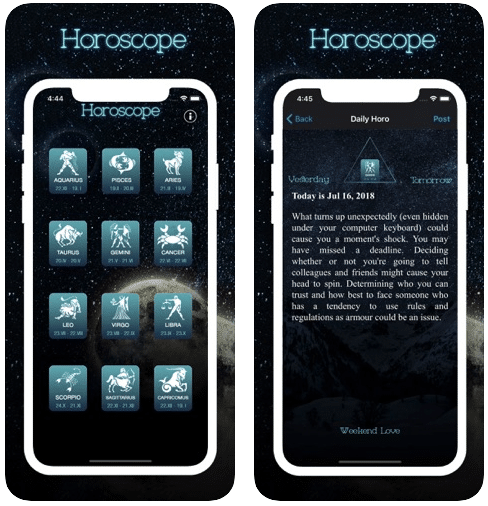 ---
TimePassages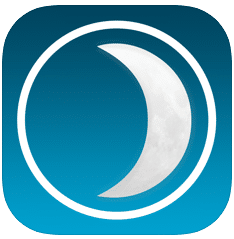 Let's end the list with another full-featured love horoscope app that contains fundamental astrological information, as well as daily forecasts. Here, users can receive information about fate in several contexts. Information can be saved and exported quickly to popular social networks. Information is regularly developed by expert astrologers. The perfect visual design deserves special attention for the category of horoscope apps (free, download link below) which creates the desired mystical atmosphere and the maximum convenience of reading information from the screen. User experience is also most convenient due to the interface. And this is not all that can be found here for every day!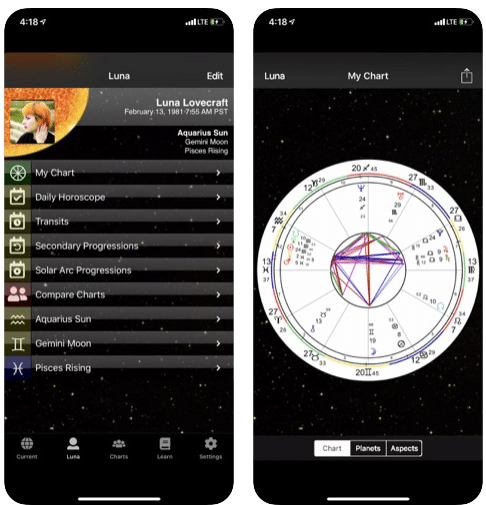 ---
Conclusion
All free horoscope app for Android and iOS options here have approximately the same functionality. All of them offer fairly accurate information for each person. This means that the choice can be made according to subjective preferences. That is, design and usability are everything.