They say those iOS devices are not very suitable for writing and creating content. Of course, using a desktop computer or laptop it is more convenient, but it can't be said that the iPhone and iPad Pro are not suitable for work. Let's consider working with the text. In App Store has quite a lot of good applications, used by writers, journalists, bloggers, and other writing people. We have selected the best text apps for you, which will do your work with notes on the iPhone and iPad more productive.
Ulysses
Ulysses is a text editor with the support of the extended version "Markdown," focused on writing large amounts of text. This allows you to quickly sort your paper into categories and groups (hello to copywriters leading many projects at once).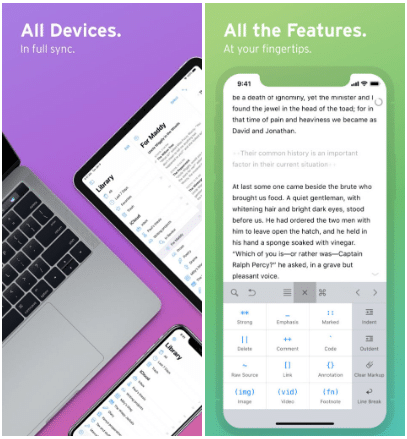 (iOS) Free, Offers In-App Purchases
---
Byword
Byword is an example of a reasonable compromise. The program looks very simple: there is a clean sheet before you. No toolbars, buttons and additional windows. You just write the text without being distracted by the noise. Byword offers basic formatting features.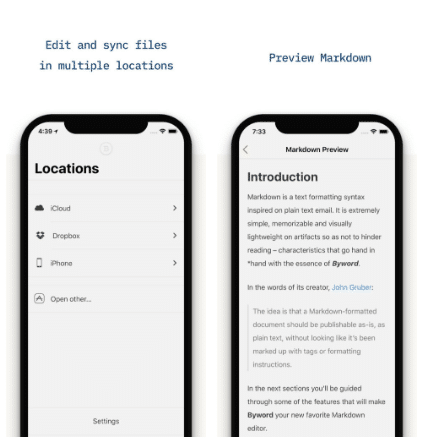 (iOS) $10.99
---
1Writer
1Writer has appeared in the App Store very recently, and haven't had a chance to gain its audience. The main advantage of 1Writer over tens of other text editors is a prosperous functionality, more comfortable typing, as well as a support of iPhone 6 and iPhone 6 Plus.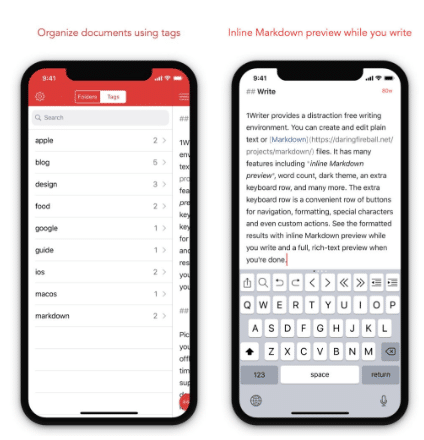 (iOS) $10.99
---
Scrivo Pro for Scriveners & Writers
Scrivener is a professional solution for writers, writers, and journalists, etc. The program is compatible not with iOS, Mac OS, Windows, and even Linux. If you need an application for working with text and have to choose between Microsoft Word subscription and one-time price for Scrivener, you should opt for the second option. The program looks very fancy.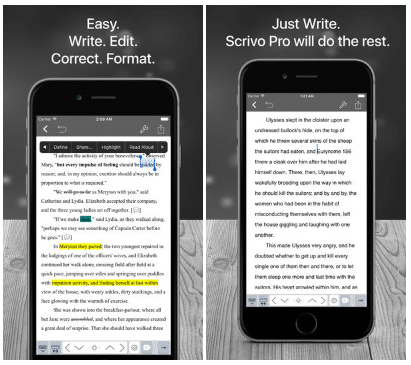 (iOS) $7.99
---
Hanx Writer
Externally, this text editor is made in the form of an old typewriter, which, in addition to the visual criteria, imitates the sound of this device quite well: click of the button and a sound of the mechanism when you move the line.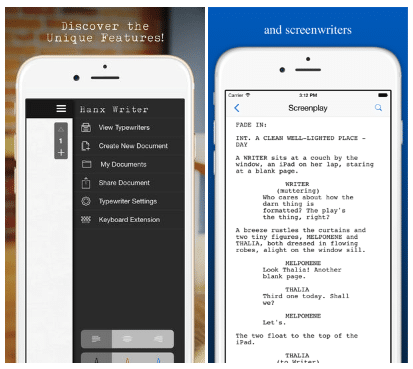 (iOS) FREE
---
StorySkeleton
You will always be ready with StorySkeleton, the perfect story-mapping and organizational instrument compatible with iPhone and iPad mini.
Unlike the applications intended for writing out your whole script on your phone, the main goal of StorySkeleton is to touch blindless. Users can print cards in brief flashes, by writing short phrases or quick reminders for yourself, no matter where you are.
(iOS)
---
Storyist
Storyist is a handy utility, appreciated by the professional writers and those for whom writing stories are just a hobby. Storyist can help you organize and streamline all parts of your story. After all, sometimes it is tough to keep track of all the characters, plot interweaving and history events.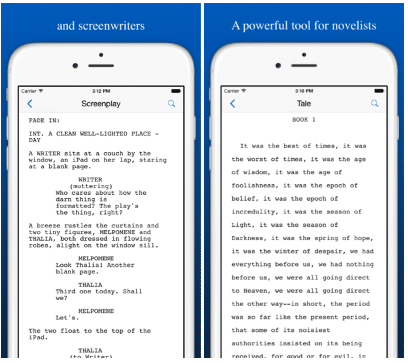 (iOS) $14.99
---
Story Planner
The app is a thematic text editor with great functionality for writers. The most important thing for each writer is a paper sketch. With the help of it, you can save all the ideas, make your own plan and build a story in the right way, etc.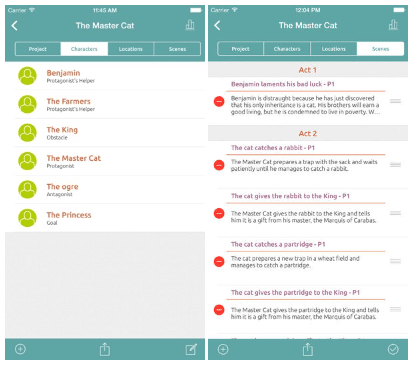 (iOS) $4.99
---
Scrivener
Scrivener is a real combine for the novelist. Word is no match for this program, primarily because Scrivener is very comprehensive. It has a separate section for collecting material, building scenarios and features of each individual character.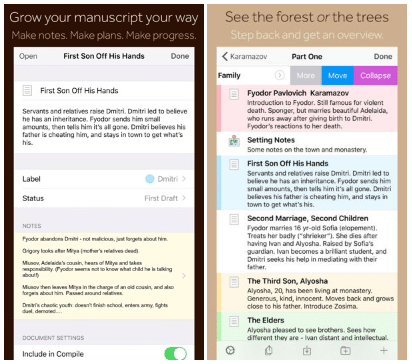 (iOS) $19.99
---
Textilus Pro Word Processor
The application provides clear navigation through the main features of the product. If you need to perform the most popular operations, just use the panel "Options" (text alignment, finding and replacement of the words).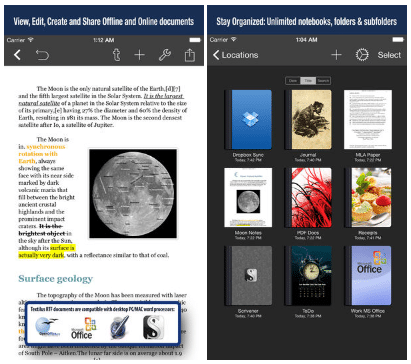 (iOS) $5.99
---
Verse – write verses, lyrics, and essays
The purpose of the app Verse is to help the user during the creative crisis to pick up a rhyme to the word, which is excellent and copes with. Compose poems while sitting on the couch, while you are going to work or school, miss the queues and please others.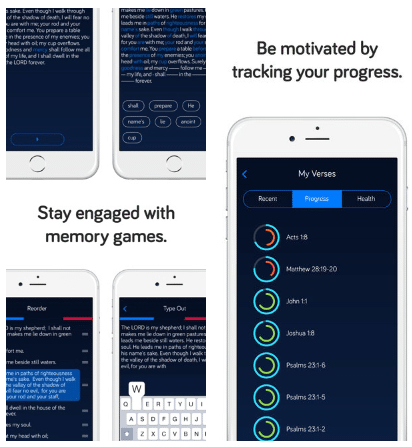 (iOS) FREE
---
MLA Writer – MLA Style Writing Tool
This app is the initial step towards creating a free writing instrument for the iPhone and iPad, which seeks to support the standard of MLA style completely. Modern Language Association (MLA) provides guiding principles for formatting manuscripts and utilizing English in writing.
MLA is exploited by about a thousand scientific and literary magazines, bulletins and various commercial and university publishers.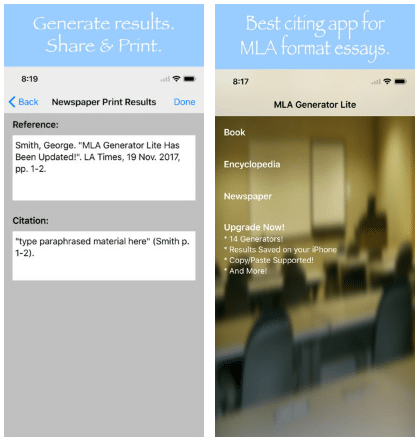 (iOS) $2.99
---
Guided Essay Writer
This application (and browser extension) was created for full immersion in the process of writing. You will not find anything distracting in it, but only the necessary minimum of tools. You will definitely catch a writer's stream in this app.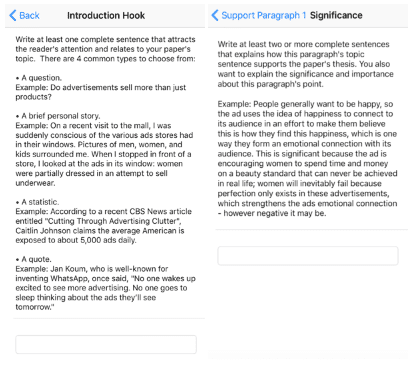 (iOS) FREE
---
Outline
An outline allows you to create notebooks and change the style of the cover. Concerning the text formatting, Outline is much better.
The notebook can add page tabs. You can rename a tab, and the navigation in the notebook becomes very convenient.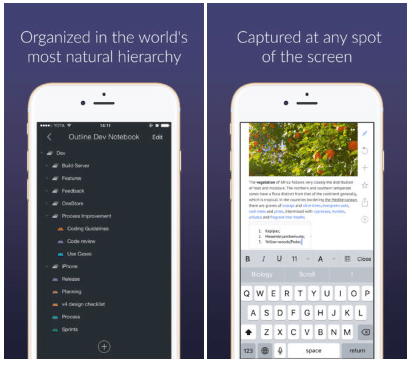 (iOS) $9.99 Offers In-App Purchases
---
Pages
Pages has16 different patterns that will help you to work with various projects (templates for letters, summaries, projects, and reports, posters and flyers, invitations and thank-you cards, bulletins, brochures, and certificates).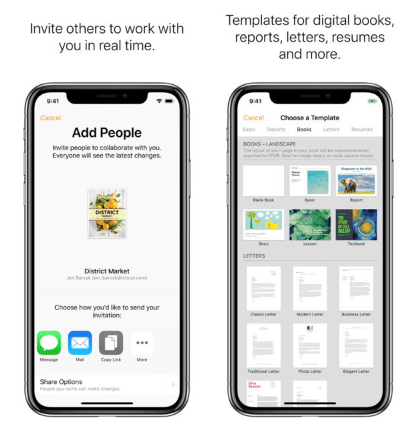 (iOS) FREE
---
Werdsmith
If you need writing an essay with a fixed volume but are too lazy to continually count the words, this program is for you. You preset the length of the documents, and Werdsmith pleases you with a green bar in the implementation of the plan, at the same time placing the file on the third shelf – performed department of works.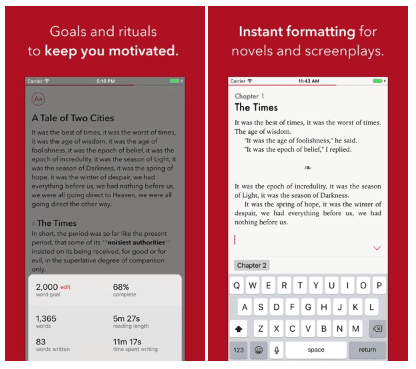 (iOS) FREE Offers In-App Purchases
---
Unblock
Unblock, like the previous two applications, offers only the necessary functionality.
In Unblock, you can set the goals, and then enter the text directly in the field.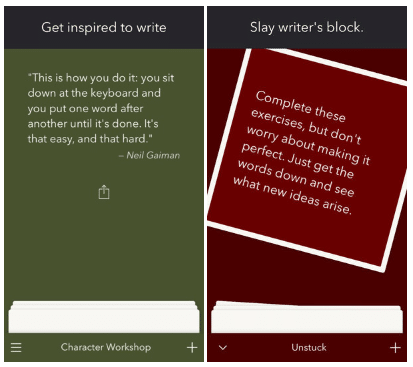 (iOS) FREE Offers In-App Purchases
---
Editorial
Thanks to the support of scripts and the presence of a web database with a variety of actions, you can add a calculator to the app. As a result, Editorial allows you to edit articles, attach affiliate links in the App Store and transform the plaintext into letters for paid mailing.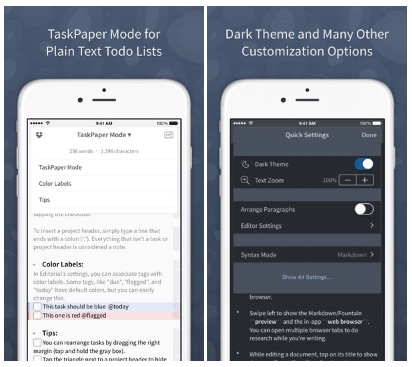 (iOS) $4.99
---
Daedalus Touch
This is a great text editor for iOS, which supports many editing functions. It has been observed in practice that solving the problem, it is enough writing and describe it. The solution will come by itself during recording. Daedalus Touch, which stores all notes in iCloud, is a perfect choice.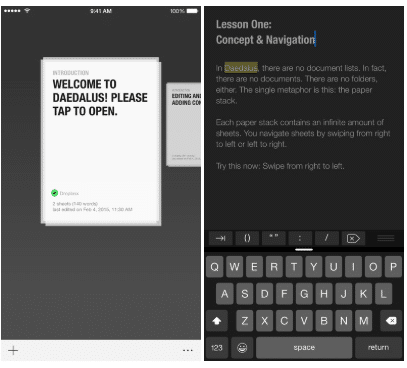 (iOS)
---
Write for iPad
Another good alternative is Byword, which has many additional functions. It supports the keyboard Flexy, a large number of supported services for sharing the notes, 16 typefaces to choose from and a "night" theme for comfortable typing at night.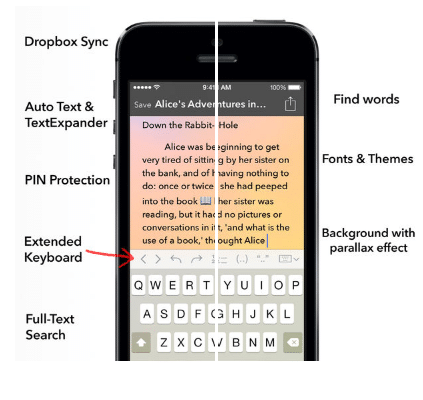 (iOS) $3.99
---
Chapters
In addition to the direct appointment (creation of writing), this app works with images and audio files, has an integrated drawing and the capabilities of an organizer and a diary.
You can select a type of each note (typical, case, event, date or diary record), the kind of substrate, type and size of the font and attach one or several files.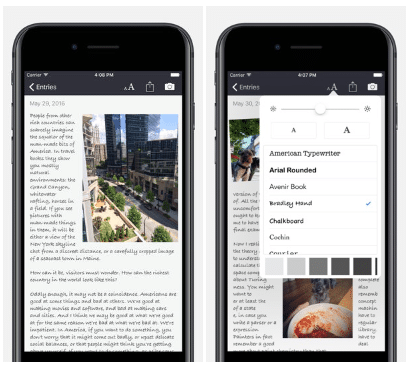 (iOS) $1.99
---
PrintCentral Pro
In addition to the direct appointment (creation of writing), this app works with images and audio files, has an integrated drawing and the capabilities of an organizer and a diary.
You can select a type of each note (typical, case, event, date or diary record), the kind of substrate, type and size of the font and attach one or several files.
The version of this writing app for iPad and iPhone costs 5 Euro. However, you can use it for free during a limited period. The program permits the users to print any documents on any printers using their computers without installing any extra programs.

(iOS) $7.99
---
iA Writer
IA Writer is an app, which gives you an ability to work with text in multiple "work areas." There are 4 of them— Note, Write, Edit and Read. Thus, you can first outline a plan or a draft of a note, then write, correct and proofread a full text (which is very logical and convenient).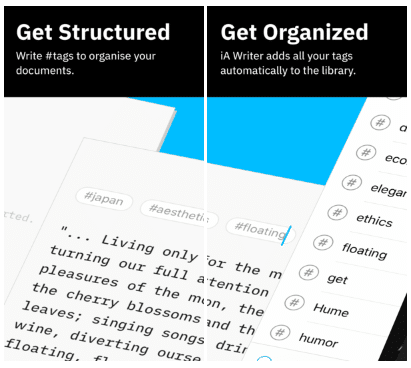 (iOS) $8.99
---
GoodReader
GoodReader is very convenient for writing and working with the documents. Despite not the most beautiful interface, its capabilities are superior to those of all its competitors. The program can view, edit and create PDF- and TXT files, work with documents MS Office and iWork, ZIP- and RAR archives.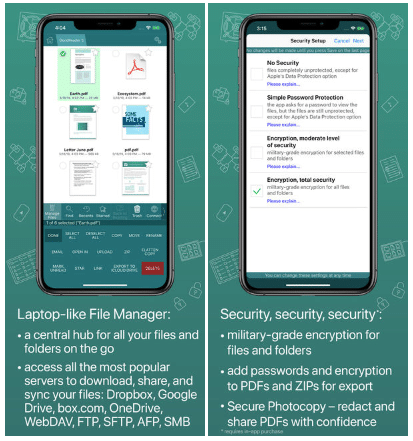 (iOS) $5.99
---
Chronicle
If it's about stable earnings, you can to set the function of a repeat on a particular day of every month. Another nice plus is an ability of Chronicle for Mac to choose the currency depending on the region in the system.
(iOS) $2.99
---
miTypewriter for iPad
miTypewriter it is a fast text writing app for iPad. Its interface has no panels or buttons and represents a black screen with a text field. All functions are collected in the context menu, which can be invoked using a click on the right mouse button. Through this menu, you can copy, cut or paste writing, and open or save a text file. This is a funny and beautiful application.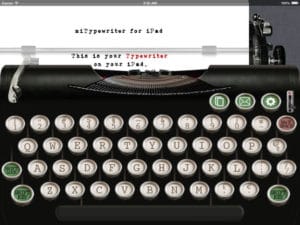 (iOS) $1.99
---
iA Writer
iA Writer (else version) sets the writer up to the text, giving out only markdown and document organization as bonuses. However, the latter is still buried in the program settings. Everything you see is a carriage on a solid background. The literary figures observed the same when sitting behind the typewriters.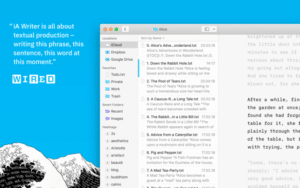 (iOS) $29.99
---
Merriam-Webster Dictionary
The main feature of this app is voice search support. Thus, you can search for a word, without even knowing how to spell it. The dictionary also helps you to find antonyms/synonyms, shows sentences with examples of use, displays the word of the day and remembers the search history.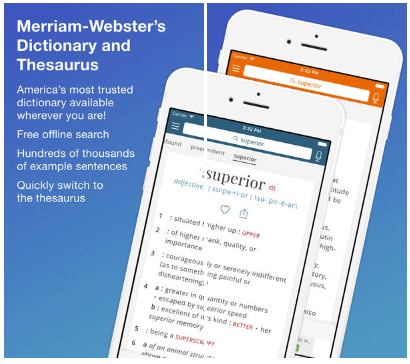 (iOS) FREE Offers In-App Purchases
---
Smart Whiteboard HD
Having an electronic board is cool, particularly if you're at the first stages of developing an idea, project, etc. That's a quite simple and understandable application: you get an e-board straight on your iPad. This is very simple, and the application is supplied with 3 multicolored markers so that the user can distinguish between different segments of what you are writing.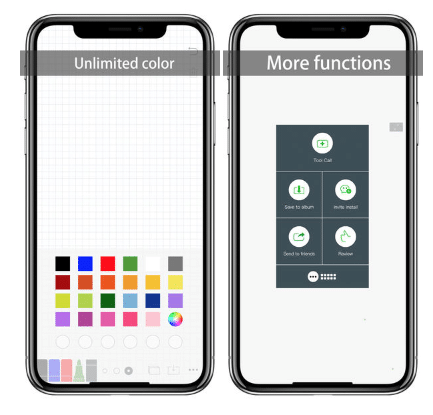 (iOS) $1.99
---
Page: English Grammar & Spell Checker + Translator
One of the best writing apps for iPad allows you to fix any mistakes with a high level of precision and timeliness, and work on your writing language. Moreover, it has a capacity of translation to any language.
This is a perfect writing application for the iPad. Test and improve your orthography using Spell Checker.
(iOS) $4.99
---
StoryBoard
A storyboard can transform videos into comics. Upload the video to Storyboard. After that, smart algorithms will process it, and in the end, you will get an analog of a comic book. The software will storyboard the video by choosing the best moments and make the style of shots hand-drawn. Then, it will unite everything into a collage, similar to that of the comics.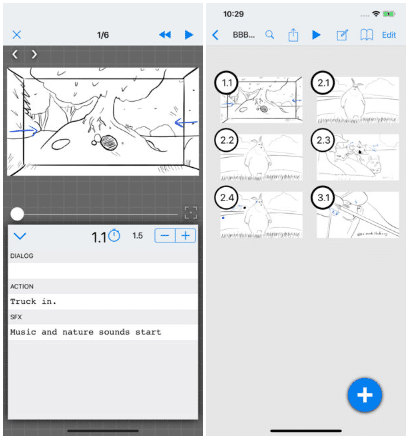 (iOS) FREE Offers In-App Purchases
---
Characterize
This is one of the best creative writing apps for authors, narrators, and any person who wants to create exciting characters on the go.
Using a vast database of names and demographic statistics this software can actually create millions of great characters! It's quite enough even for the boldest projects and will help you to come up with the ideal avatar for your new composition.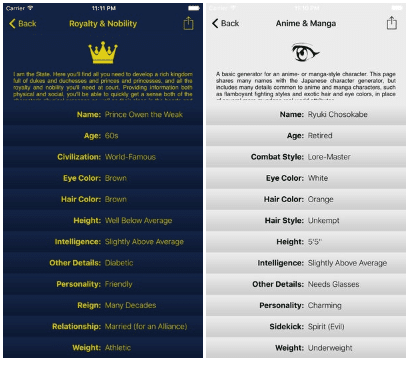 (iOS) FREE Offers In-App Purchases
---
Microsoft OneNote
It should be noted that OneNote is a truly universal writing program. The user gets a tool with which he/she can create the text notes and a task list and monitor their implementation (in short, to organize information in any convenient way).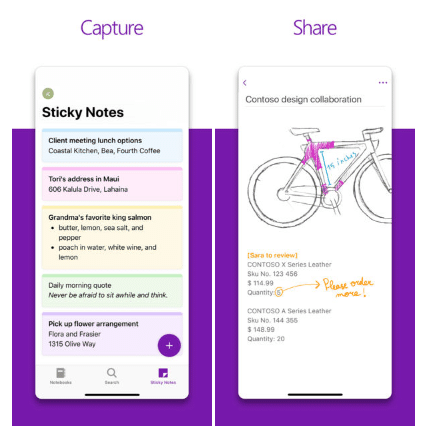 (iOS) FREE
---
Microsoft Word
Following the example of the best existing analogs, Word for iOS and iPad has dynamic menu sections. For example, if you just type the text, you don't need to see the tab from which the drawings are edited. It doesn't exist. Once you select a picture, it appears, and all buttons become visible. It's the same with the tables.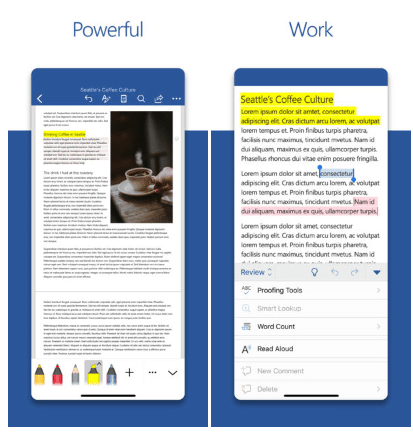 (iOS) FREE Offers In-App Purchases
---
A Novel Idea
This is an excellent app for writing your story and catching the flashes of inspiration. You can use its easy interface to invent the new characters, places, stages, and novels, and later unite them in order to write your own novels. Use the function "Idea" to rapidly record your sparks of imagination and match them to your story components. Organize the scenes by pulling and dropping them where you want.
Discontinued
---
Penultimate
The app has an advantage over a plain notebook: you don't need to carry a lot of pens, as more than 50 different options are available in Penultimate. You can choose the line thickness and its color. In addition, you have access to markers. It is possible to correct your mistakes using the eraser.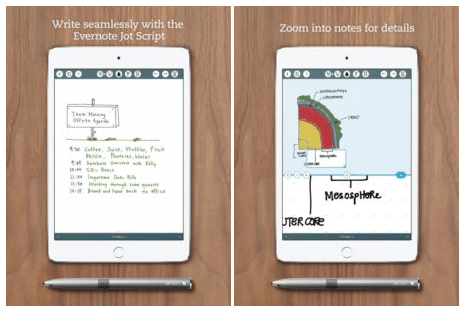 (iOS) FREE Offers In-App Purchases
---
Thesaurus Rex by Dictionary.com
Whatever children write this best program for iPad can help them to expand their vocabulary. This application stimulates children to think outside the box. The app also helps kids to select words that match the overall tone and sense of a novel or composition. Moreover, now this writing app is completed with the contemporary expressions and slang.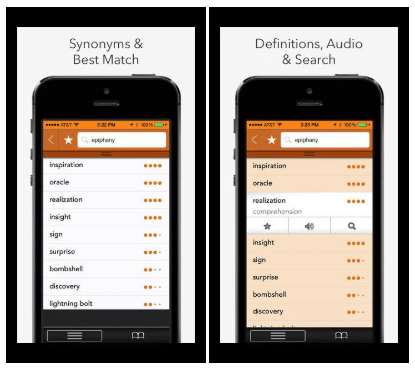 (iOS)
---
SoundCurtain
This is a quite simple noise suppressing application compatible with iPhone or iPad (if the user wears a set of headphones with microphone support.) You can choose from three varieties: random noise, rainfall, and harmonic sounds. The first option is suitable if you've been utilizing a white noise machine for a long time.
(iOS)
---
Notability
Notability allows you to catalog the notes. Such writing apps are made in the style of Mac OS, where you can mark the files and folders with color tags. Surprisingly, it isn't possible in the standard notes. Each directory (not note!) can be passworded (if you lose or forget your password, it can't be restored). You can also change the order of the directories.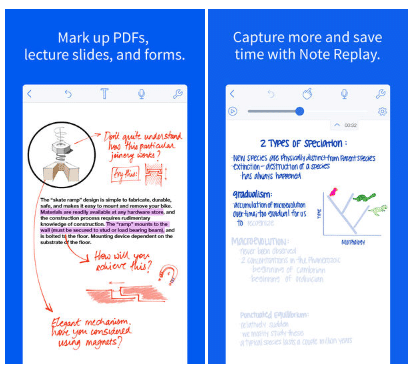 (iOS) $9.99
---
Write or Die
This app doesn't allow you to get distracted and procrastinate. As long as you write, it's okay, but if you stop, unpleasant consequences are unavoidable (of course, they are customizable). For example, if you stopped writing, the written text will start to disappear.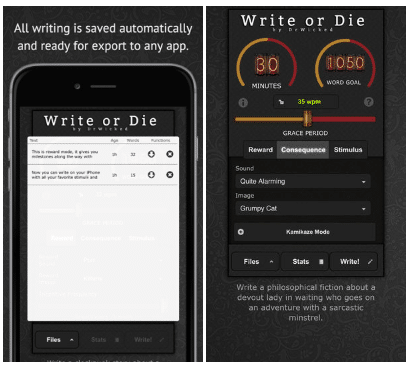 (iOS) $9.99
---
MyScript Nebo – Note Taking for Apple Pencil
The program uses advanced technology MyScript Interactive Ink for writing. The app has a mandatory requirement- Apple Pencil. MyScript Nebo can convert handwritten notes into text and has a cute inline editor.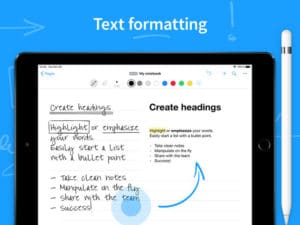 (iOS) $7.99
---
Creative Writer
Each of these apps has an equally cool, minimalistic and nice interface. Let's start with the unique advantages: the Mac version is inexpensive, while the iPad version is entirely free.
This is the cheapest solution for writing texts on all Apple devices. Creative Writer is an excellent text editor with support of iCloud, doc and docx formats, and even an ability to display the code!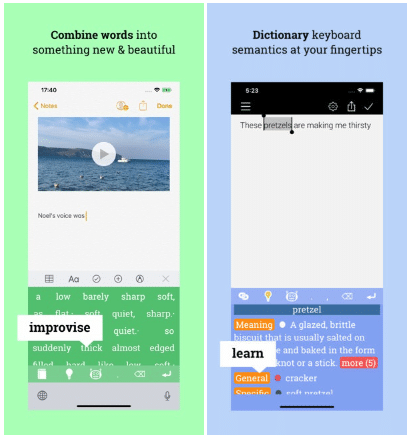 (iOS) FREE Offers In-App Purchases
---
Lists for Writers
The developers tried to create a beautiful, efficient and nice editor. And we should recognize that they succeeded. Maximally convenient and simple interface promotes productive, fast and fruitful work. There is synchronization and its excellent work. MaсDown for iPad has a focus mode, a preview mode, and hotkeys.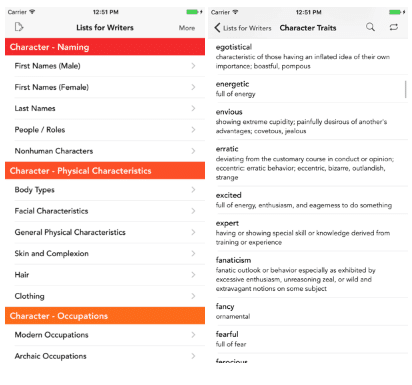 (iOS) $2.99
---
Rory's Story Cubes
Create your own stories with Rory's Story Cubes! The game is ingeniously simple and creative; it is entertaining for kids and adults. Rory's Story Cubes is a simple imagination game, created by the Irish business coach on the search of creative business solutions. Roll the cubes, look at the pictures and connect them in history – it's straightforward if you have something to build on.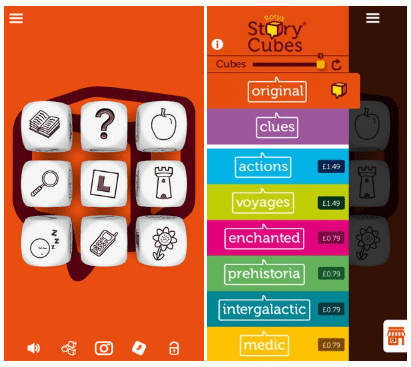 (iOS) $1.99
---
Creative Writing Prompts
This is an application for iOS, which allows the students to collect ideas and begin writing. The program matches tips with space for writing and will enable users to set daily alarms to write regularly.
Creative Writing Prompts is an excellent option for students who require additional support to remain focused.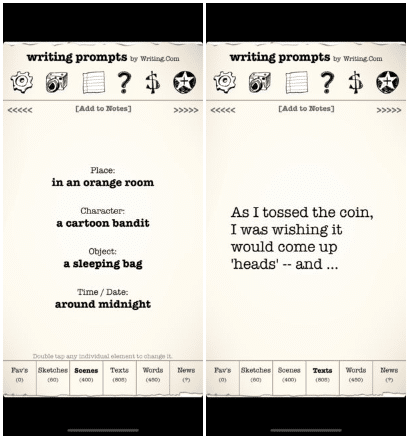 (iOS) $1.99
---
Writing Challenge: Unusual tips for your essay
This app represents a game-based app intended to create innovative ideas for the authors. It provides the user with extra tips at regular intervals. As soon as you click on the button "Start", the program will give you the basis for creating your own story. Select the one to your taste and start writing. Every hour (or any other chosen period) the program will give you a new tip.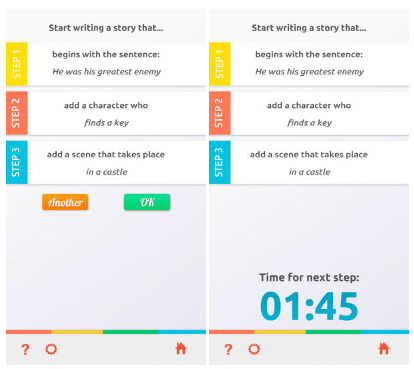 (iOS) $2.99
---
The Brainstormer
The Brainstormer is a random generator. I know for a fact that many talks about this type of creative applications with a grin. However, we need them to start thinking and writing. This is an indispensable iPad app for writers, scenarists, and animators, which should help them at the stage of writing stories, creating unusual characters or generating any situations.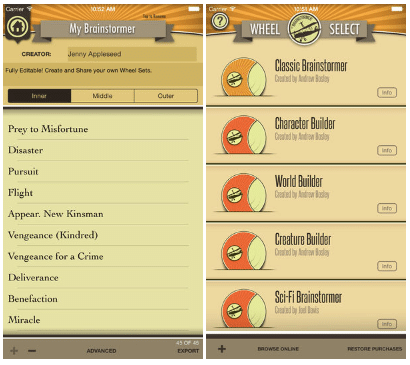 (iOS) $1.99
---
Forest: Stay focused, be present
Probably, the creators of "Forest: Stay focused" were very concerned about the dependence of humanity on their smartphones and tablets. Forest is an application for iOS, Android and Windows Phone. It is created for those who can't put down their smartphones and focus on other things. When the smartphone owner sets the timer, the app starts to "grow a tree." At first, the user sees a small sprout, but later it turns into an adult plant.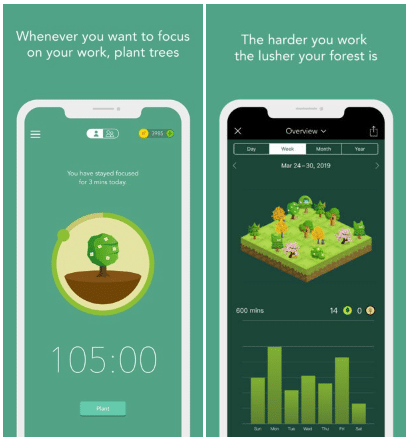 (iOS) $1.99
---
Evernote
Originally, Evernote was a service for creating notes. Now it copes with this task as well, but over time, it has obtained so many additional functions that it can't be called a "simple service for writing notes" anymore. All the data placed in Evernote are stored in the notes. These can be printed or handwritten text, photos, and audio records.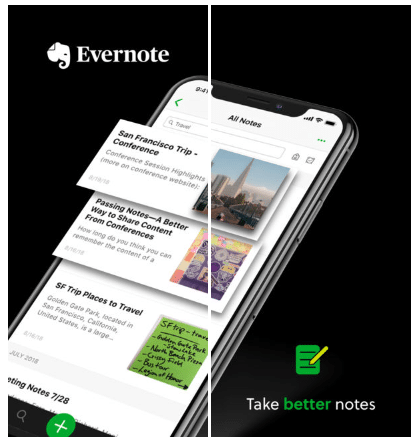 (iOS) FREE Offers In-App Purchases
---
Ink On – monitors the number of words and time of writing
This program preserves the author's interest and helps to remain motivated and respect the deadlines. You can use Ink On for iPad in two different modes. The first one (calendar mode) permits the authors to establish daily/weekly word number goals or just counts the days spent writing. The second one (project mode) is intended for monitoring targets on individual projects.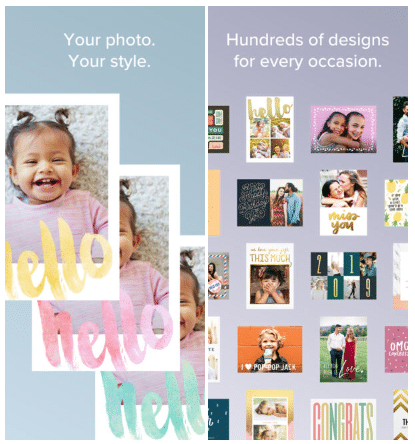 (iOS) FREE