Imagine spending your time with friends. Great atmosphere and cool jokes in full. What can fit into such a pastime? A great idea is to change your voice and see what happens. But if helium cannot be found quickly, do not despair.
Helium voice video app android
Each user can download applications for Android and iOS, which allow changing the voice very naturally and in different formats. If a person doesn't know how to make a squeaky voice, he needs to try one of them. Surprise and laughter guaranteed!
We found the most popular applications from Google Play and App Store, and we will talk about each of them in detail in the text below.
Super Voice Changer & Editor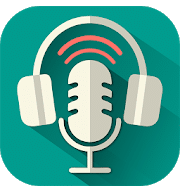 Ultra Voice Changer is a powerful, cool and diverse tool in its category. If the user is wondering how to make a squeaky voice, he can download Ultra Voice Changer immediately and enjoy its capabilities to the full.
In general, this squeaky voice app (Android) offers the ability to change a person's voice into one of the types of funny distortions. This is an analog of a ball with helium, but here are several options for modulating voice. The application works like this: it proposes to record the voice of the user to the recorder through its own interface, after which he can try one of the options for the changed voice. Enjoy the result!
The modified audio is available for saving, and the recording can be saved in several distortion options at the same time. If desired, the audio file can be exported, or set to a ringtone or message quickly.
The program interface is very simple, and it can be used by everyone without studying. Free version of this squeaky voice app (Android) contains 14 basic options for changing the voice. When buying the full version, the user receives additional tools for voice distortion; it also disables all in-app advertising.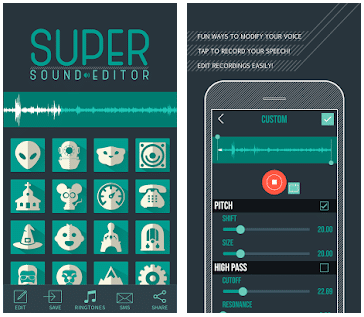 ---
Voice Changer Plus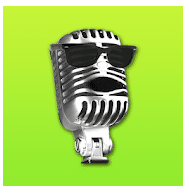 Voice Changer Plus is another cool squeaky voice changer to kill time for a fun pastime. This is a similar voice modulator that offers many funny options. It pleases at first sight with a clean and convenient design, settings that are understandable at a glance. The main plus: the app is completely free. In addition to the direct changing of the voice, the user can add background effects to achieve the full effect.
To get started, just click the voice recording button through the recorder inside the application. When the audio file is ready, just select the effect from the list. 50+ effects are available for every taste, along with the ability to add photos, social network export etc. Completed audio file can be set as the ringtone immediately in this high voice app.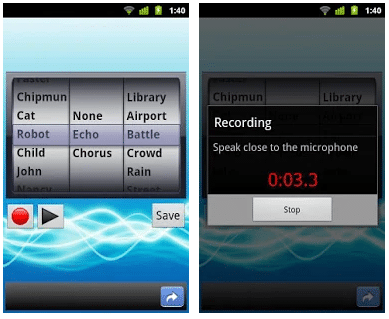 ---
Best Voice Changer
Best Voice Changer is a very popular helium voice video app (Android) with 1,000,000+ downloads, which is appreciated by masses for the perfect balance of simplicity and high functionality. The principle of its functioning is very simple, as in similar applications. The user must press the record button inside the application, speak the text and the audio file is ready. Next, just select the desired voice modulation tool from the list to distort the recording. The user can apply a megaphone effect, female / male voice, creak, and so on to the sound. If desired, a large number of background effects (echo, rain sounds) are available to achieve the full effect. An interesting option is to change the speed of the conversation. It's time for squeaky voice jokes! Available for free for all Android users.
---
Funny Call
Funny Call is a funny app to make voice squeaky that expands the features of the idea of a distorted voice. Now the user can not only listen to his voice in a modified format but also call to surprise friends. Just call someone through the app and select one of the available options of voice changing. Unforgettable reactions guaranteed! If necessary, the recorded voice can be sent to social networks. The simple and cozy interface is an additional advantage of this mobile "toy". This helium voice video app is available to all iPhone and iPad owners.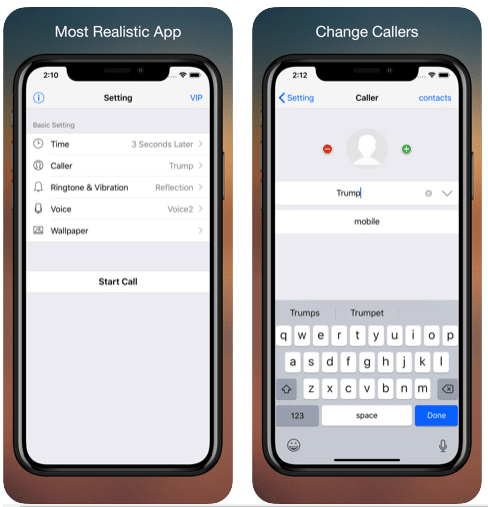 ---
Voice Changer (with Effects)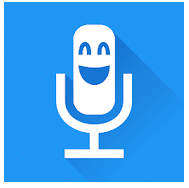 Let's check another powerful helium balloon app for Android. This application has a voice modifier that has many fun options to choose from. It is enough to record any part of the sound with your voice to create a funny stupidity. The user has the opportunity to feel like Darth Vader, a robot, an alien, and many more by whom. In total, a little more than 20 filters are available. Recorded audio can be saved after processing to share it on social networks, send to friends or set to a ringtone. Users note the high quality of sound processing. It is completely free, but there is some advertising. In general, the design of this squeaky voice app is very simple, accurate and convenient. Working with sound has never been so easy. Jokers, take it safely!
---
Crazy Helium Funny Face App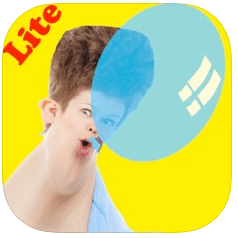 Let's finish this journey with the nice option for iOS users. Crazy Helium Funny Face App is the app that helps to change the face on the photo with some effects. This is an app that makes your eyes big and voice squeaky. The user can mix some effects and masks to create unique visual options. In addition, an option of adding sounds is available. The user can record something with the voice and change it to have fun to the full. The voice can be faster or slower, or there's a lot of funny modulators to choose from the list. Anyone can make photo or audio immediately to change, of there's an import function available for lots of types of files. In general, there's a lot of functions, but this high pitched voice app is really simple to use because of its clean and totally understandable interface. Free trial version is available.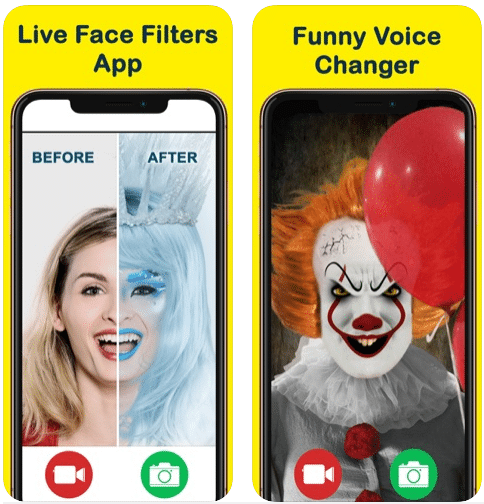 ---
So, now you totally know, how to make a squeaky voice! Have a lot of fun with friends.
Also, you can check good post about microphones for iPhone & iPad for recording music on: https://techzelo.com/best-microphones-for-iphone-and-ipad-for-recording-music-and-voice/