Everyone loves to sing, but not everyone knows how to do it. Many people are shy about their singing. Modern technologies allow everyone to correct the situation when a person wants to record his voice, but is shy of what will be heard.
How to turn anything into a faceted diamond? A person should install a special vocalive app for Android/iOS on a mobile device to sing anywhere and anytime. The recorded voice is corrected and aligned in harmony, which will ensure the harmony of sound. Even the most hopeless vocalist gets his chance with vocalive for Android and/or iOS!
Smule
Smule is a very popular vocal harmonizer app (Android, iOS) with a tons of useful functions for singers. The main option is the ability to sing a duet with a person who is far away. A person can also make a duet with a celebrity. The application allows o adjust the tone of the voice automatically, in order to achieve a perfect, clean and smooth sound. This is a simple and effective choice that thousands of people use. Users can record and listen to a recorded song with processing effects, save it, export to social media and even publish at Smule community to let it hear by a lot of others. Add to that many more useful vocal functions and get a universal harmonizer app for Android and iOS for all occasions!
---
AutoRap
AutoRap is another perfect vocal free apk by Smule creators. This is the app for hip-hop lovers and everyone who wants to become a rap star. It uses unique replication technology, which is based on AutoTune and easily turns speech into rap. The app offers the user Talk or Rap modes. Modes have radically different mechanics but follow one goal. Talk mode allows the user to read the text, and the application adapts the sound to the music. This is an easy way. Rap mode will allow the user to do the same, but then he must read the words in real-time, and the application will correct speech by bit. A big plus of this vocal live app is the extensive library of styles and beats that will allow a person to sound in the style of the favorite singer. his direction in his search. The finished sound file can be saved and exported to social media quickly.
---
Voloco: Auto Tune + Harmony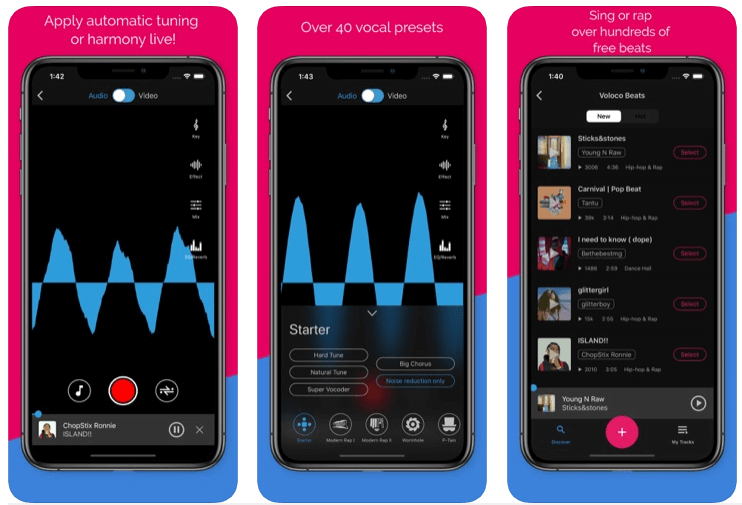 Voloco: Auto Tune + Harmony is a more specialized, best vocal app for Android and iOS for correcting vocal harmonies. Voloco's great value lies in the wide functionality that even professional performers will have to place. The app allows user to record a voice and change it to an ideal state in real time quickly. The voice processor provides clean voice correction even in difficult recording conditions. The recording is based on the selected music. At the end of the recording, the file is completely ready for further use. It can be saved in the device's gallery, or exported to social networks with the click of a button.
This is a perfect vocal app in the category that literally everyone will appreciate.
---
Starmaker
Do you want to become a star in the scene? It all starts with small steps, and the StarMaker best vocal app for Android/iOS is quite capable of becoming the beginning of a large and famous future. And it all starts with singing in the application and adjusting the tone in automatic mode. The application will show flaws and allow you to train in visual mode to improve vocal talents. The recorded song is fully adjusted and ready for publication. The user can share it on social networks. In total, more than 500 tracks are available for recording initially. Additional content can be purchased. Even if a person does not set professional goals, StarMaker voice recorder app for singing will be a great way to have fun and have a great time.
---
Tune Me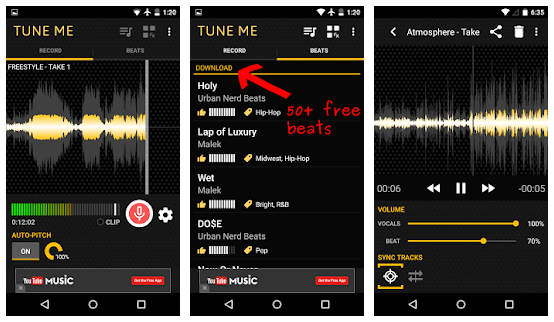 Do you need another best vocal app for Android? Tune Me offers to experiment with a person's own voice and to reconfigure vocals in the style of artists such as T-Pain, Kanye West, Akon or The Lonely Island. Sing everything you like to any music and record the result in the application. Tune Me will correct the voice automatically. The user needs to train constantly to raise the level of performance, and the application will help feel the flaws in vocals. Recorded tracks can be sent to friends quickly in any convenient way, and the recorded song becomes a ringtone in a couple of clicks with this perfect vocal free apk.
---
Auto-Tune Mobile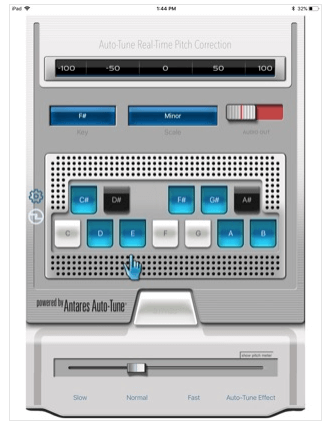 Let's see one more best vocal app for iPhone for professionals. This is a multi-functional solution for iPhones and iPads, which allows the user to achieve crystal clear and accurately adjusted the sound of the voice on the recording. The user should start singing and recording voice through the application. All inaccuracies in vocals are noted by the application and create marks for further study, as well as change the vocals at the output to a high-quality result. Beginners can use the chromatic scale to adjust the key in the desired range. This best vocal recording app for Android works in conjunction with other vocal apps.
---
Learn to Sing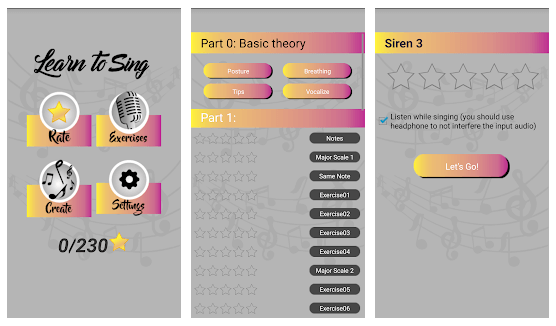 Learn to Sing is an interesting voice recorder app for singing (for Android phones). It's not the typical vocal app. This is an atypical application for this category, but it has every right to be present here. It is more focused on teaching the user how to sing than thoughtlessly adjusting an imperfect vocal line. The application does not correct the vocal recording automatically, it works through it and demonstrates actions to improve singing in real-time. The user learns to hit the notes while singing. The application offers a number of exercises for singing and developing vocal talents, which allow the user to achieve the right notes and intervals. This is a high-quality application for those who want to learn how to sing, and not just change the vocals on the record.
---
Hope those best vocal app for iPhone/Android list will be useful for your purposes!