Most people consider Christmas the main holiday of the year. And indeed it is. We strive to spend time with family and friends, or at least to remind ourselves and say warm words to them on this very day. What is the best way to celebrate Christmas? All means to create a festive mood are good. And in popular application stores, there are many thematic Merry Сhristmas apps (free) that serve this purpose in many ways.
What is the most interesting and useful for the celebration? We have collected some interesting App Store and Google Play Merry Christmas options that will please every person, his friends, and relatives. So, Merry Christmas and have a good holidays!
A Message From Santa!
Do not forget that children believe in Santa and expect gifts from him. And there are some Merry Christmas apps for this purpose. This application will help maintain an atmosphere of festive expectation, and each child will be able to feel important and special in a very cute way. The application allows the child to call Santa in person, or record a voice message from him, as well as see a video message from him. Among other nice features, you can chat with Santa and make a list of gift expectations (so that parents know everything for sure, rather than trying to read their minds). Santa himself can call using a separate function. A large set of features is available in the free version of a Christmas story app, but for a flexible personalization of congratulations and child's communication mechanisms with Santa, you should buy a premium version.
---
The Christmas Gift List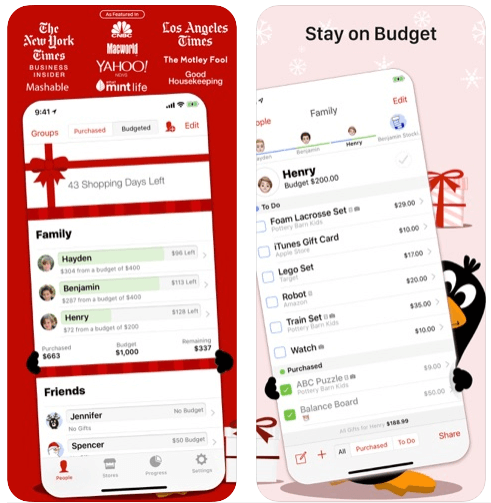 Where do we start? Check this Merry Christmas app at first. Do not forget to buy gifts for all friends and relatives, in no case! And this application will help make the process simple and efficient. This is a simple and convenient list that can be used on the eve of Christmas or any other holiday. Convenient data management tools are available here, synchronization with e-mail with the ability to quickly export, as well as additional settings for every taste. Why does the user need such an application? The user does not have to keep everything in mind in stores, as well as calculate the budget for spending. To hide the list from prying eyes, the user can set a password. It is very simple and convenient, and a nice interface serves as an additional bonus to the functionality.
---
Christmas Countdown
There is nothing more magical and intriguing than the expectation of a great holiday and the pleasant moments that it will bring. Now the wait can be as clear as possible, as the developers carefully offer everyone to use a simple Merry Christmas app countdown tool. This application shows the time left before the next holiday, including the exact number of days, hours, minutes and seconds. This is a Christmas Story application that works accurately, and the interactive elements serve as a nice bonus: the ability to regularly change themes before Christmas, virtual gifts to maintain the spirit of the holiday, holiday facts and links to songs that set the mood for 100%. It is completely free regarding all the features described above. A premium version is also available where the user can get high-resolution wallpapers for a small fee.
---
Christmas RADIO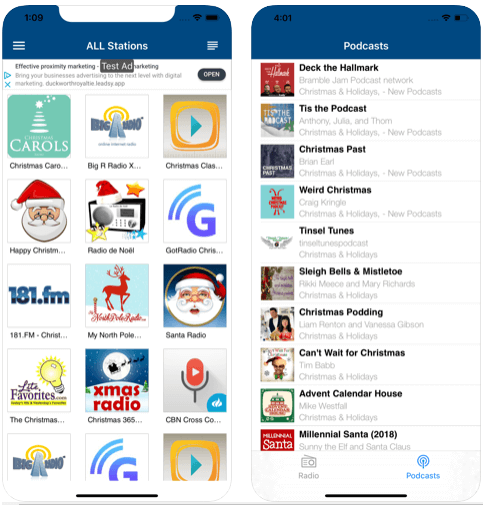 What about good music? Without it, Christmas would not be as bright as we would like. This is a tradition and a guide to the world of festive mood. Get this to the maximum and in one place the Christmas Radio application will help. This Happy Christmas app includes a selection of Christmas radio stations from around the world that broadcast festive musical compositions. It is enough to choose an option from the list and enjoy recognizable motives. If desired, the user can listen to songs 24/7, since most radio stations broadcast music on the eve of Christmas non-stop. In total, more than 50 radio options are available. It has a very simple and intuitive interface, as well as high-quality sound. The application works even in case of a weak Internet connection.
---
Christmas Booth: Photo Fun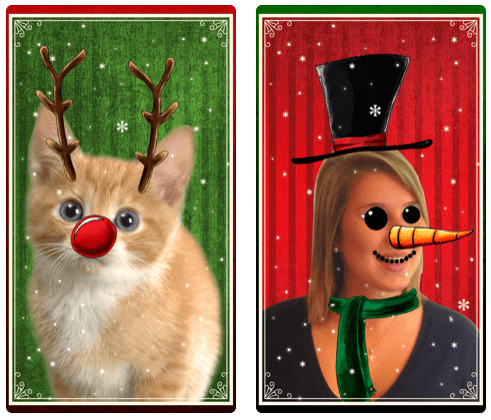 And now is the time to have some fun among the pleasant pre-holiday worries, or at any convenient time of the year, when there is so little holiday in life. The application is a simple photo editor that helps to process photos and create collages with the atmosphere of Christmas. It is enough for the user to take a photo in this Merry Christmas celebrating app (or import a photo from the gallery) to add stickers, frames, and captions on the photo. This will help a person to transform into Santa, an elf, another character, or simply decorate the image with a slice of holiday mood. Ready-made collage from this Merry Christmas frame app can be quickly exported by e-mail or popular social networks so that friends and relatives appreciate the efforts.
---
Conclusion
There are a lot of ideas for Christmas-themed applications. We also recommend searching for thematic games, collections of postcards, White Christmas app and much more that will contribute to high-quality pastime in this brig