Can you make the perfect gifts always and everywhere? Or do you think that you can, but in fact, friends do not want to offend you with a disappointing reaction to the efforts?
Modern time opens up a whole bunch of modern solutions. The ability to order something online gave us immeasurable shopping opportunities. Today, making the best gift is very simple. All you need is a free wishlist app. We're talking about an application that allows you to build lists of desired items. The user wants something, for example, for his birthday. He finds it in the app and sends the subject of choice to another person just in one click. The latter one does not need to invent and guess anything, just buy. Everyone is happy!
A person can use the wishlist app for anything: for everyday shopping, for making a gift, for important matters.
So, what is wishlist app?
In fact, the solution to the problem of choice is not the only thing that makes such applications useful. Free Wishlist App is a storehouse of gift ideas. If you are too lazy to go to wind something to the stores, or even have no idea what you can buy as a gift (and the message from the recipient does not come), then you can be inspired by a bunch of great ideas. And also it is simple to make your own wishlists online by the app in a convenient visual form. When it comes time to buy, you are arming yourself with a compiled list. You are not trying to search through half of the Internet for "that T-shirt that you saw on some website".
We will consider in this article the 15 most popular want list apps, which are highly appreciated by people.
Giftry
Giftry is another one gift-oriented app. Forget what shop workers tell. Throw gift cards in the trash. By downloading the wish list maker app, you build strong relationships and mutual understanding with everyone. It's time to bring exactly what a person needs, and demonstrate unlimited care.
The wish list can be made by adding a buy link to the directory. Just keep a wish list, and everyone will see it. Anniversaries, birthdays, Christmas and housewarming: nothing passes by.
Giftry will allow not to make mistakes in choosing longer, offering only proven positive emotions to parties to the gift "conflict."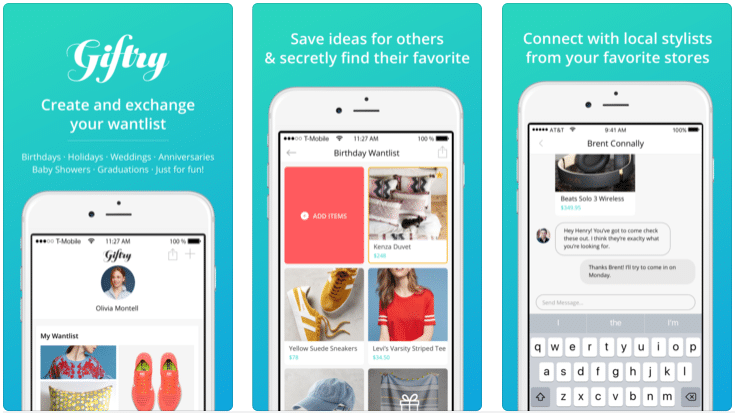 ---
GiftBuster
We move on through the story. The next in line is the app called Giftbuster, and it was developed for Android and iOS devices.
The idea is similar to the options described above. You share "cards" with people. They can buy and send, and blow your mind with this surprise. But there are several features that make Giftbuster popular between a wide range of users.
For example, a very simple and intuitive interface is implemented here. This wishlist application will understand even an inexperienced user. It is necessary to make a wish list that is simply and clearly displayed for family and friends then. They will clearly know what are you counting on. The app will tell everyone via notifications when it is time for gifts. An impressive search and storage system for potential presents is available too.
---
MonkeyWish
MonkeyWish is positioned by the creators as an innovative service to build my wish list (App Store only). This statement is too ambitious because the basic idea of ​​the application is rather typical. But it deserves attention and a chance to be used, as it has a number of advantages.
Here's you'll find a simple system for collecting, processing, storing and displaying data about gifts, and it simplifies the process of making gifts to the maximum. Each user can collect products from any site in a couple of clicks. This can be done through a barcode, a weblink to the site or just a picture. Everyone have an option to send gift lists outside the application, using e-mail or the biggest social network websites.
And for those who do not know what they want, there is a list of ideas to use MonkeyWish wish list sharing app. Just evaluate options for products based on your interests and keep them in a commonplace.
So, yes, MonkeyWish is a kind of revolutionary thing. At a minimum, in matters of general usability.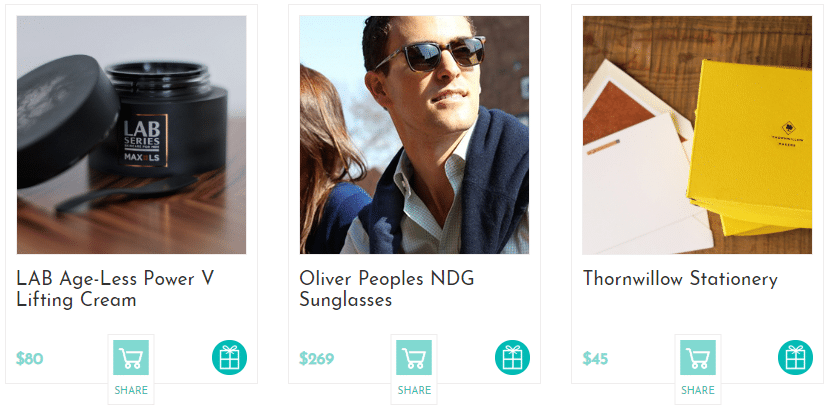 ---
Gifster
The concept of Gifster is aimed specifically at gifts. The app is made for sharing gifts with other persons, which will solve a lot of problems. Keep the desire to get from people exactly the gifts that are needed. Keep your holiday calendar handy and view other people's desires to be fully prepared when it's time to buy something and bring. Ideas can be sorted through the holiday and other factors. Everyone always guesses what to buy… And everyone always gets exactly what they dreamed about!
There's a simple tool to create more than one such list. These may be lists that:
only you can see;
see certain user groups;
see all people.
Just invite the right people to the group, and your choices will be visible. It is actually possible to set the degree of importance of the goods, from 1 to 5 stars. So people will see your priorities. Any person will see more than just your wishes. It provides the  "purchased" and "reserved"  marks to avoid any awkward situations. The creator of the list does not see these statuses.
---
Ultimate Wish List
Another best wishlist app for people who prefer iPhones and iPads. Others can find the full browser version.
The idea is simple. There's a lot of links to products from the huge amount of sites (or just two websites, who knows you). You also have many lists and dates to sort and save, and then enjoy the process of giving.
The main mind-blowing win here is a colossal barcode database that provides a global user experience. Now we explain how it works. You found an interesting product in the store. You scan the barcode, and the application will show databases of stores and similar products. So you can view alternatives, as well as places where the same product can be purchased cheaper.
Another pros: it is completely free. Make your gift activities more productive with Ultimate Wish List!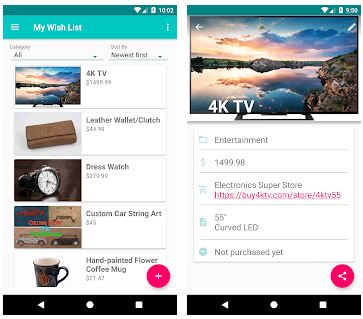 ---
Gift List Manager
Let's turn further to the options of good free wish list app exclusives for Android. There are some. For example, easy-to-use Gift Sheet Manager.
This application provides you an opportunity to create and quickly create wish lists. It features an intuitive interface and a nice design. The user can control the flow of holiday dates based on a list of significant people. Products in wish lists are displayed visually, so there's no difficulties to understand immediately what the person really wants to receive.
Also here you can calculate the budget for gifts, group people according to different parameters, set up alerts about upcoming holiday dates. This is an effective assistant that will not let you forget about best people of your life even for a second.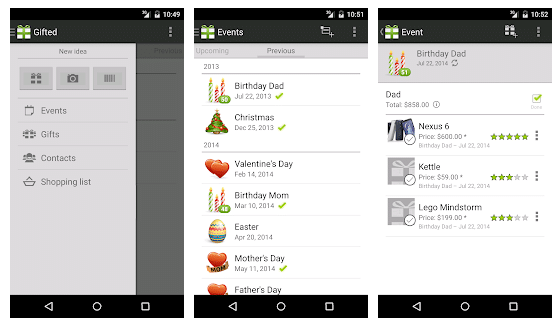 ---
Gift It
And now let's add a little piece of creativity and brightness to the process of choosing gifts. Gift It app your protector is on guard for a good search. It has already been appreciated by lots of users, actually.
We're talking about purely simple solution with a focus on crazy gift seasons. For example, when we buy some things for Christmas. So, when the day X comes, it is real to plan the budget clearly, relate it to the wishes of your people, find the best options for gifts and please everyone with a "shot at the bull's eye". Headache from the turmoil in the stores is canceled!
Just build wish lists in the application, as well as notice the things the selected people can want to get. So, the individual load level is formed for the special days, and the scale should be filled with purchases. When you complete it for everyone from the list, the screen turns green. When it's red, let's go for a shopping, immediately!
That is, everything is extremely understandable, clear and effective. Don't forget it's real to make a range of different user lists here. Wishlist app reviews are perfect here.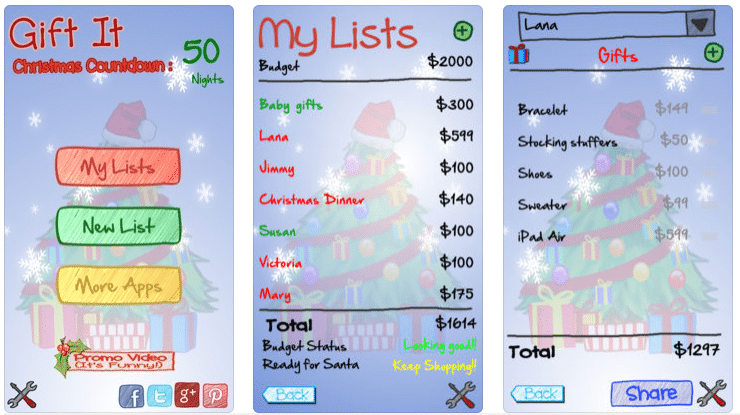 ---
Wish List: Shopping Buddy
Another simple and effective wishlist application, which is offered to all Android fans. Here is implemented a flexible system with prioritization. Control the budget clearly, keep a list of things to buy under control, and see potential individual purchases. There are a total of three methods for the graduation of each thing that was added: by price, category, and degree of importance.
Create wish list and hint to buddies and parents that you want to receive on an important date. The ability to check a specific item on the Internet to find a way to save money is also implemented here. And users rate Shopping Buddy's interface at a high level. We recommend paying attention to the great combination of practicality and convenience.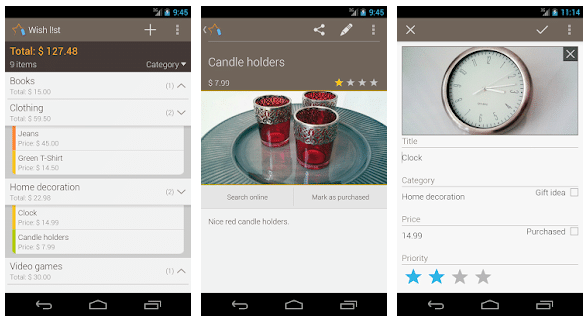 ---
Target Kids' Wish List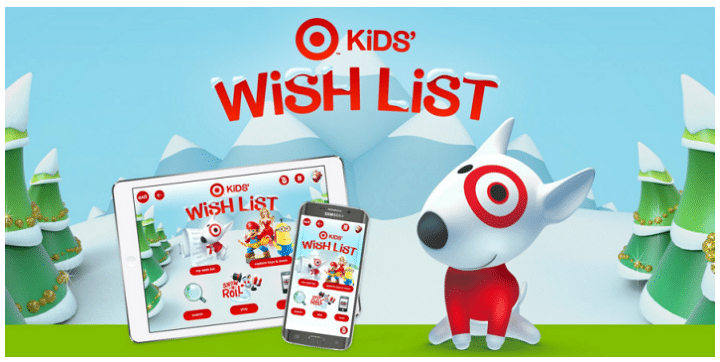 What about children's wishes for a birthday, Christmas, another holiday and an ordinary day when they want a new toy? Target Kids 'Wish List is a simple, kid-friendly solution that is created to simplify the way their biggest dreams to become true with the hands and wallets of their parents. Best wishlist app for happy families in general. Let's turn the guessing process into a fun game that all participants will enjoy!
Parents play a leading role. They build wish lists for their children and give the opportunity to study, make choices. The child chose, and then mom and dad can buy. The app has a Parental mode, where there is no access for children. The private function here is access to tracking data for delivering.
Children can have fun with this gift wish list app, and one of the seven electronic helpers will help them for this purpose. The application designed for children first. It pleases with a bright, colorful color scheme and simple interface. It is impossible to get lost here, but it's necessary to get a lot of pleasure.
---
meHappy
meHappy is a specialized application among the options of the shopping wishlist app category. Here everything is thought out for the sake of birthdays. We can see here the solution to the common problem called "not to forget when and whom to congratulate". And with such a user-friendly interface, weighted functionality, and useful notification system, it could not be otherwise.
Everything is very simple in meHappy. You have a contact list of people. There are dates of birthdays for everyone. (All this is wrapped up in a bright, clear and pleasant design, by the way.) You get a reminder at the right time and solve the problem until next year.
So, what to send if it's someone's birthday etc? A convenient wishlist app system is implemented here.  You add products of interest, and users have access to it. And when you add something new, everyone sees the alerts. Nobody gets you out of head when it's time to present you something!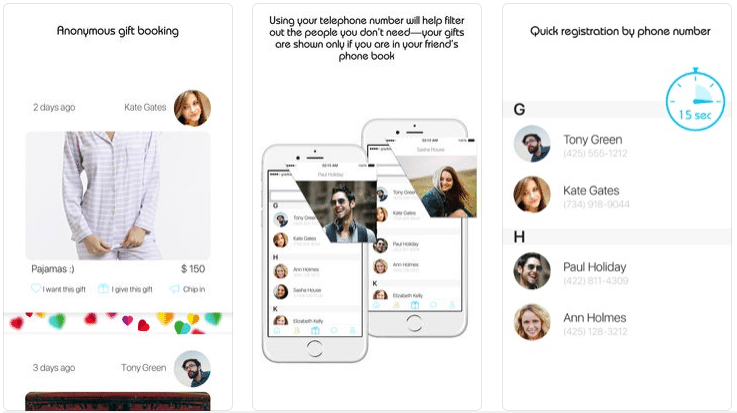 ---
MyWishBoard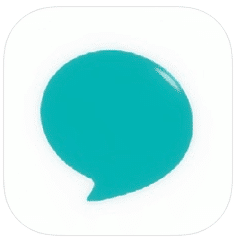 Perhaps the most technologically advanced and convenient wishlist app. In many ways, flexible integration with the best social networks helps with this. the system of desires and ideas for gifts will give pleasant emotions and solve many problems of choice.
What can a person combine here? Lots of standard wishlist ideas are presented here. For example, you can add an item to the list, and then leave a description and photo. Lists of my wish list app are available to be posted everywhere. If it is necessary to say something, each item has its own comments section.
The smart interface allows us to make wishes literally while walking in the shopping center or somewhere else. Gifts are fun and simple. Even if you are not pathologically able to give anything, this tool will make any person a king of the situation. Just try it!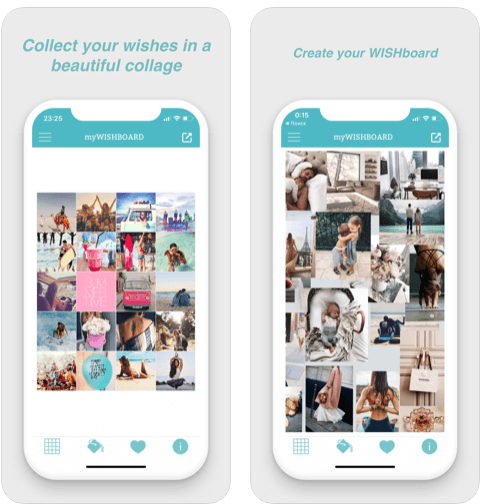 ---
Wish Explorer
Wish Explorer has earned a reputation as one of the greatest wishlist app based on the Android platform. A number of good reasons for this can be posted below. Here you can create wishlists, event lists and send info to user groups. Everything sounds simple, but technologically at the same time too.
There are several valuable features that distinguish this application from the crowd. For example, a barcode scan system. You scan the item move it to my wishlist app. Everyone knows what to send you next time immediately! The list systems are very convenient, and if can't choose your best wishlist app from the list to the moment, you can safely stop the choice here. We guarantee: that's the great piece of joy!
Give some happiness to the best people of life with the correct choice of gifts. Wish Explorer will help everyone. Weddings and birthdays, housewarming and Christmas: nothing will pass by.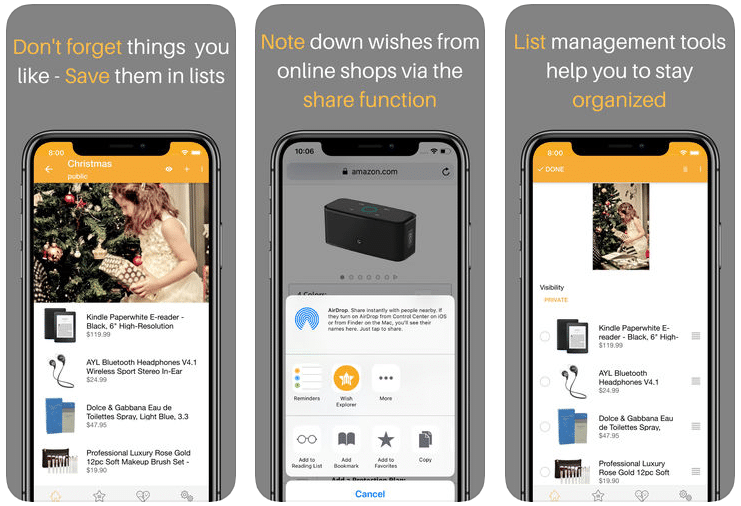 ---
Christmas Gift List
Another application with a clear focus (Android only wishlist app). Probably, the best Christmas wish list app to the date. We are talking about the most popular holiday and the seasonal demand for the application. But if you need to organize gifts for a lot of people before Christmas, Christmas Gift List is the best choice for you.
Add your Christmas wishes and keep track of others. Learn about others' interests to be fully prepared during the shopping season before Christmas. Create shopping lists based on the available budget, and you will be able to please everyone, and not go bankrupt yourself.
There is a password function for the Christmas list. Lists can be sent via e-mail and all popular social networks. You can form a list of people individually, and you can set separate features and functions for each list. You can make a note and an additional photo for each item in the list. When something is bought, it is marked as "bought", actually.
Be the most technologically advanced, attentive and caring person for Christmas!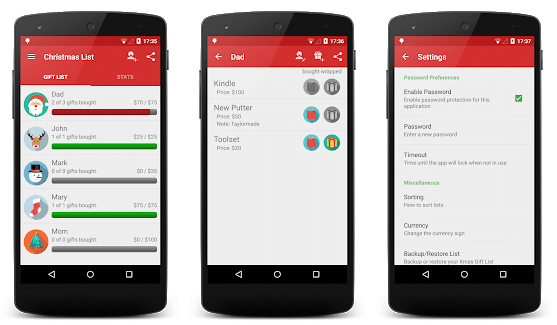 ---
WishMindr
Another tool that you'll describe as "my list wish app to solve all the problems". This is a very simple app that will save you a lot of time and nerves. The developers paid special attention to usability, and you can add products from other sites without any problems. Use all available tools to share desires with the outside world: email, Twitter, Facebook and so on.
Users appreciated the interface. Here everything is thought out to the smallest detail, including notes that "the gift has already been bought."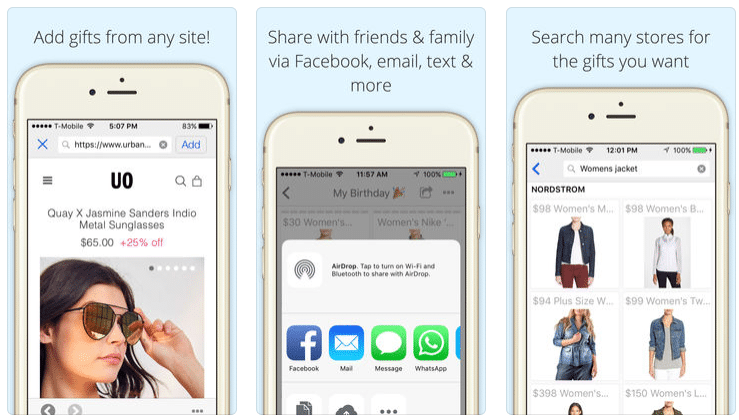 ---
Wishworks
And finally, we mention another great universal wishlist app for Android and iOS users. Wishworks offers a win-win solution for creating gift lists and sending information to friends and family. The main advantage is versatility because you can create a convenient list of links from different sites. Everything will look the same style. Give and receive positive emotions, guessing with gifts for sure! All the applications listed above will help you with this at 100%!
---