Scrapbooking is a special hobby of spiritual harmony, which allows a person to create beautiful objects. Each work done with the soul looks like a small work of art. But this takes a lot of time and effort. If someone want to practice scrapbooking or outline ideas that will be implemented later in life, he will need special tools. Prepare smartphones and tablets to put together a bunch of pleasant memories, moments and things of inspiration with scrapbooking apps for iPad and other devices.
Scrapbook collage maker
The developers offer many great solutions for making scrapbooking albums on the screen of a mobile device. It is enough for the user to install the application to start creating wonderful works. Save the results to transfer the idea into real life in the future.
We present to the fans of this hobby the best scrapbooking apps for iPad, iPhone, and all Android devices.
Scrapbook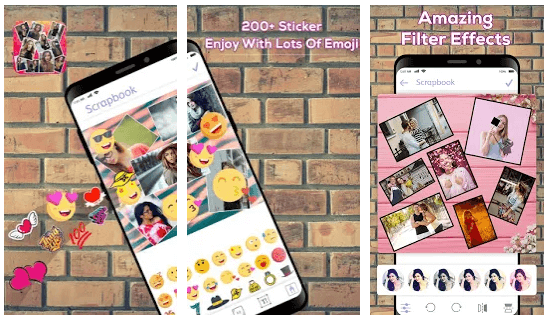 Take photos that are on the phone. Come up with an interesting text. Create an incredible collage that will please loved ones. This scrapbook app offers many bright and interesting options for creating collages: frames, background images, visual effects and animations. The finished result can be quickly exported through any convenient channels or published on social networks. Ready-made collages can be stored in the gallery and viewed at a convenient time, making edits and additions. This digital scrapbooking app, all cliparts and other content are free for the user. Available for all Android users.
---
Digital Scrapbooking – Scrapbook Layouts & Ideas

Check this, probably, one of the best scrapbook app (and highly popular) for the iOS platform. This scrapbook app allows turning any photos and inscriptions into cozy mini-masterpieces that the user can send quickly to instant messengers, email and social networks. There is a quick post button on Instagram.
Here is a very wide functionality that determines the popularity of the product. Particular attention is paid to supporting content. The user can use for free about 500 collage design elements in the form of cute pictures. Custom tools allow the user to drag, expand and scale collage elements in a way that the user likes. Restrictions do not exist, do it!
---
Scrapbook Maker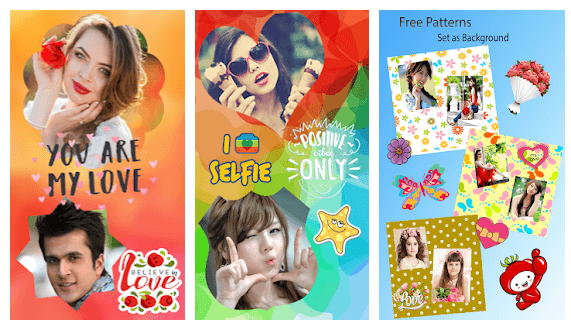 Stop sending everyone cards for the holidays. There are more intriguing opportunities to impress relatives and friends with visual creativity. Scrapbook Maker (scrapbook app) will help in this 100%. The app allows the user to make a collage of photos and supporting content quickly and without special skills. And it will be available for quick sending via e-mail or social networks.
Pick the cutest photos, come up with inspirational lettering, spice it all up with cute clip art from the catalog and enjoy the result! All clipart, background images, and other additional collage design elements are sorted by memorable dates. This is a simple tool to discover the creative nature within yourself in front of loved ones, which is worth using. This scrapbook app is free.
---
Scrapbook Collage Photo Edit.or & Combiner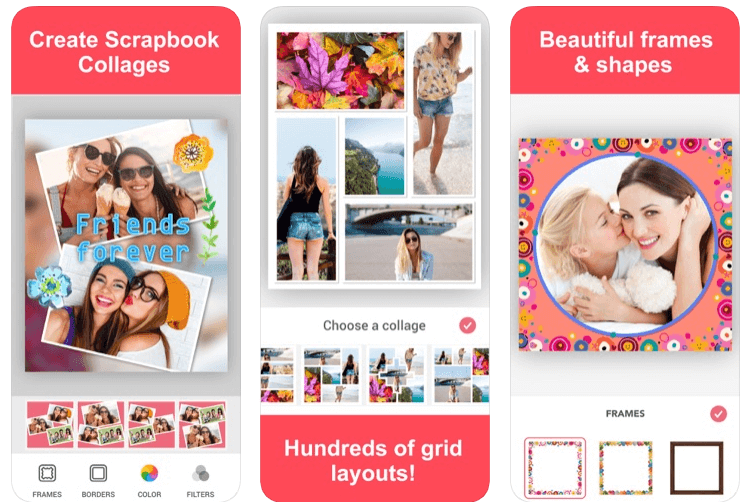 Scrapbook Collage Photo Edit.or & Combiner is another one powerful scrapbook application for iPhone and iPad devices. More than 3 mln of persons from the whole world appreciate this. This is a decisive app to put together all the memories. Do not forget to choose the best photos for this! Tons of free tools let a person to customize collage. More than a hundred of functional layouts for photos, dozens of beautiful pictures and graphic elements, unlimited options for customizing text labels, image customization are available for users (you can do it individually for each image). The user can send the finished result in a couple of clicks to all social media, or directly to friends. A simple and pleasant design creates the necessary mood for creativity and does not bring difficulties during times of creativity.
---
Snapbook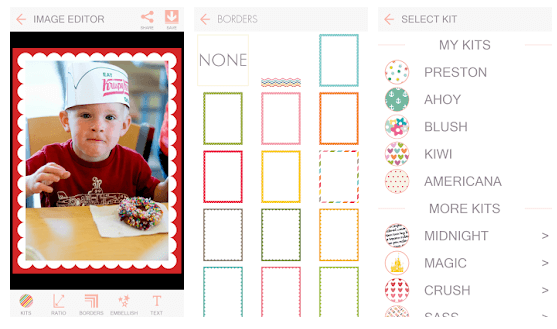 Do not let pleasant memories disappear! And do not forget to give them a particularly memorable form. Snapbook scrapbook app (Android) will help to do it as well as possible. The application provides the user the opportunity to collect any photos together and supplement them with auxiliary graphics and text elements to make a complete form. The finished work can be sent to all social networks and by e-mail so that friends and relatives appreciate your efforts. A simple photo editor is available with which you can improve the image or expand. Beautiful pieces of memories begin here and can be made in a few clicks. Even the one who holds the smartphone for the very first time will cope. Ok, the second time.
---
Pic Jointer – Photo Collage, Camera Effects Editor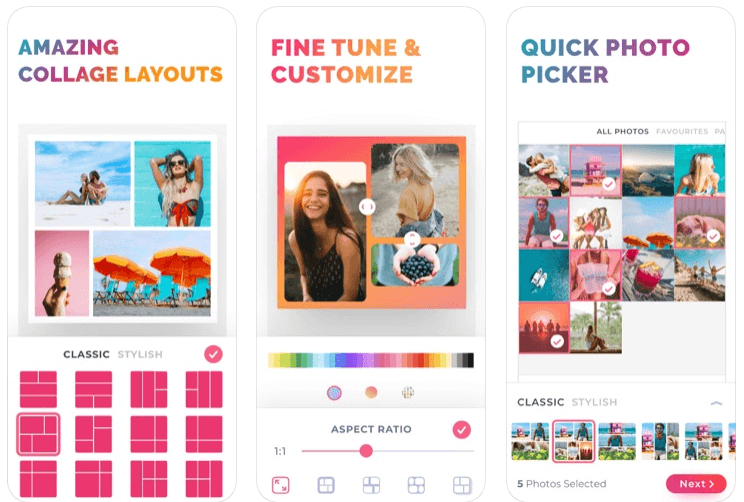 Check another one very popular picture scrapbook app from App Store. We can provide a lot of objective reasons for the wide user popularity of this collage maker app. Firstly, it is a very smart interface that makes it real to provide a complex collage in just a few clicks. The pleasant visual design of the interface gives additional pleasure from use. Many interesting and stylish graphic elements will help to complement the pics and present them in a unique way. Each graphic and text element can be flexibly changed in size and shape, creating a unique combination of objects inside the collage. Try and get real pleasure from the process, as well as approval from relatives and friends. They will not remain indifferent to this!
---
Scrapbook Collage Maker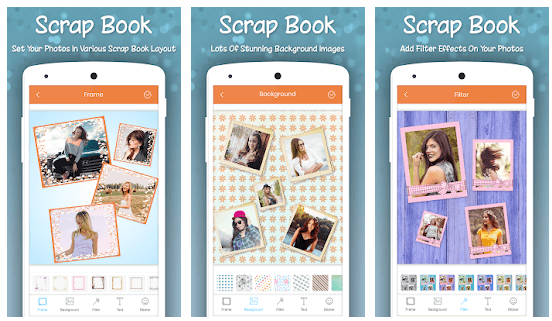 Scrapbook Collage Maker will help a person create perfect collages for the user. These works will be appreciated by the "target audience" unconditionally. Take photos with your loved ones, upload here, edit, and add cool frames and cliparts to achieve a memorable result. The resulting images can be sent to social networks, and an additional advantage is a very simple and handsome user interface, where all the working elements are clear at a glance, and a few clicks are enough to build a first-class college. A special option of this best digital scrapbooking app is a bunch of thematic content pieces that are designed to provide collages in honor of certain holidays and memorable dates.
---
Keepsayk instant scrapbook photo books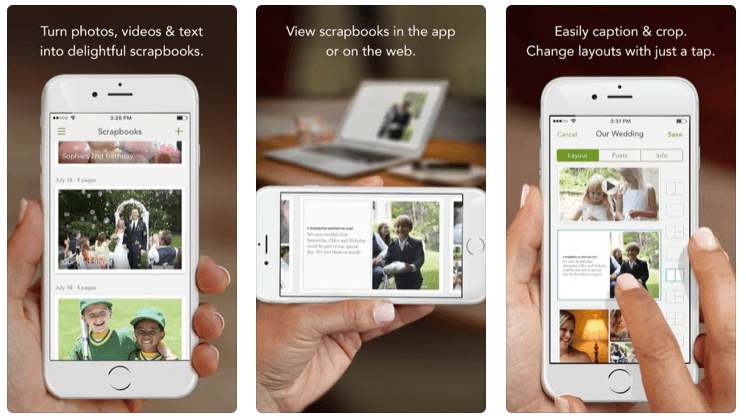 Keepsayk Instant Scrapbook is also a very popular free digital scrapbook app on iOS. This is a full-featured tool for creating memory albums. The user can create an interesting space of memories from photos, videos and additional elements that are available in the application: graphics, animations, clipart, background images, frame templates and so on. The finished album or collage can be sent to all popular social networks by clicking on a special button. An album can be saved and shared with certain user groups. There is a quick collage printing feature. Any memorable event will forever remain in the memory of the user's efforts and the capabilities of Keepsayk Instant Scrapbook video maker and photo maker!
---