Finding and choosing a job, perhaps, will determine the fate of a person until the end of his life. Or at least for a couple of years. In any case, this is a question that deserves a serious approach at every stage. And the key here is to write a resume.
No matter how it might seem at first glance, this is a rather dreary task. A file must be built according to certain rules in order to convey information accurately. It is also important to correctly position the information on the pages, the correct wording, and so on. A poor-quality document reduces the chances of being seen by a personnel officer.
If you do a resume manually, there are two results: a poor resume or a lot of time spent. It's not necessary to try to bring the resume to the ideal by hand. Today, a person can concentrate on the content, giving the technical aspects of the task to the program. All this is possible with the help of a convenient resume constructor.
Initially, such programs appeared on computers. However, today everyone can install the resume designer on a smartphone or tablet, iOS or Android, in order to prepare for a responsible task.
The following is a list of the most popular and valuable, top resume apps for popular platforms. Check this list of resume builder app (free).
VisualCV Resume Builder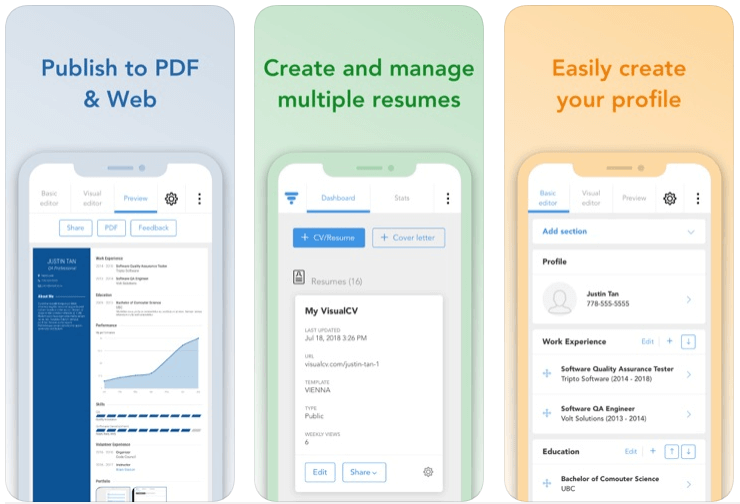 A very flexible, full-featured free resume app that is valued at 1 million + users worldwide. Main feature: profile templates for specific specialties, for example, engineers, IT specialists and doctors. The completed file is easy to import or export from storage or transfer through all available communication channels.
The resume writing process consists of two components: entering basic information about the applicant and visual setting of the resume through the editor. Preview allows the user to clearly see the progress in the course of filling. Fast integration with LinkedIn and import in PDF format is available. The user also has the ability to upload a resume to a dedicated page on the application platform with the ability to be indexed by search engines. The statistics panel for tracking views is attached. A large number of PRO-tools are available in the paid version of this best resume builder app, but the user can create a high-quality resume based on one of the free templates without cost.
---
My Resume Builder app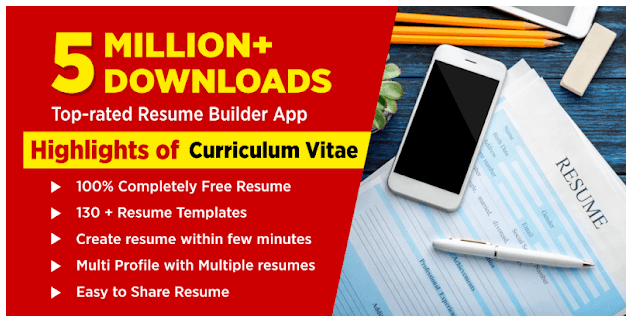 My Resume Builder is another best resume app available to all Android users who want to create a quality resume. Big plus: it does not require registration. Install and follow the instructions to create a dream resume. A menu is available at the top of the screen with the ability to jump to any of the sections of the resume immediately.
The user can add all kinds of contact information, education and previous work experience, hobbies and useful skills, signature and personal photo of the user. Several templates are available to choose from. The completed file can be quickly exported to all social networks or sent by e-mail. My Resume Builder is a completely free best resume app for Android, but there is enough annoying advertising.
---
Resume Star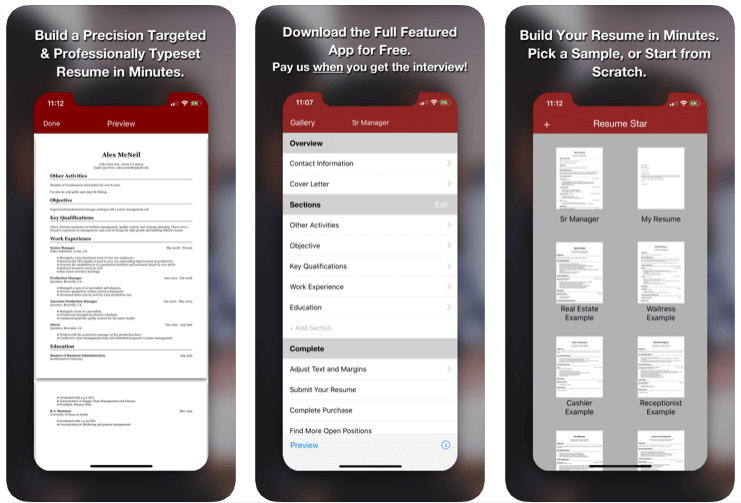 Time for an exclusive best resume creator app option for iOS. Resume Star is characterized by a classic interface, which does not require time-consuming familiarization. It is enough to install the application to create a file from scratch without the expense of time and effort. The user can specify contacts, information about previous work, education and hobbies, photo and cover letter. Creating a resume is carried out step by step through a simple constructor, and the result is high-quality and visual. When the text is ready, the resume can be quickly exported in PDF format to where it will be convenient. In total, 10 templates are available with a clear and aesthetic presentation of information. This best free resume app provides automatic spell checking, the ability to quickly send a text to print, as well as flexible font correction.
This application will help to create a resume that will be adapted to any situation.
---
PathSource Résumé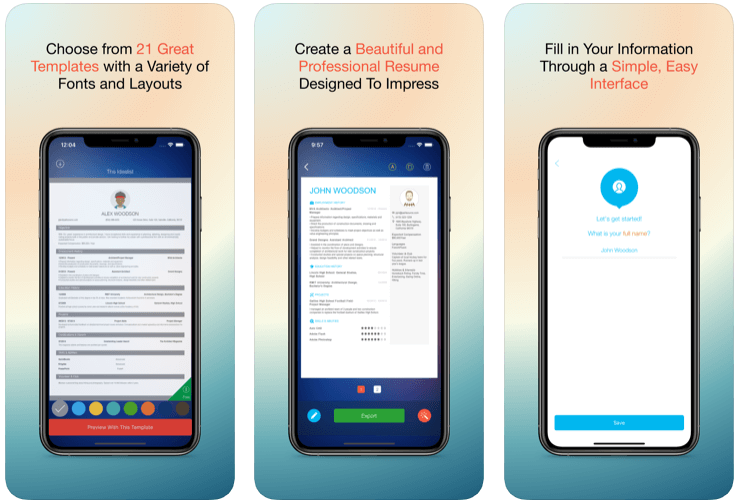 This is the simplest and most undemanding application available for iOS users. It allows a user to create a simple and competent resume file with the ability to quickly export in PDF format on all available channels: email, instant messengers, social networks and so on. The application takes up a minimum of space and has an intuitive interface with a minimum of complexity. It will lead an inexperienced user through all the steps of creating a resume. The result is always easy to read resume files.
---
Resume PDF Maker / CV Builder
Need a professional resume in PDF format as quickly as possible? A smartphone or tablet will save the situation, just install and use Resume PDF Maker / CV Builder free resume app for Android. The application is available for all Android devices. It allows a user to create a full-length resume with all information blocks, including a cover letter. The finished text can be printed from the application, or sent via any convenient communication channel, such as email, social networks, and instant messengers. The user has access to 7 professional templates with competent structuring of information. He does not need to compile the structure and design on his own: just enter the necessary data step by step, and the application will issue them in the template automatically. If the user fills in not all information blocks, the application will delete the extra ones automatically. Errors in the text are corrected.
---
Resume Builder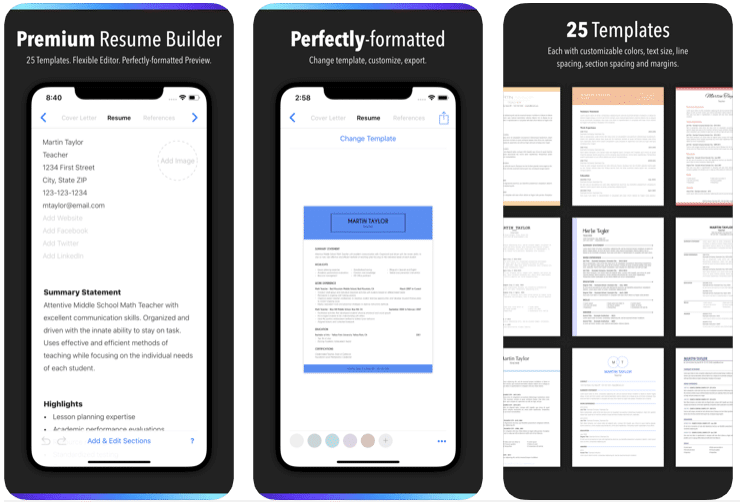 Resume Builder free resume maker app allows creating a high-quality resume for the user without difficulty. Just add the information step by step, and everything will be assembled into a cool template, ready to be sent. PDF file can be sent to print quickly, or transferred via all communication channels. The basic version includes two professional templates with full functionality. If the user needs more, he can buy a premium version. There the number of available templates is 25. Information sections can be added, deleted or flexibly rearranged. Also, the paid version includes the ability to create a cover letter and add photos. Resume Builder is available for iPhones and iPads.
---
Curriculum vitae App CV Builder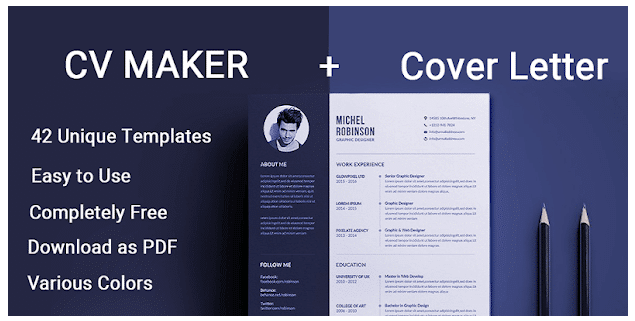 We offer to pay attention to all users to a fully functional version of the free resume builder app for Android devices. 50+ templates with flexible customization options are available here. The user can quickly create a cover letter in addition to the resume. When the file is ready, the user can save it in PDF format and send to social networks or by email with a couple of clicks. The entire list of blocks required to create a high-quality and meaningful resume is available. This application will help to attract the attention of the employer at a glance and then create the image of a responsible job seeker. Several very creative templates for creative professions are available.
---
Quick Resume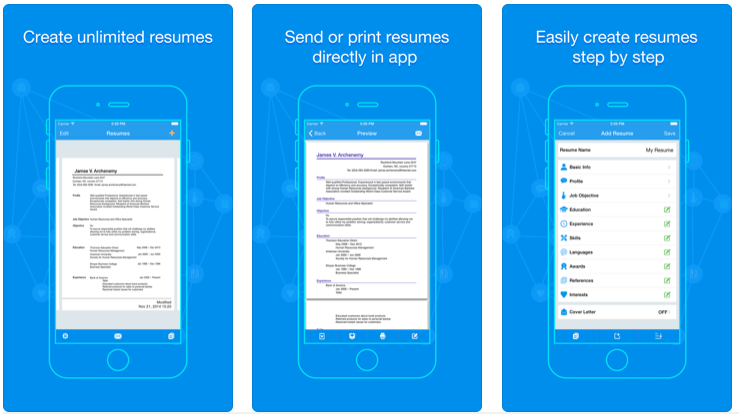 And another simple best resume writing app option for iOS. Available in 10 languages. There are many templates for creating a unique professional resume that is worthy of the attention of a personnel officer. Here are all the necessary sections to fill out. If part of the sections does not fill up, the application will remove the empty ones from the finished template. You can create and attach a cover letter. The ability to save PDF file and send directly from the application is available too.
---
Resume Builder & CV Maker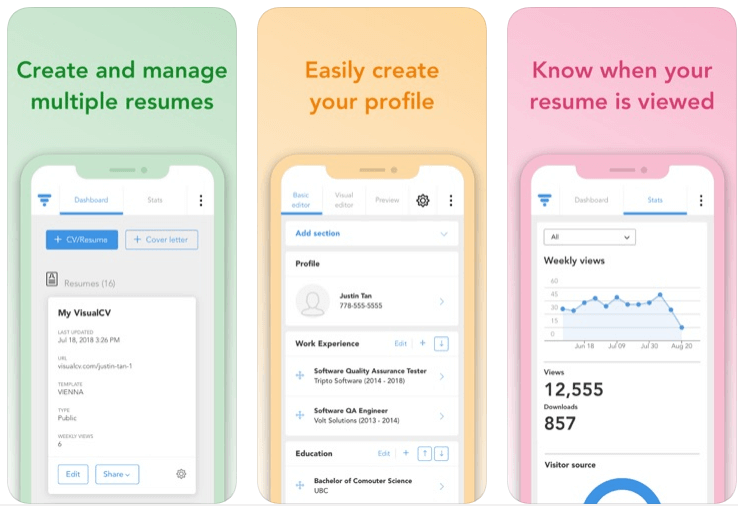 Resume Builder & CV Maker free resume app does not require complicated software to create a cool and effective resume. This is a free, full-featured application with the ability to export PDF files and integrate with LinkIn. A number of templates are available for the field of activity of the candidate, as well as the option of creating a cover letter.
A finished resume can be quickly sent to all popular social networks, instant messengers and email services. The user can customize the visual component of the resume by choosing the type and size of the font, color scheme, margin size, and so on.
Registration is possible via confirmation email. There are three options for getting started. Firstly, the user can download the resume from the outside and modify his result. Secondly, he can process information from LinkedIn. Third, a complete toolkit for creating a resume from scratch is available internally.
This best resume builder app (free) offers 10 main categories of specialists for creating resumes with or without photos. Basic and visual editors are available to choose from. An important plus is the sensitive work of developers to improve the product, taking into account user recommendations.
---
Enjoy our list of best resume app 2017 and newer and find the job of your dreams! Also, everyone can search for another resume banane ka app for personal taste.