The Internet is an essential element of everyday life. A sudden lack of signal leads to panic. We long ago forgot about those times when the speed of dial-up was considered almost a blessing. The slightest delay in loading is a source of intense annoyance today. And the most annoying thing is that the problem often occurs where the Internet is fast by default.
And when it happens that Wi-Fi works slow, you wait for a long time during the page load or see online video stop every two seconds. You need to pause and wait for these moments? Really, do you ready to do that in 2019? Let's wait until Elon Mask provides free Wi-Fi via his satellite system, and now there are some tricks in our arsenal. They will help you improve the signal of Wi-Fi. Let's have a talk about best Android Wifi booster 2019 and the newest apps.
How to boost Wi-Fi signal on your Android device
There are several main reasons why there is a problem with the speed of the Internet on Wi-Fi or mobile Internet. We are talking about the common inconvenience with the router, viruses, network interference. Like it or not, we are talking about common things that you cannot run away from. (You can also mention the technical problems of your device: lack of RAM or free space, or running programs in the background that require an Internet connection.)
Free WiFi booster for Android phone is the solution to all of these issues. This article is a collection of the most popular and effective programs of this type that Android users can download. We have collected in the article the best and most popular programs that Google Play is ready to offer you.
Internet Booster & Optimizer
Internet Booster & Optimizer is a Wi-Fi booster (Android). It was created to improve the speed of the Internet by simple feature. Commands are optimized so that the capabilities of the Internet provider and can be used to the maximum and even slightly more.
All settings that allow you to speed up the Internet can be made manually while using the best WiFi booster for Android. But also the app will solve all the technical work for you. All you need to do is install and run it. Before you start, the application requires you to perform a few simple steps to pre-configure. It helps for all types of connections, timely cleans the RAM and cache, slows down unnecessary processes.
It is important to notice that the quality of the free WiFi booster for Android phone functioning depends on the Android version and model of your device.
---
Connection Stabilizer Booster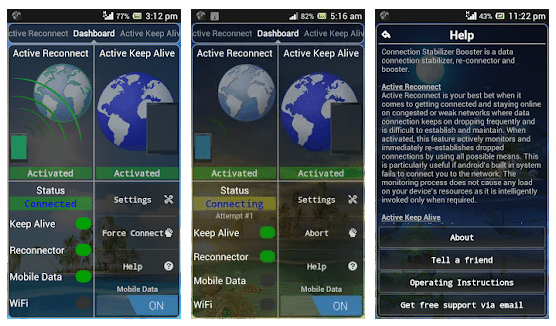 This WiFi booster app for Android is created for rooted and unrooted smartphones at the same time. Each user will improve the quality of the connection. This is guaranteed. There are two working options for the application, which we describe next. (Notice that's the both WiFi booster app for Android tablets and phones.)
Active Keep Alive keeps the connection even during idles. Here is the process of stabilizing the traffic between the device and the servers of the Internet service provider. It also gives priority to your use of the Internet, focusing available resources on this task first and foremost. This feature is suitable for slow connections or frequent signal breaks.
Active Reconnect is created to restore the connection in case of a break. This is a typical problem when it's a large number of users are connected to the network. At some point of overload, your phone is disconnected from the server. As soon as it becomes possible to recover, this mode is automatically connected and notifies the user about it.
There is also a Force Connect feature includes this free antenna booster app to support connections in heavily loaded networks. We recommend to try this app as effective and not overloaded with technical issues.
---
Network Signal Booster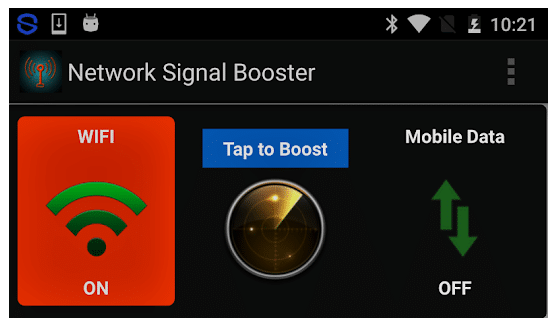 Forget about problems with the Internet by using Network Signal Booster, Wi-Fi booster (Android). This application was created for a wide range of users. It shows us the simplicity and convenience of the interface and well-thought-out mechanics of work, which provides maximum results with minimum user involvement. You connect to the Internet in your daily tasks, and this application finds a way to ensure data transfer without hanging quickly. This is a true thing even for the most demanding tasks, such as viewing streaming video in a browser. The quality of the app functioning depends on the version of Android and the phone model, but there is always a performance boost.
The only thing you need to know before start using this free WiFi signal booster for Android is to let Network Signal Booster "think" for a couple of minutes while turning it on. This app works on the principle "Did you try to turn it off and then on again?". That is, if we are talking about a slow connection, Network Signal Booster will identify this problem, turn off the Internet, reconfigure it, turn it on automatically and allow you to work with maximum productivity. This is the app to make WiFi stronger in any situation.
---
Speedify – Bonding VPN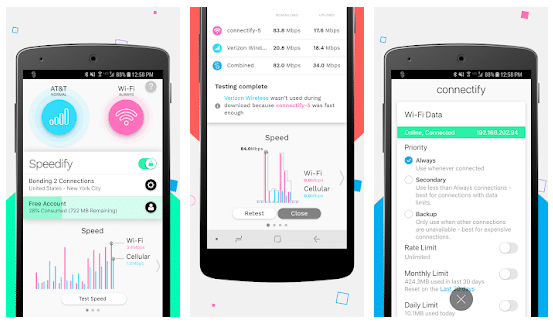 Speedify is a Wifi booster app for Android which uses Channel Bonding technology to increase smartphone throughput. This allows you to achieve impressive results in any work situation. The application can work with 10 connections of different types at the same time to ensure you always have the best Internet speed. The results are impressive.
This is the best WiFi booster app for Android that works like this: your phone is connected, and the connection falls into the "dead zone" for a moment. Speedify detects this and reconnects you to the best access point currently available. This happens automatically and the user does not notice the slowdowns. The app works on the principle of a VPN. There is a large list of servers, which provides the flexibility of quality work within the entire Internet. All information is encrypted.
It is important to note that the free version of Speedify allows up to 5 GB of traffic per month. This is not a totally free WiFi booster for Android tablet or smartphones. If you need more, you will have to buy a premium package.
---
WiFi Booster – WiFi Enhancer
Another gem from the category of "WiFi booster app for Android". WiFi Booster does not just improve signal quality. It shows how many devices are connected to your point of use. To improve the connection, try cleaning the cache and optimizing the operation of various types of networks. Additionally, a security check for the Wi-Fi access point will be implemented.
Wi-Fi Booster is a WiFi enhancer for Android that always displays the number of running applications that are needed to be optimized. The user sees visual information about how you can improve the network speed in the current situation. At the same time, the app's interface is as simple and convenient as possible. There is a minimum of functional elements for interaction. The program solves your problems automatically, and its design doesn't make your headache.
All versions of Android are available. And this is totally free WiFi booster app, with some ads only. If you are looking for simplicity, you can stop right here. This application performs the required minimum of our task with brilliance.
---
NetSpot
NetSpot is another Wi-Fi Booster (Android). We're talking about the perfect combination of technology and user-friendliness. If you are an ordinary user, you will solve all your problems without any questions. If you are an expert, you have something to discover among the settings. Probably, it's the best WiFi signal booster for Android tablet or phones.
There are two standard operating modes without additional configuration: quick search and in-depth analysis. If we talk about professional goals, it can be used to optimize the performance of corporate networks.
Few applications can boast such functionality. We recommend paying attention to NetSpot as a sample app that is close to the ideal of its kind. For professionals, this is a must-have, simple the best WiFi booster for Android; people who are "not in the topic" can search other easier tools. But here's an automatic mode that solves all problems on its own too.
---
WiFi Manager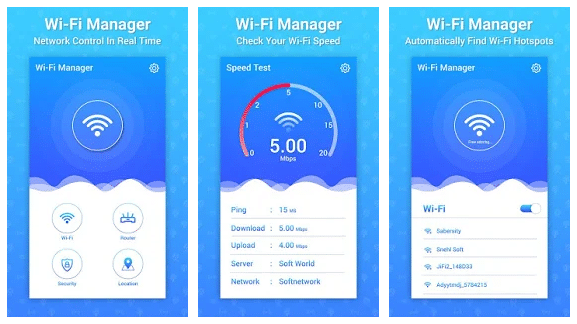 WiFi Manager is another widely demanded WiFi booster app for Android. This is an application for automatic search and connection to active Wi-Fi networks at the location of your device. That is, you find a less loaded communication channel and improve the speed of the device without effort, which is what an ordinary user needs.
This is a totally free WiFI booster app for Android. It is important to note that the oldest active version of the platform is Android 6. That is, it corresponds to all modern devices based on this platform.
Why do Wi-Fi Manager (free WiFi signal booster for Android) is used by people who do not understand anything in this matter? Here is the absolute minimum of functions with which a person can interact. Everything is automated and brings real results. For example, the user can easily understand where the Wi-Fi home point works best and use this info.
---
WiFi Analyzer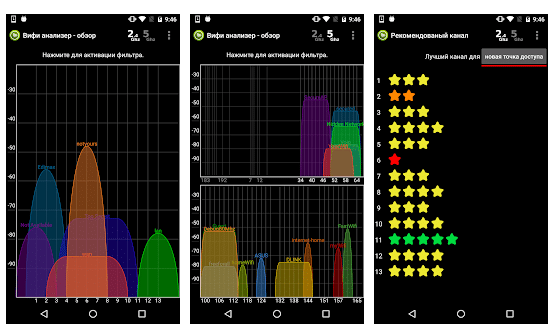 We continue the review of simple free Wi-Fi booster Android apps. WiFi Analyzer is a simple application for searching and detecting Wi-Fi networks nearby, quickly and automatically. You do not need to configure something manually: Wi-Fi Analyzer will find the best connection in seconds to provide access to the quick Wi-Fi without any problems and inconveniences during the user session.
There are many sorting features that will appeal to expert users: by adding time, signal quality and interference, and name. This approach will allow you to calculate the correct connection in a certain place and the quality of the signal can be displayed in history. As a result, the user can create a heat map of Wi-Fi points of access by using this WiFi enhancer app for Android.
Also noteworthy is a minimalist, but extremely pleasant for perception interface and design. You definitely will not get lost if you try to explore the local functions in more detail. This is the best WiFi booster app for Android users who's not interested in technical issues.
---
WiFi Connect Easy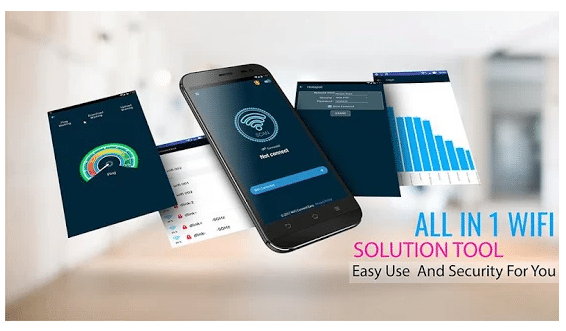 Wi Fi Connect Easy is a simple and intuitive WiFi booster app for Android. It was created to connect with Wi Fi access points placed nearby. There are several interesting features that make it very convenient and original in comparison with other apps: the automatic display of the SSID and password for simple data exchange, static IP settings support, scanning the network for access points, WiFi password saving to an exchange buffer.
If one network works poorly, Wi Fi Connect Easy will be the convenient WiFi booster software for Android that will connect you to another automatically. The user does not notice serious changes. If the situation changes, the application can perform rebuttal or find the third best access point.
The main advantage is that even an inexperienced user will understand the functions. And also this is a free WiFi booster app. Anyone will find a way to use features presented here.
---
WiFi Radar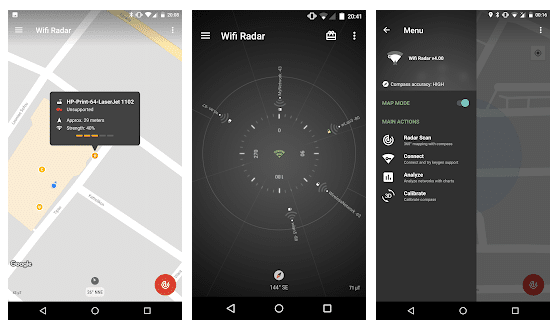 Wi-Fi Radar is another simple Wi-Fi booster (Android): a tool for finding effective Wi-Fi points nearby. There are several useful features implemented in an interactive form, and the application will appeal to both professionals and ordinary users. On the one hand, Wi-Fi Radar offers interesting and valuable features, on the other hand, there is a friendly user interface with a nice design. GPS, sensors, accelerometer, digital compass, and device gyroscope are used in this free WiFi booster app for Android to search for the best WiFi access points. It visualizes and identifies wireless networks on a map, and you can save them easily to further use. Wi-Fi Radar also provides a 360-degree radar scan with compass visualization, a signal level graph analyzer, and an excellent channel analyzer. You will find the optimal network quickly and it will be displayed on a map in an interactive form.
The functions of any best WiFi booster app from 2016 are almost similar to its 2019 rivals. Explore all the options and try what attracts your attention. If you do not pursue technological sophistication, absolutely all positions of the list "top-10 free Wi-Fi booster app" will solve your problem.