Massage is an effective and efficient tool for stimulating human internal energy, as well as simply relaxing the body and healing. This is possible provided that the massage is done by a person with knowledge of the matter. But we do not always have the opportunity to go to a specialist on a regular basis due to lack of time. Should any of us give up massage? No, because everyone can learn the basics of this art in order to deliver comfort and pleasure to themselves and loved ones.
App to find massage therapist
To put aside the telephone directory of massage therapists, we need good instructions and advisers that can be within reach of any convenient place. We are talking about the popular massage app in home for Android and iOS, which offer a competent theory. These are ways to learn the art quickly and without difficulty. Also presented here are applications with a quick call to a specialist at home. Next, we'll talk about the most popular and simple the best in home massage app solutions.
Massage Techniques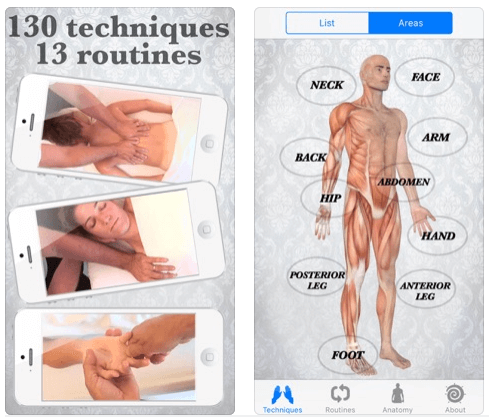 This app for in home massage is a voluminous library of 100+ valuable massage techniques that everyone can master if desired. Each technique includes a detailed description of texts and images, as well as video illustrations for implementation. This is a guarantee that a person will learn to do exercises accurately. In addition, large-scale videos on massage procedures are presented here, the duration of which is approaching one hour.
Just run this in house massage app to start training. All programs are carefully structured into categories and areas of destination, which will help to find the right option quickly. If necessary, a person can also sort massage techniques into body parts. Sections with three-dimensional human anatomy are given additional convenience to the learning process, which will help to understand the structure of bones and muscles in order to improve the technique.
---
Soothe: In Home Massage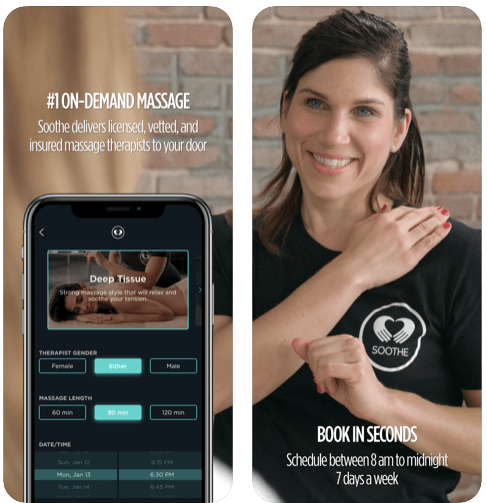 Another easy way to massage without leaving your home. Just download this massage home app and select the necessary massage service from the list. So, the massage therapist will arrive at the desired address in the near future. The network of this massaging at home app specialists covers a large area, over 7500 experts in their fieldwork here. They will offer a person any massage of their choice, including relaxing, deep, sports, healing and so on. It is interesting to add that the user pays a fixed price at the same time. No tip needed! Payment is made through the application. The user can recommend experts to friends, leave reviews and view recommendations of other people. If necessary, you can order a massage table for the procedure. This massage therapist app works in several dozen cities in the United States, Canada, and the United Kingdom at the moment.
---
Sport Massage Videos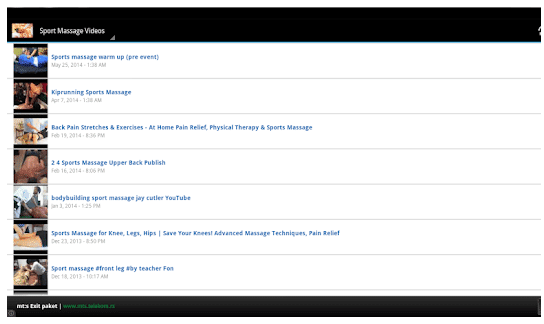 Let's go with the free massage apps for Android further. A specialized sports massage application for all Android users. Why is it needed and what gives the user? Sports massage is a special procedure that not only relaxes the human body but also contributes to the therapy and additional treatment of bruises, sprains, injuries and the consequences of more serious injuries during the period of rehabilitation. This massaging for Android is also a useful everyday solution for those who are actively involved in sports and are exposed to serious stress on a regular basis. In this case, regular procedures help prevent injuries. Better when sports massage performs the pros. But everyone can master simple exercises every day. Here is a wide selection of techniques for self-study. All techniques are presented in this massage app for Android in the format of training videos, which makes the learning process simple and intuitive.
---
Baby Massage Basics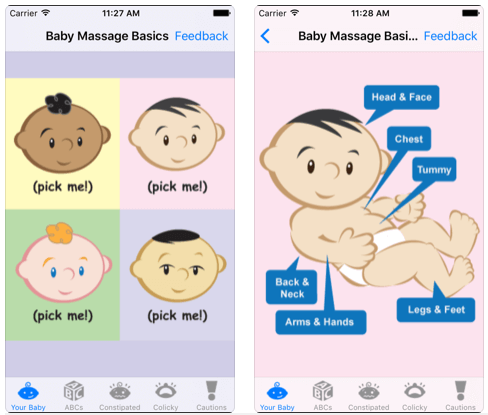 Babies also need regular massage to stimulate the growth and development of the body, strengthen immunity, improve sleep quality, and so on. And parents can, if they wish, master simple techniques. This massage at home app is useful for iOS every day. The application was created by a baby massage expert for a wide range of users, so everyone can safely use it. Here are the features of massage for children of different ethnic groups, a detailed theory of techniques with illustrations are painted, specialized massage techniques are offered, for example, for constipation. This massage baby at home app is a solution for loving parents.
---
Massage Therapy Study App Free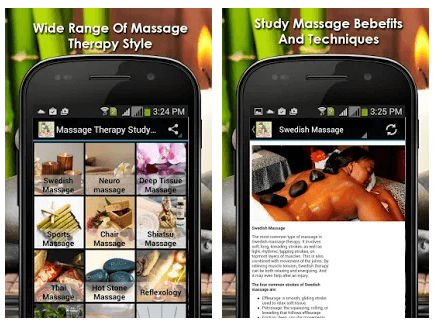 Massage is extremely beneficial for human health, and most importantly, it is a very pleasant procedure. And everyone can learn to perform massage actions, practicing for this in any convenient place. Users can download this best massage app for Android and learn a lot of interesting theories about types of massage, features of procedures and preparation. Also in this manual, there are many illustrations that will help you understand how to properly carry out certain actions. So, each person will be able to please themselves or relatives with a quality massage, reducing pain, relaxing the body or diversifying intimate life. This massage for Android option is completely free.
---
Chinese Health Massage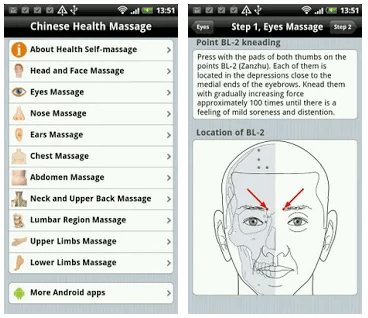 This is a very simple massage for web (Android) for beginner massage practitioners, which will introduce the basics and basic techniques of Chinese Massage Health in detailed practical steps. This is a thousand-year-old technique that anyone can master at a basic level in order to bring a piece of health and well-being for every day to his family and himself. These techniques are used to treat and prevent diseases of various natures, as well as to strengthen the immune system as a whole. This best app for massage is available to all users of Android gadgets.
---
Massage body spots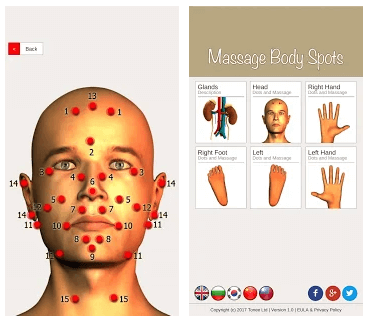 Another best massage app to choose. Acupressure is a very well-known tool for influencing the body, improving health and well-being. However, most people believe that this requires only professional skills. A full-fledged massage will be provided only by a real pro, but everyone can master the basic techniques to influence the body of themselves and loved ones in any situation. The principle of technology is to identify and point impact on certain areas of the body, which lead to changes in certain parts of the body, tissues and organs. This massage tool for Android detailed maps of such points, as well as recommendations for massage (face, hands, feet). There are a number of contraindications to such procedures, which should be taken into account. It is mainly about internal diseases of the organs and oncological diseases. Read the full list of contraindications and start practicing with this app for massage at home!
---
Zeel In-Home Massage Therapist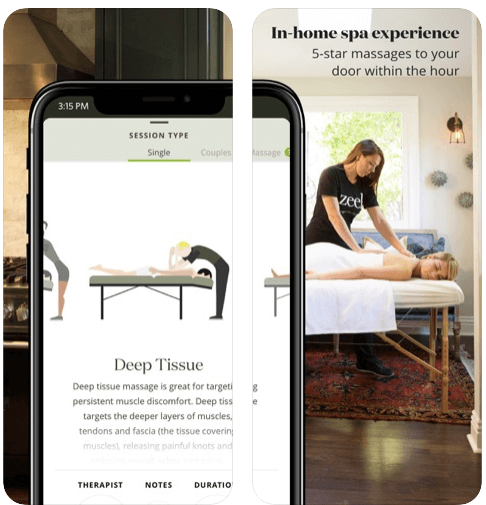 Zeel in home massage app is another tool for specialist addressing, This is a massage for Android and iOS users. This is an opportunity to get a quality massage session without leaving your home, hotel room or even office. An easy way to improve your health and relieve stress at the most convenient time and in the most convenient place without having to go look for a master and a salon. This massage at home app is considered one of the best in its category, and this concerns not only the simplicity and quality of the technical component but also the features of the company itself. Top experts who have certification work here. The company received a number of profile awards for the services provided. In total, the network covers almost 100 cities in the United States, where over 10 thousand massage therapists of various profiles work on call. That is, the ability to order pros at any time is real. The order is available from eight in the morning until half-past ten in the evening every day.
---
Conclusion
Here are a lot of options for best apps for massage therapists to choose from. Users have the opportunity to master the wisdom of massage on their own or order a specialist at home (use app to find massage therapist). The only thing left to add is that massage is possible everywhere and always.