Wrestling is a sport and at the same time a bright show. You should not believe everything you see in the ring. But if you liked this simple action once, you'll be the fan forever. The reason is that wrestling has its own charm, which consists of entertainment, simplicity, passion and a perfect surge of emotions to the public. That's everything is audience needs.
As a result, wrestling has a lot of lovers. There's a lot of exhibitions that the person simply cannot follow every moment. How to stay in the center of wrestling battles without breaks? Developers propose you a lot of useful wrestling news apps, so you'll be updated on what is happening every time and in any place.
Free WWE news App
What should a useful wrestling news apps contain?
The main thing to notice: the wrestling news apps should be free. At the very least, you may find a bunch of free apps about wrestling without any problems and wasting time. The second important parameter is a user-friendly interface where the reader can discover useful information easily, without wasting time. The more interesting content in the application, the simpler to hold the reader's attention. We are talking about news, articles, videos and more. Let's see the best available free apps to check & install.
Wrestling-online.com
Wrestling online is the official mobile application provided by the eponymous site, which is one of the leaders of journalism in the field of wrestling (from the whole planet Earth, actually). The site works since 1998, so there's a lot of specialists with huge competence and a well-thought-out editorial policy has been implemented. Probably, now you're learning about the best wrestling news app from the popular application services.
The application publishes info from the official website, and such type of use is easier than choosing the mobile version of the site. Here to discover a lot of timely info about each fight and events around the ring. Newsfeed displays news feed constantly. The biggest feature of the structure is a separate section of the application related to each type of wrestling. Fresh news and videos are presented too. The application is completely free for both platforms.
If you're seeking a versatile, voluminous source of news, we recommend choosing Wrestling Online.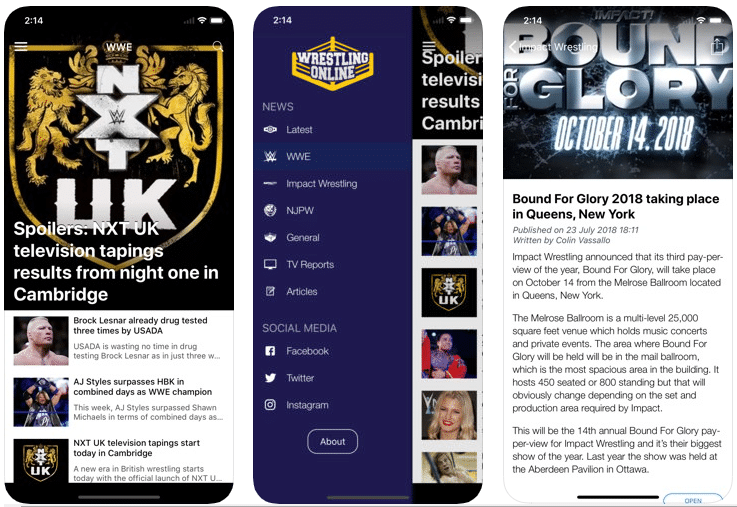 ---
WWE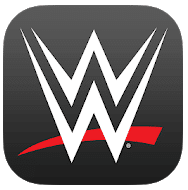 WWE news app provides a huge amount of actual info about wrestling, including competition scores and common info. Huge attention is given to convenient tables of competitions' upcoming announcements where it is difficult to get lost. If you plan to watch check any game, you just need to make a pending reminder in the application and you will receive timely notification.
In addition to general information, there is a lot of topics about the WWE itself. These are company news, which includes release announcements, professional events and much more.
The viewer can also watch competitions live, but we're talking about a premium feature that requires the purchase of a paid subscription.
WWE news app is available for owners of Android and iOS smartphones.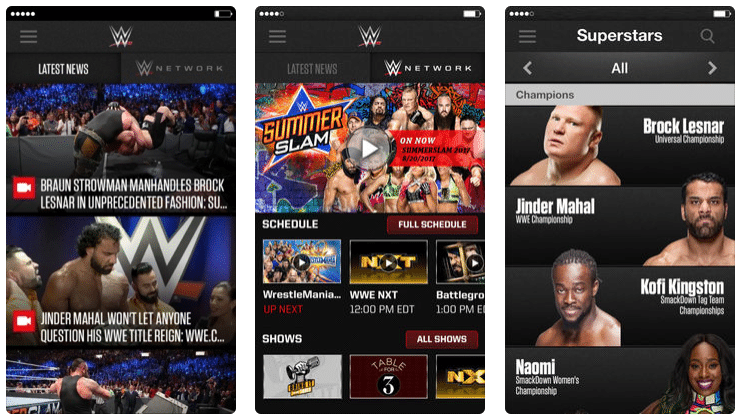 ---
Sportfusion – WWE News Edition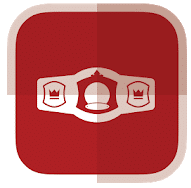 Sportfusion – WWE News Edition is an application that is 100% planet most valuable wrestling news choice. It is intended as a source of constant and uninterrupted information for real fans. It offers a convenient notification function that informs users about current events and you'll be able to stay up to date with everything related to your favorite TV fun.
The greatest pros of the application: it's totally free. To start using all the functions, a person just need to create a profile. The download is available to all Android and iOS device owners.
There are several unique features. First, you can customize the information channel according to personal preferences. You will receive information only on those topics that you see. Secondly, you can save the content and view it offline. Typically, these features are only available in paid applications.
In general, this is a highly portable and simple alternative solution to the news wrestling app for every day. And here a community of like-minded people: you can talk on topics about the favorite game with them.
---
Suplex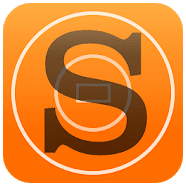 Suplex is implemented as a thoughtful application that carefully collects statistics of competitions. It seems to be one of the best wrestling news app focused not only on the audience but fighters with coaches as the main focus. Here a person can learn everything about competitions in different leagues and seasons, subtract details of specific fights, learn any info about fighters and so on.
Let's say more: this is not a simple news application for everyone who wants to know all about the topic. It is related to young athletes and sports professionals in general. There are a lot of tips and practical information that will be useful for someone who takes the main steps.
That is, Suplex is a magazine, where statistics intersects with useful content about the life of an athlete. Here a convenient search system. User can track his own achievements in any season with it, or compare the results with specific rivals.
And this collection of statistics is much more convenient for a pile of papers that the coach keeps on hand in the old fashioned way.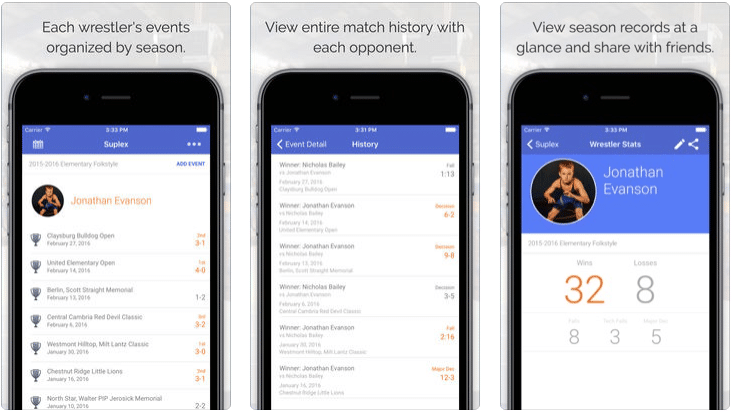 ---
Feedly – Smarter News Reader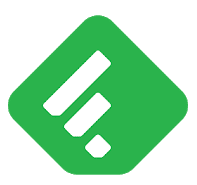 Now let's have a talk about the ultra-simple application for those who are interested only in the latest news and no more. Here you'll see a minimum of user options, and the general application's minimalistic style does not distract the wrestling fan from finding the most important things. The main focus is on the content, and everyone can see here information literally about everything that may be interesting in the topic of wrestling.
Additional bonuses: personal blogs, quick enter points to the site (we're talking about the licensed application of allwrestling.com website) and the same direct access to thematic shows.
If you're searching for quality content, this application will be the best choice. Users often have complaints about usability. In addition to too controversial minimalistic implementation, there are inconveniences of the layout. Reading texts is not always convenient, and your eyes will tire if you try to read a lot. It seems to be no problem, but competitors do not have such inconveniences. Therefore, if usability is necessary for you, you will have to live with it.
But flaws can't kill dignity.
---
Wrestling News World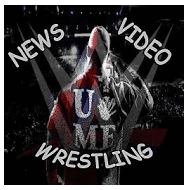 Stay in the know of your favorite sport with pro wrestling apps every day and every night, 24/7! This is the proposition by Wrestling News World app which is difficult to refuse. This app constantly adds the new pieces of news to the feed of your favorite sport and shows news alerts by request. Only the latest results, statistics, analytics and hot talks from outside the ring for the most meticulous fans. The creators here are the top WWE insiders who know the inner kitchen to the full. The reader will receive valuable information faster than it will appear in open sources.
The main attention is paid to the biggest wrestling leagues: WWE and TNA. At the same time, there is a lot of information here on less significant, but no less exciting competitions: New Japan, Ring of Honor, among others.
Discussions are available to take part during the matches: just enjoy your battle and share your comments online with other fans. No fees required, but there are lots of ads. If this fact does not scare you, welcome to the storage of the newest and truly exclusive information by Wrestling News World!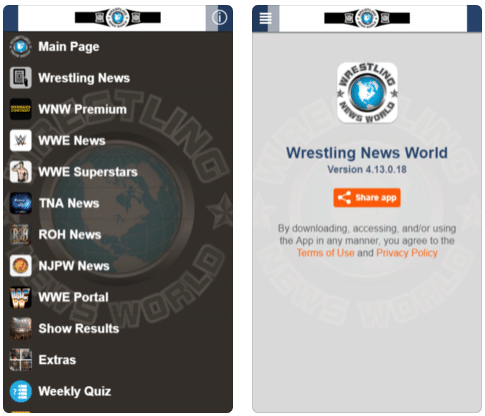 ---
ESPN

Let's pay attention to the greatest universal sports applications that can be useful for fans of wrestling. ESPN is a major sports channel in the United States. They have their own news application (it is obvious). The application is very convenient and well developed; it is a pleasure to use it.
But this is not just an app about wrestling. Here it is one of the popular sections, along with football, basketball, hockey, and other popular competitions, which are surveyed by the ESPN television channel. This means that there is no huge stream of wrestling news. But all the content you receive is timely and important information.
The ESPN app is a solution for sports fans in general and is particularly noteworthy for those who watch wrestling among other sports. But if you do not have time to follow all wrestling competitions, here you can receive the required basic information in a capacious, concise manner. High-quality video clips, video reviews, and podcasts about wrestling deserve attention too.
Any person can also try searching the official apps of other popular American sports channels. We guarantee that the quality of wrestling materials on them is also high. So, just install the official application from the TV channel, which you watch most often. ESPN is not the only choice, but it's very convenient.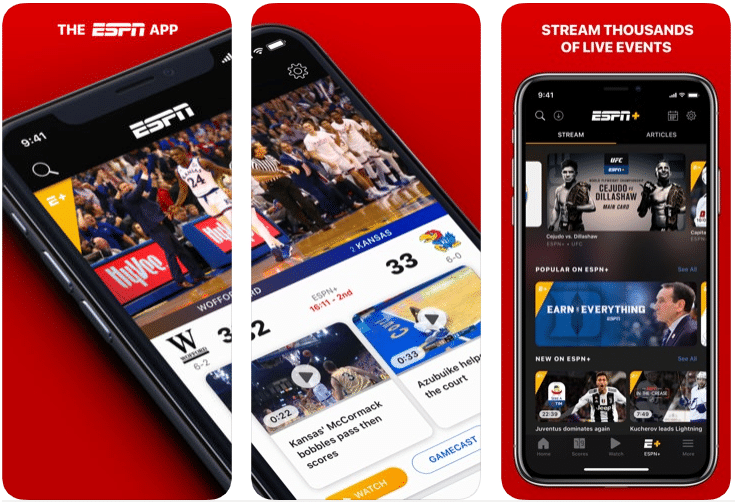 ---
All Wrestling – News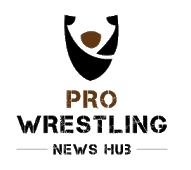 Everyone who needs excellent content from experts should pay attention to All Wrestling – News. It provides wrestling apps for Android and iOS and it seems to be the solution for true fans of the game, and a maximum of information on the topic contains here. A person will discover the freshest news, statistics and analytics about popular and less known competitions: WWE, TNS, RAW, SmackDown, ROH, New Japan, Lucha, among others. Information is submitted from different angles so that the user is able to make own opinion about what's happened. People here are talking about wrestling, so get ready for hot and exciting text battles. All information is updated in real time.
Special attention is given to wrestling podcasts and fan blogs, which creates an impartial, multifaceted opinion about the sport. There are no slick and purchased texts, only honest personal opinions of people who understand the subject. Wrestling fans, you will quickly find here a cozy haven in the company of others!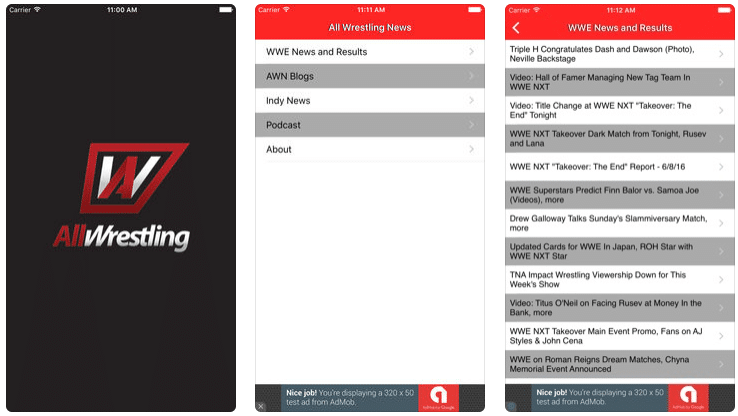 ---
eWrestling News (Android)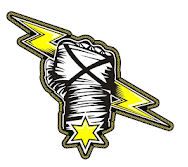 At the last part of the article, we propose to go through exclusive Android wrestling news apps.
If the person does not need a beautiful design, eWrestling News is the perfect solution of everyday use. This is a visually simple and easy-to-use representative of wrestling apps for Android category. We're talking about an application that contains as much wrestling information as possible (about the whole range of leagues).
Here you'll find the results of newest matches, news in the ring and beyond, an expert analysis, official information by WWE and other organizations, high-quality photos, videos and podcasts about your favorite sport.
The application does not overload the user's attention but provides a maximum of functions for everyday use. The information section consists of news, hottest info, match results, and videos. You can easily select any section of interest and get information. There is little advertising, and the main disadvantage is the lack of an iOS version. Hope the problem is temporary. The application will be interesting to technically undemanding but a responsible fan. You can fill any amount of interest in wrestling thanks to eWrestling News Android App.
---
Wrestling News (Android)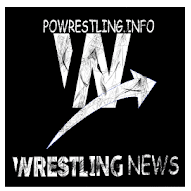 Wrestling News is the last great wrestling app from the list. It was made by fans and for fans. It is an aggregator of wrestling news apps and sites from the most popular fan sites about wrestling: Lords of Pain, Wrestling Inc, Wrestling News Online, ProWrestling.net among others.
The design is marked by minimalism, which does not distract from reading the texts. The format of the text presentation is very convenient: a person can check the news feed with a brief announcement of the latest updates, which informs about the main thing. If you have to know more, each text is available in expanded form. It is possible to take a quick step to the source website. In general, the application contains a list of sites and we're talking about the main reason why Wrestling News will be useful for you. So you will discover many interesting wrestling resources.
There is a minimum of advertising, and this is a big plus in addition to the capacious and understandable interface. The application is available for Android. iOS development is unlikely to be released.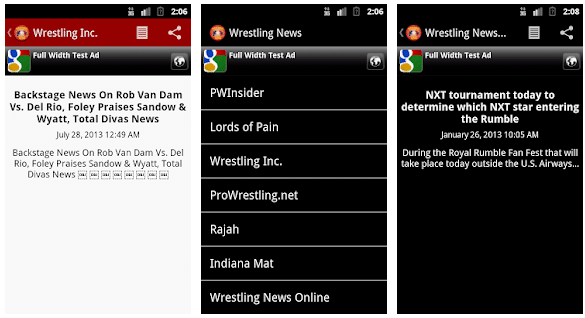 ---
Conclusion
So, we told about 10 most popular wrestling news apps from the stores you use to download everything. We were guided by personal views on convenience, as well as positive feedback, user ratings. This became the basis to the best wrestling news apps list.
Here user can find applications for the most involved persons according to the topic (with expert analytics), convenient newsfeeds about wrestling or high-quality applications about sports in general. You just need to choose the format that suits your needs to a greater extent. Enjoy your time in the world of pro wrestling apps! You will never be left on the sidelines of your favorite sport with them.