How to learn to play the piano? Anyone needs a huge amount of practice every day. There is no other way in music. But is it worth buying an expensive tool in order to try it? This is a dubious investment. You can search for a piano somewhere or sign up with a teacher, but there is an easier way to understand the principles of playing keyboards before further accomplishments. Or at least satisfy interest and forget about it. Or work out somewhere on the road, if we are not talking about a beginner. We are talking about realistic piano applications for Android and iOS.
What is the best piano app? Let's find the answer below.
What is the best piano app
A wide selection of piano apps for free is available in popular stores. It is for this reason that the issue deserves detailed consideration. The following are the most interesting, high-quality and popular piano apps for every taste. All of them are free piano app for iPhone and Android devices and its characterized by realism, convenient usability, and sound accuracy, but it is important to choose the best options for additional parameters.
Perfect Piano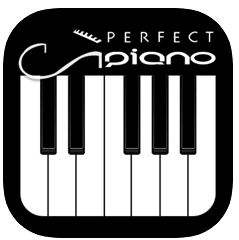 Piano apps for free like this is widely in demand among beginners and pros due to the user interface that is perfectly verified in detail. It presents a large number of professional tools for implementing creative ideas and everyday music-making. Accurate user experience provides a large number of sound effects to choose from.
This free piano app option for iPhone and Android gadgets offers a full-length piano keyboard with the ability to visually adjust the size of the keys to the user's needs. Several game options are available, including four hands.
Also, users are available comprehensive training on the piano with many interesting developmental exercises. Each piece of music is presented in three versions, which differ in degree of complexity. In total, more than fifty tracks are available and this keyboard chords app is updated weekly with the addition of new content.
The main part of the application is free (as for almost any piano apps for free options), but several additional features can be obtained for a small fee in the premium version. But the main version will be more than enough for the implementation of any educational and creative activities.
Particularly highly appreciated by users is the quick and accurate key response.
---
My Piano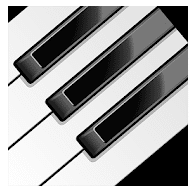 My Piano piano app for free is considered a highly realistic piano simulator. Particular compliments deserve the high realism of sound, which allows the user to create music at an almost studio level. Additional functions in a wide assortment qualitatively expand the creative process. In total, eleven musical instrument options are available with several sound schemes to choose from. My Piano app songs can be simulated not only as keyboards but also, for example, winds. Some effects affect the quality of music playback; speed modulators, tone mixing and so on are also available.
The user interface of this piano chords songs app is very convenient and is configured flexibly to the individual needs of a person. In total, six-octave tuning modes are available, which will help to fine-tune the sound. It is important to note that the application does not have a training program, and a beginner should find such a program separately.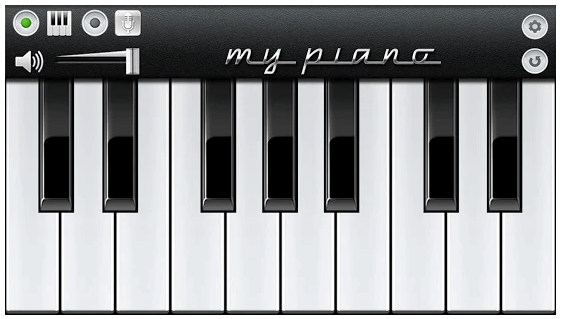 ---
The Piano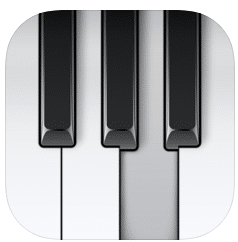 Free piano app for rehearsals or for a good time. Each user interface element is simple and straightforward. The sound is characterized by realism at the level of an acoustic piano. Good piano apps like this are in demand among beginners, as well as piano teachers.
There is no tutorial herein this best piano app, but the high-quality technical component makes it the recommended solution for beginners along with professionals who know a lot about good sound. There are several keypad sound schemes to choose from, including classic, xylophone or a set of toy piano sounds. User game can be recorded and quickly exported in any convenient way.

---
Magic Piano by Smule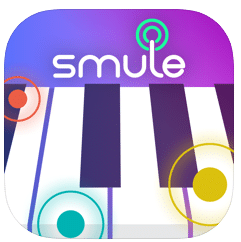 Magic Piano by Smule is a best piano app that provides the necessary basis for learning to play the piano for a complete beginner, but the professional will also get a pleasant experience. The user interface is very friendly; it attracts the user to musicize. The user has a lot of options for playing classical and popular music. The catalog of songs is updated regularly, and each user can publish his own compositions.
The rhythm and tempo are set in accordance with the required sounds. Additional effects allow a person to expand the sound palette of the instrument. There are several levels of difficulty in performing each composition for this best piano chord app, and the game mode carries away seriously and for a long time. Moreover, a whole system of awards and rewards for the successful performance of music is presented here. The system also includes sequential access to new and new songs, not available initially. Cool piano apps like this are praised by a wide range
of users.
---
Pianist HD: Piano +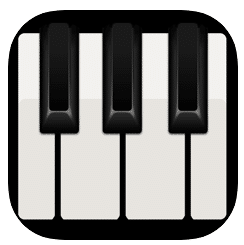 Let's go with the best piano apps further. The application offers many settings for playing in your own style and pace. The big achievement is the realistic and responsive 88-key keyboard, which transmits the sound of the original instrument in accuracy and without signal delay. 12 instruments with exclusive sets of effects are available to choose from; they allow a person to significantly expand the user experience and creative potential of a musician. Also, a metronome is available and a game mode that pleasantly diversifies the user experience such a top piano apps. A collection of piano lessons is available for beginner musicians. Among the special features is the note recording mode, which allows everyone to analyze and save the composition after wagering. If desired, the user has the opportunity to upload own MIDI files to the application for practice.
---
Note Quest: Learn Piano Fast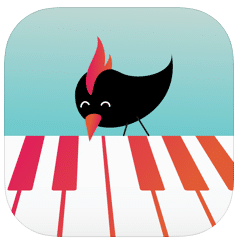 There's a lot of other best options for piano apps. A simple and interesting application for those who want to learn musical notation and learn how to play a keyboard instrument. This piano tabs app allows a person to learn notes to everyone and this is done in a very visual way, accessible even for complete beginners. The lessons are arranged in a thoughtful sequence, from the basics to the complex wisdom of the game. A set of fascinating mini-games is available here for quick memorization and perception of information in an entertaining way. The user of this best free piano app for iPhone will learn notes and keys with this fast. The main target audience of the application is children, but it is suitable for each beginner as a whole.
---
Gismart Piano Free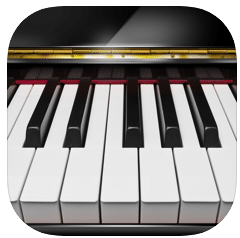 Gismart Piano piano chords app is considered a popular choice for beginners and pros alike. This is a universal application from musicians for musicians and everyone who wants to learn how to play. Here are a number of useful and smart features that make the user experience and learning process extremely high quality. A variety of sound schemes are available, including organ, harpsichord, accordion, and pizzicato.
A dual keyboard is available for playing complex compositions. A correctly selected set of compositions will allow beginners to consecutively master the game of the keys. Each beginner has the opportunity to take advantage of an extensive and detailed catalog of training materials while using this best free piano app.
If desired, the user of this piano app (iOS, Android) can record music and quickly share it on any channel. Particular attention should be paid to the fine-tuning of the keyboard, taking into account the strength of keystrokes.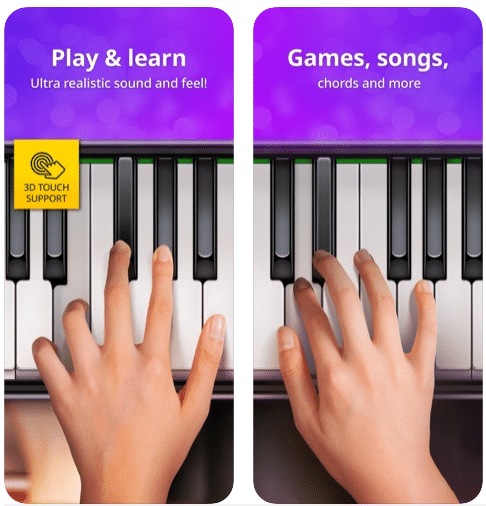 ---
Flowkey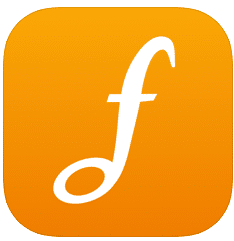 Introducing another easy and user-friendly piano game app free. The training is in a pleasant form and allows the user to learn the wisdom of playing the keyboard along with the user's favorite songs. Here is a series of training courses from the basics to advanced tasks that will help to consistently and thoroughly understand the basic techniques of the game. This is a universal free piano app for Android and iOS for a wide range of beginners, which will give a general understanding of the problem. A large section of the theory is available, which helps learn piano chords. App design is very convenient and does not distract from the learning process.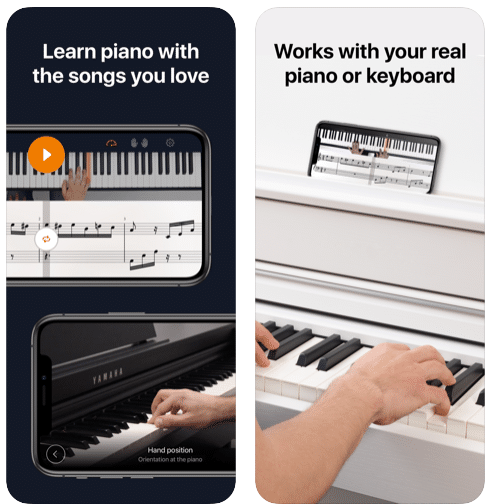 ---
Piano 3D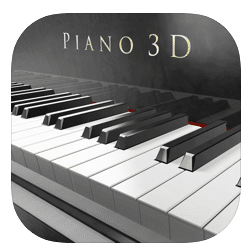 Piano 3D piano chord app (iPad, iPhone) is considered one of the most visible and highly rated applications in this category. The main distinguishing feature is the outstanding 3D visualization. An important complement to this are the realistic piano sound schemes that make the user experience extremely realistic. In total, about 750 songs are available in the library with the ability to add new ones. The library is updated regularly. Users can play on a full keyboard with 87 keys without restrictions. Classes for classical and popular music are available here. A played piece of music can be recorded and exported to social networks via this free piano app for iPhone.

---
Best Piano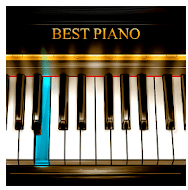 Probably the best new best piano chord app (Android) of 2019 in this category. This is a simple and comfortable piano that is always at hand. The developers offer a balanced set of learning to play the piano from scratch. The application is characterized by a simple and intuitive interface, and each user will understand the functions and capabilities, at a glance, and will also be able to customize the application to their own needs. Professionals can also use this best piano keyboard app as a quick warm-up of playing skills. The sound quality is high, and audio can be recorded and quickly exported to social networks.
---