Girls constantly look in the mirror throughout the day, this is a natural part of everyday life and an integral part of the desire to be "on top" almost 24/7. But if it so happens that there is no mirror at hand, it does not matter. Everyone can use the smartphone's selfie camera. An even more convenient solution would be a mirror image. How to get it? Before giving an answer, it is worth noting another situation. If someone wants to take a selfie, mirroring will help make the photo more memorable and interesting in some cases. It is for these two situations that the app mirror is created, which will fall in the place of all the girls and also selfie fans. The following is a list of the seven most popular and most convenient in all senses free mirror app for Android and iOS.
Is there a mirror app for any user's taste? Let's check everything about free mirror apps.
Mirror
This Android magnifying mirror app will turn the user's smartphone camera into a mirror instantly. If the owner of a smartphone suddenly needs a mirror, this is the easiest and most universal way to solve the problem. Image quality does not undergo changes, and the simplicity of the interface provides maximum convenience the first time. Technical optimization is at the level, and there are no delays to wait. The zoom is highly flexible and reliable. And if necessary, the user can use the backlight. This makeup mirror app is available to all users of Android smartphones and tablets.
---
Mirror by AppForge Inc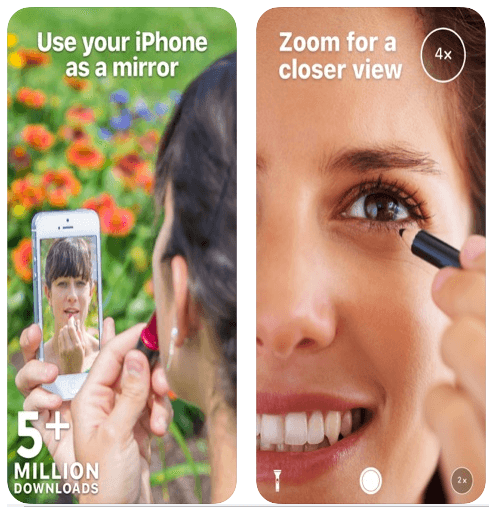 Is there a mirror app for iPhone? Sure. Here's the one of the most popular applications of its kind for iPhone, which will help girls quickly solve current problems with their appearance in any convenient place. This make up mirror app acts as a mirror emulator with the ability to accurately and technically perfect image approximation through a selfie camera. This is an easy way to check every detail of appearance in the most critical and uncomfortable moments. Among the additional features, it is worth mentioning the night mode, which helps to solve current problems in the dark.
---
Real Light Mirror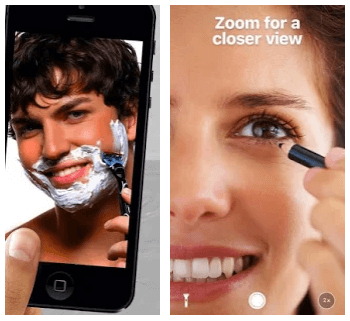 Modern problems require modern solutions. And modern solutions are to combine everything in one tool. And the smartphone is the most obvious such device to date. And if a person uses additional applications, then the possibilities expand to the absolute trifles of everyday life. For example, the camera allows us to take photos and selfies. But to fix makeup is more convenient in the mirror. A smartphone can be a "mirror" in case there is a convenient application for this purpose. This looking mirror app allows everyone to make the mirror effect quickly and without unnecessary questions for those who need it in an uncomfortable situation. Yes, it's not only about makeup but also the appearance of a person as a whole. So this mirror app with light is useful to everyone. A high technical quality image display is guaranteed. A large number of positive user reviews on Google Play confirms this.
---
@Mirror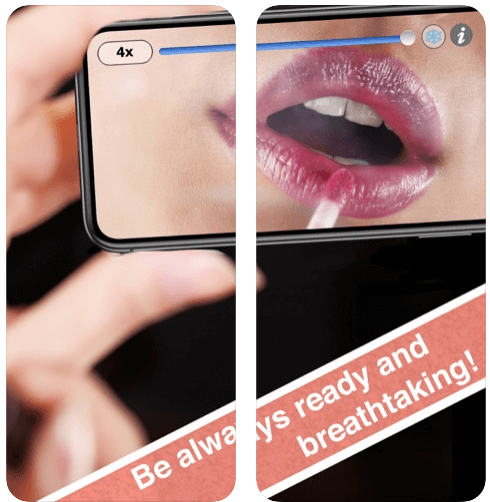 Another simple and convenient free mirror app for smartphone, similar to the applications above. Available to all iPhone users. The application will help to check the appearance and correct makeup in the field when the usual mirror is not at hand. That is, this is an indispensable solution for girls, and guys should install it. It is important to note several additional features of this free mirror camera app that qualitatively expand the user experience. Firstly, this is an invaluable night mode that will help solve problems with appearance in poor lighting or just at night. It is also possible to zoom in several times with the use of this vanity mirror app.
---
Magic Mirror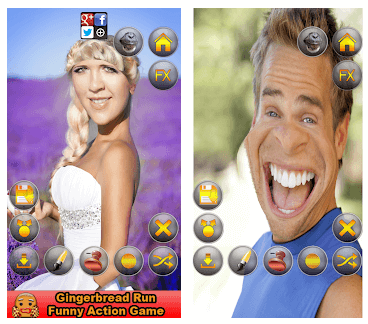 Is there a mirror apps with some other options? Magic Mirror close up mirror app is a fun solution to the situation that will help everyone to have fun. This is an image editor that includes a mirror as well and it will turn your phone into a mirror. There are a large number of variations of curved mirrors that will amuse users. Available to download images from the phone. The interface is very simple and intuitive, and the user can create a funny picture from a photo without difficulty. There are a lot of options for distorting the appearance, and it is worth experimenting with all the options. Funny sounds add fun to the photo editing process.
---
YouCam Makeup – Virtual Makeover & Beauty Studio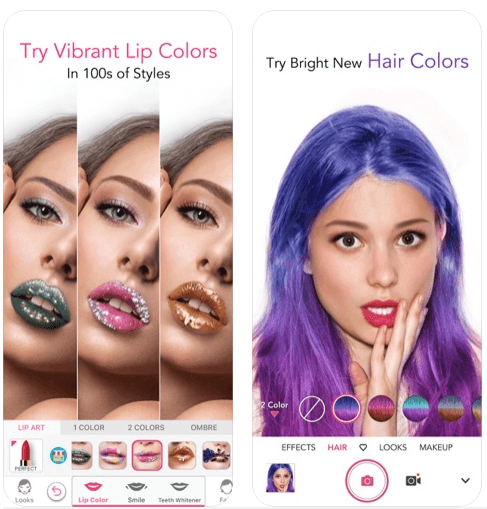 This is an effective pocket mirror app, which also offers many useful additional features. Every aspect of a person's appearance will remain under strict control at any given time! An important feature of the application is the ability to add different makeup options to the exterior in order to visualize the expected result and find a solution according to the situation. That is, applying makeup and rinsing it off to take a closer look is no longer necessary. Users can change the tone of the skin of the face, the color of the lips and the area near the eyes, and much more with this mirror app for android no front camera.
---
Mirror Image Photo Editor
Photo mirror will reflect the photo with a mirror image. This is a simple everyday good mirror app for those who need to keep a pocket mirror on hand everywhere. Users can customize and transform mirrored photos to achieve the desired effect. In addition to the direct task, the user can model and modify the image with a creative purpose. Everyone can create interesting collages with this vanity mirror camera app. Frames are also available for adding to photos. Photos can be downloaded from the phone's memory and exported to the social networks at the end of the processing process. Flexible settings for the main parameters of the photo are available: brightness, contrast and so on.
---
Hope these vanity mirror apps was convenient for each reader of the article. Be charming every day and every time!
Is there a mirror camera app with other options? A huge list of tools of this kind are available in Google Play and App Store and everyone can check it.