Torrents is a place where is presented absolutely all the information that you may need. If the user does not find music or movies anywhere, he can find it here. Even in spite of the fact that pirate sites are severely persecuted for years by the laws, they are more than enough presented on the Internet today. And everyone can use this wealth for their own good.
But an important element of this free Internet mosaic is a torrent client, with the help of which torrent files can be downloaded to get needed content next. Next, we look at popular torrent app for Apple and Android phones, which are praised for convenience and reliability. It is related to best torrent app for iPad, iPhone etc.
So, let's find torrent app (iPhone 4 users will not be offended, for example)!
uTorrent – Free Music and Video Torrent Downloader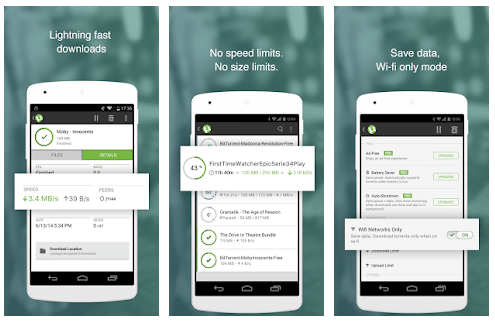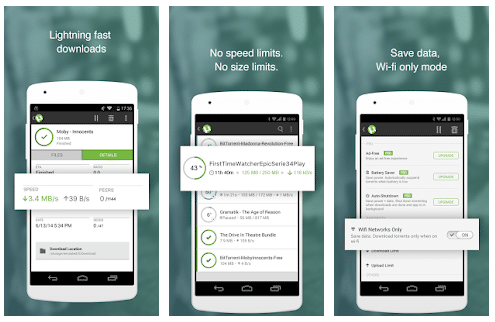 Let's make a step away from the torrent downloader for iOS category at the moment. And, everyone knows the first name. This torrent client is a real icon in its niche that has been used for many years. The application is made with all the requirements that may apply to work with mobile devices, taking into account the specifics of this topic. All the user is need to do is to set the name of the file to download and select the necessary link. The downloaded file will be saved on device. After that, a person can set the task to download, the result of which will be the resulting target file.
The application is correctly optimized and eliminates any factors that reduce the download speed. The only obstacle of slowing down is the possible problems with Internet connection. Simple and nice looking interface completes the splendor. After the download is complete, the user can share the files to let other users download them too.
---
MediaGet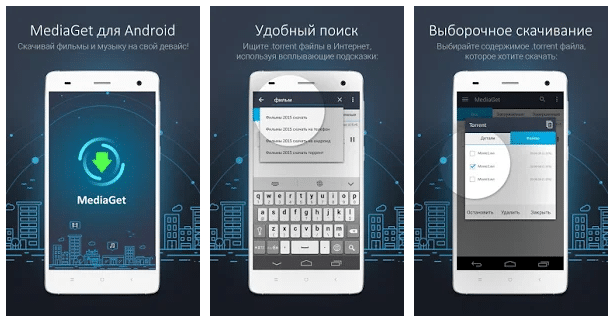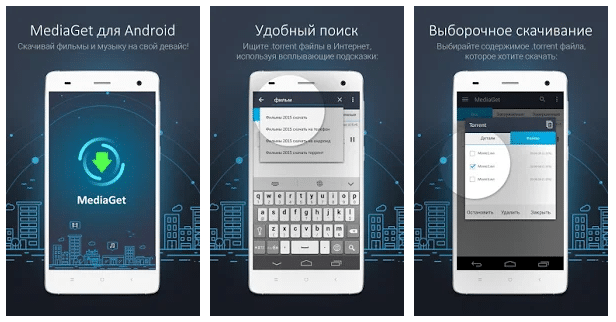 Quite a well-known name for anyone who was casually interested in the topic. Today MediaGet offers a proprietary application for downloading Torrents. A user can download media files at high speed without special restrictions. It is considered a high-quality alternative for uTorrent, whose high place in the hearts of pirate content is almost unshakable.
The application is characterized by a slightly non-standard, but very convenient interface for working with torrent files. The main focus here is on the list of files, which has many convenient features to configure. Basic settings are clear at a glance and sorted correctly. All the user need is a reliable and fast internet connection. Any movie, song or book will be downloaded to your device, be sure of it! This is probably the best torrent app for Android today.
---
BitTorrent Now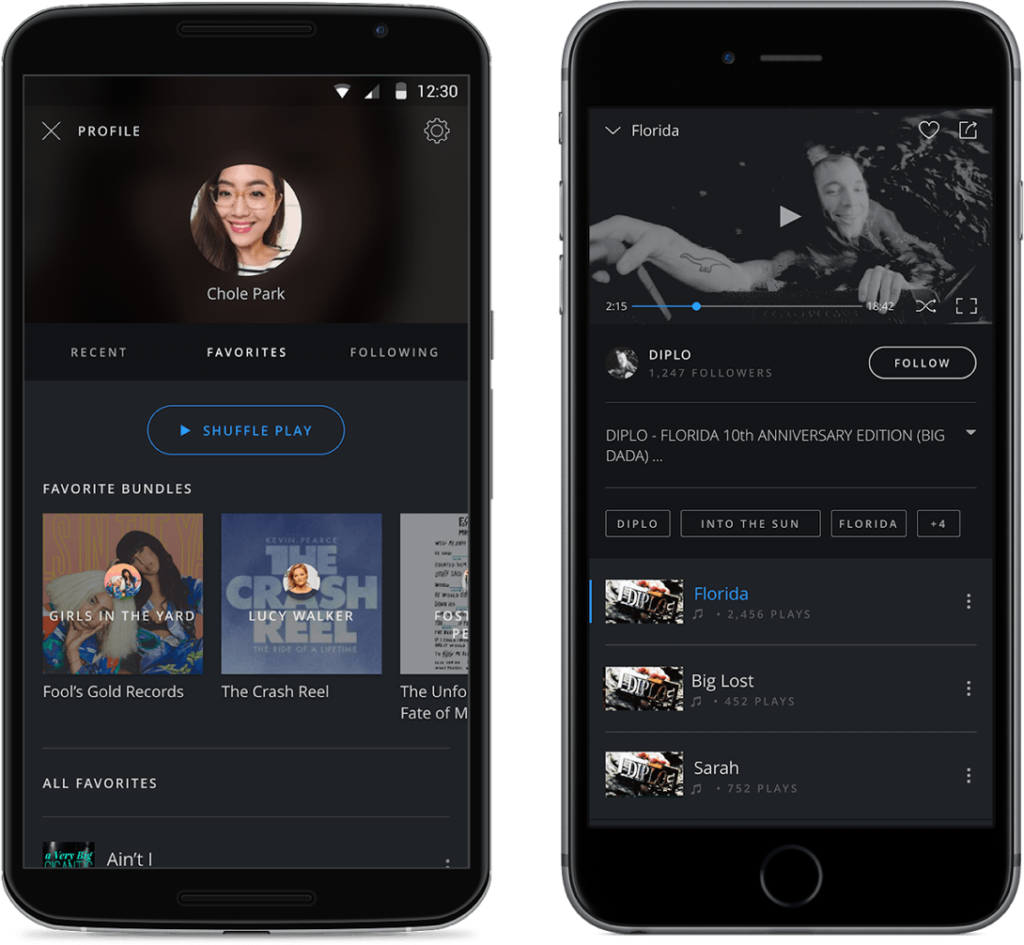 Now let's move in the direction of the best that App Store can offer to Apple device users. BitTorrent Now is probably the best torrent downloader for iPhone. It is important to keep in mind that iOS have the most stricter limitations in the context of data transfer, and this best iPhone torrent app can be considered a solution worth its weight in gold. It effectively handles all the functions that may be required in this case.
The second great advantage of BitTorrent Now torrent app for iPhone 7 and other models is a library of interesting content. Here the user can find new movies, music and literature, make great discoveries for himself. Each creator can be supported financially by user in some clicks. All information is conveniently categorized and clearly presented in this best torrent app for iPhone. The user can share the content he found in social networks, or publish his own works.
---
iTransmission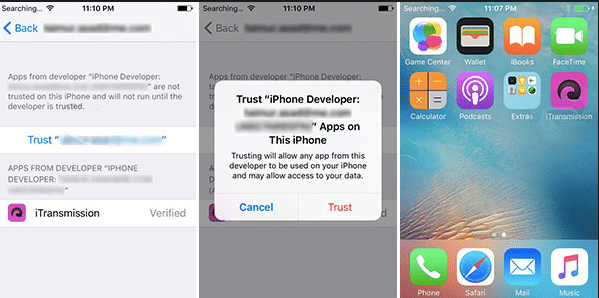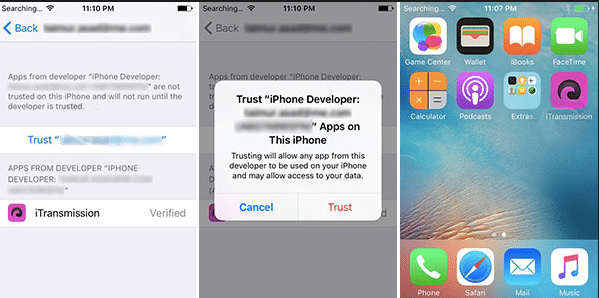 We continue the Apple torrent clients' discovery journey with another one best torrent downloader for iPhone. This best iPhone torrent app allows the user to download any file to iOS device. iTransmission offers so many options for working with files and downloads, which are presented in a very nice interface.
Experts thought that the iTransmission torrent app for iPhone 7 (and other versions) is the most functional in its field. Almost any other best torrent client for iPhone lag behind. In addition to downloading and creating torrent files, the user is free to organize a convenient search, set up receiving and sending data in any convenient way, and so on. This torrent app for iPhone can do almost everything.
It is especially important to add the presence of streaming playback of files online in this torrent for iPhone 7. It allows user to interact with the content before the full download. This torrent app for iPhone is also the most encrypted, lightweight, offers the option to set the download sequence manually. Users also note the almost complete absence of bugs and technical inaccuracies while using iTransmission best torrent client for iPhone.
Download free on iTransmisson site
---
Vuze Torrent Downloader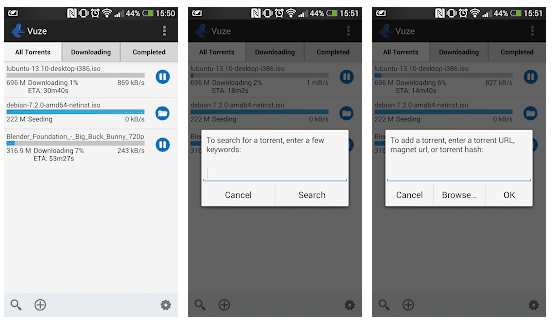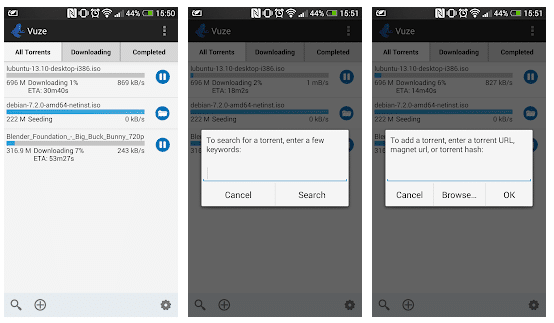 Let's get back to Android fields after searches of torrent app for iPhone perfection. This is a high-quality program for working with torrent files, but there are some interesting differences. Let's start with the fact that Vuze Torrent Downloader provides user full control over them, and this control on the smartphone's display is implemented just fine. The application is recommended for complete beginners who have never used torrents.
Just use the search bar to find and download the file you need. Entering the name for the search, just select the torrent file to download. The resulting file must be opened to start downloading the target content. Here the user can control the speed of downloading files. It is important to note that it only works if there is a WiFi connection. Small inconvenience is created by some ads in the app. An expanded version without ads can be purchased. Not any torrent app for iPhone can offer you something like this.
---
Flud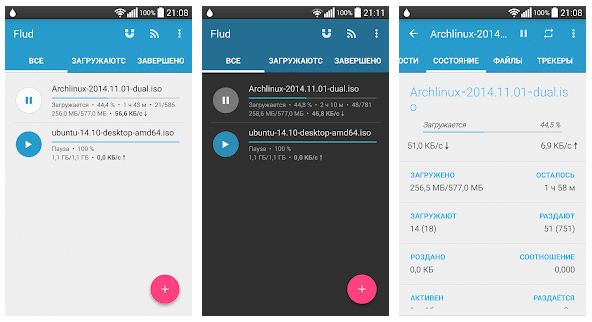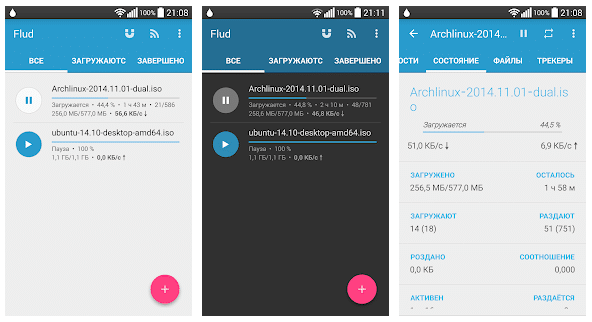 Another one useful Android torrent app to check instead of torrent app for iPhone category. Download torrent files and content quickly with a stable Internet connection (there is no basic speed limit). Distribute the downloaded content to other users. If the torrent file contains several files, the user can select individual ones for download. There is a download priority tree option: it is not necessary to download files slowly in parallel when you can set the order. Flud can work with the biggest files.
If desired, the user can open the file during the download process. Flexible file management system is also available. The app works with NAT-PMP, DHT, UPnP magnet links. Almost any torrent downloader for iPhone app can't do this.
---
Torrent VPN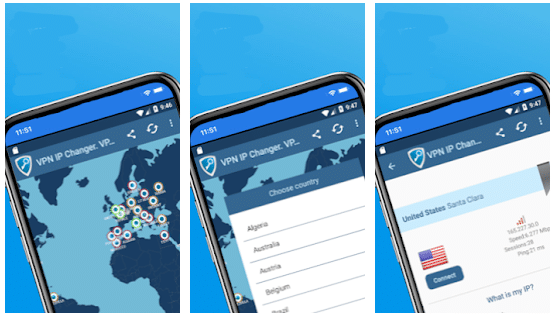 And we must complete "torrent downloader for iphone app" list with a very useful tool for iOS. It provides a completely free and unlimited tools to use torrents and the Internet as a whole. This means that the user will be able to stay completely anonymous in the network, wherever he goes. All the data is encrypted, and any resource becomes available. And any person can hide his or her real "face". And this is valuable in view of Apple's product safety policy.
All data passes through secure servers. The user may not worry about the safety of billing information or passwords. It is enough to start Torrent VPN, connect to the server and start working. Feel secure and free to interact with any content available on the Internet.
---
Enjoy all the options from the list freely and try to find the best torrent app for iPhone exactly to your taste! Any user can even find here torrent downloader for iphone 4, for example.