Granny for iPhone and iPad


Graphics and Sounds 9/10
Granny is a game that revolves around visual experiences, so it makes sense that the graphics look great and contribute a lot to the overall positive impression of the game. The house that you must escape looks realistic and yet unnervingly dark and haunting, which obviously works in favor of the game, adding a certain eerie vibe to the gameplay.
The sounds used in the game also play their part in creating a dark atmosphere, and they're crucial to the gameplay itself as you need to make sure you're not making any noises. We recommend that you play in headphones for a more immersive experience.
Control 8/10
The gameplay controls in Granny are as simple as it gets: a digital joystick on the left side of the screen and a button to switch from standing to crouching. You can look around, move, and crouch to hide under beds. Even with this limited number of movement options, you can still make a lot of noise that leads Granny right to you. Sometimes your left hand is going to cover up a part of the room that could contain strategically important items like beds or anything that could make a noise, but that's not a huge issue.
Gameplay 7/10
Playing Granny feels very exciting and somehow refreshing because it's quite different from most other games available on the App Store. You'll find yourself holding your breath and hoping Granny is not coming for you more times than you'd expect. Your nerves are also going to be tingled by facing Granny's bat – well, at least the first couple of times you die.
The one major issue we had with the gameplay is that the ads sometimes interrupt you right in the middle of playing. This is not only detrimental to the overall atmosphere and experience but can also result in losing the game because your concentration shifted and you made a wrong move once the ad is over. Displaying the ads in the menu when players start a new game would definitely have improved the gameplay experience.
Lasting Appeal 6/10
Depending on how much you enjoy the game, its replayability for you will vary. If you really enjoy playing Granny, you're probably going to come back for more every once in a while, but there isn't much to do in the game besides getting out of the house. Once you've done that a couple times, the game's appeal is inevitably going to decline. If you play Granny casually, you probably won't have much incentive to revisit the game unless the developer adds some new features or locations in future updates.
Verdict
Granny is a good game for fans of the horror genre who would like to have their nerves tickled by yet another indie adventure. It might also be enjoyed by casual gamers willing to try something new. Our impression of the game was somewhat marred by the annoying ads and lack of lasting appeal for most players, but we still think Granny is worth checking out, especially since it's a free game.
Pros
cool graphics
an immersive playing experience
free
Cons
ads interrupting gameplay
low replayability
---
MARVEL Battle Lines for iPhone and iPad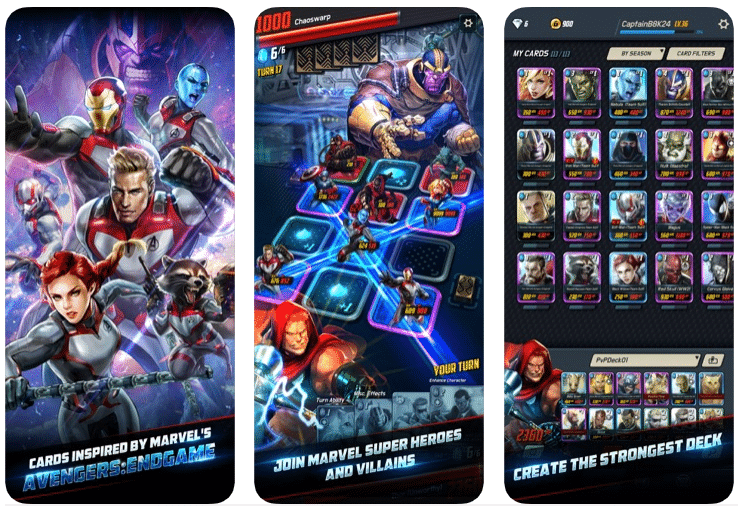 Graphics and Sounds 10/10
You'd think graphics are not that important for a card collecting game interface, and maybe that's true to some extent. Still, the graphics in MARVEL Battle Lines are very impressive, combining a dark theme with swift animations to create a dynamic atmosphere. What's more, the cards themselves all feature beautiful character art that puts many other card games to shame. The in-game sounds and music all fit the overall spirit of the game, highlighting the heroic and joyful moments of your battles.
Control 7/10
Controlling Battle Lines is very easy and has no learning curve whatsoever. The gestures used for selecting and viewing the cards all work seamlessly. The response times for some buttons may be a little too long and bordering on annoying now that we're all used to apps and games with extremely smooth controls. Some delays may be attributed to the fact that the game is connecting to the server to download or update some content, but we still think it might've been a good idea to work on response times a little more before releasing the game on the App Store.
Gameplay 8/10
Battle Lines is very fun to play even if you're not really into the MARVEL universe. As you collect more cards and meet more superheroes, you're bound to get interested in what else MARVEL has to offer and maybe even check out the comic books or movies that feature your new favorite characters.
The story mode is reasonably challenging and has a lot of potentials to grab your attention and not let it go until you're too tired to play. As you unlock new cards, you are able to use them in online PvP battles, which is a great motivator to keep going. If you're currently offline, you can also check out your cool new cards in single player battle mode.
Lasting Appeal 7/10
Playing the story mode is a compelling experience that you probably want to savor over some time. Alternatively, you could just sit down and complete it all in one sitting – we are exaggerating a little here because you'd need to spend most of the day playing, but it's definitely possible. On the one hand, this is good because you can unlock many cool cards and use them in online battles, but then again, we do wish that there was more to the story mode. The way it currently is, Battle Lines will keep you coming back for multiplayer battles but there's no way to experience any new adventures with your superheroes unless developers decide to add more chapters to the story mode.
Verdict
If you're into card games, you're definitely going to enjoy Battle Lines. If not, you may still want to try this particular one to see if it maybe changes your opinion of the genre. Awesome character art, engaging story mode, and lots of multiplayer battles to shine in all make Battle Lines worth checking out for card game enthusiasts, casual gamers, and basically, anyone looking for a good game to play on their iPhone or iPad.
Pros
amazing graphics
online PvP battles
exciting story mode with cool adventures
Cons
rather a short story mode
slow response/loading times
---
Creative Destruction: Bumblebee Fight Experience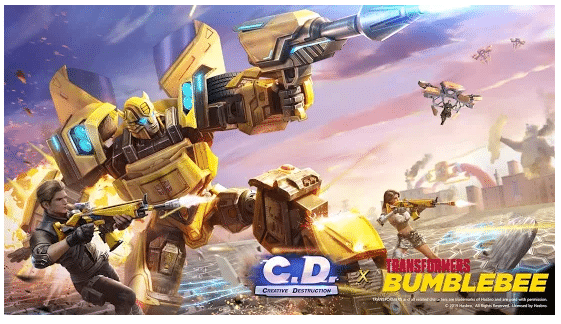 Creative Destruction is known as a survival game, in which a player is put to battle with competitors for the opportunity to become the last man standing and secure a victory.
NetEase has recently announced that its Fortnite-like survival game will include a special guest appearance of Hasbro's iconic Bumblebee. The players get the chance to play as everybody's favorite Transformer's character and enjoy themed battlefield mode in this limited-time event.
Graphics and Sound 8/10
Graphics in Creative Destruction has always been good but here it will be fair to say that the game picture is fantastic. Bumblebee's appearance incepts its themed improvements so that the shooting adventures look truly visually impressive.
Controls 9/10
If you're familiar with games in the battle genre, mastering controls of Creative Destruction should be anything but complicated.
Whether you prefer fighting and gunning down your opponents or you're amongst those who would better gain control over the fight by eliminating the opponent from a better position, the control setups are pretty much easy to handle.
Gameplay 9/10
As we've already mentioned, the latest update to the game features a new character – Bumblebee Transformer. Battlefield and the whole picture are theme-based and come with Transformer-style suits, weapons, pendants, skins, and more. The arrival of Bumblebee brings vehicles into the game so if you in the mood for fast reckless racing, you will like this new update.
Partnering up with another playing buddy is needed to dash into the enemies. Per one car, one player gets the role of a pilot while another is responsible for gunning.
When the match starts in Bumblebee Battlefield mode, you'll be grouped with another gamer and one of the teams will start playing as Bumblebee. If you want to fight as a yellow Transformer, you will have to beat the Bumblebee team.
Lasting Appeal 8/10
The game can get you hooked from the first minutes and its lasting appeal can be explained by many reasons of why people are so eager to play "just one more." There are literally dozens of solutions for each problem in this fight for being the last person standing and your decisions and actions can be limited only by your own imagination.
Verdict
The shooting game itself isn't bloody or violent so it can be played not only by adults but by older kids as well.
It might demand the players to be willing to go through multiple play sessions in order to improve their strategy and get better at surviving on the highly competitive battlefield.
The tone of matches is pretty light and even friendly, especially if you team up with another gamer.
If you like shooting multiplayer adventure games, you just have to check out this game. It is fast-paced and will definitely keep you coming back for more. Creative Destruction has always been growing and evolving experience but the guest appearance of Transformer's Bumblebee lifts survival game playing to a completely new level.
Pros
Graphics is excellent
Bumblebee is an exciting new character
Fast racing
Team-based play
Cons
The game is available on the App Store for such iOS devices as iPhone, iPad, and iPod touch.
---
Roblox Review: Ultimate Fun In The Imagination Platform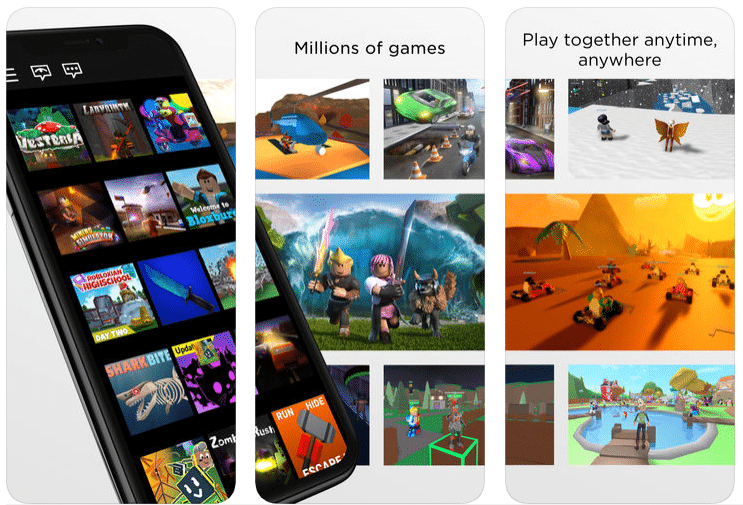 Roblox is a gaming platform that allows its users to play and develop online games. Reportedly, about 200 million players created an account since 2007 launch year. It is rated 12+ with Parental Guidance recommended and is available on the App Store for such iOS devices as iPhone, iPad, and iPod touch.
Design and Usability 8/10
The app has a fun design and looks very professionally made. The platform slightly reminds of Minecraft and the style of graphics is similar to Lego. The cartoon-like appearance of the app can make one think that the games were aimed at children but in fact, the platform was not specifically designed for children.
The platform is easy to navigate although unlike typical apps, the additional step of creating an account is needed. Signing up is easy and requires a user to indicate gender and provide the date of birth for security reasons. The player must create a unique username, which shouldn't directly or indirectly include any personal details.
When you logged in, you can post a feed, check your followers, and see the history of played games. There is an option of starting a chat and play games with anonymous friends. Customizing an avatar is also easy and fun because players are encouraged to use their imagination to the maximum. When the game is selected, a user can see a list of players who also play the same game.
Key Functions 9/10
First of all, it's a gaming app so when visiting Roblox platform users take advantage of the opportunity to play millions of games solo or with other players. The selection of games is absolutely astonishing and depending on your mood you can choose to role-play, compete, or simply enjoy mindless and relaxing time-wasting.
Second, the platform has features of a social network. Users can communicate with other players from around the world by means of in-game chats, private or group messaging. Players are encouraged to connect with other users and those gamers who are active in the community and make more than 20 friends are given a Friendship Badge.
Third, besides being entertaining, the Roblox app is useful for brain training. While playing games on the platform, the user has many chances to test his cognitive abilities, develop, and even improve them. The app allows players to build their own game and explore virtual worlds authored by other users.
Security 7/10
Players are requested to avoid using their real name when creating a username.
The platform developers advise making anonymous friends.
Parents are strongly recommended to make the child be fully aware of the risks involved in using the platform. Children should never share any personal information and it is strongly advised to disable such feature as socializing if the platform is used by a child.
If a user sees inappropriate content, there is an option of reporting it to the developers. A particular player can be blocked in case of offensive behavior.
Verdict
Roblox is an amazing platform, which unites millions of gamers from around the world to play, socialize, and have a good time. The app allows its users to be creative, imaginative, and collaborative. Provided all security measures are followed, the platform can be a truly cool place to hang out and simply have fun.
Pros
An impressive collection of games
Finding friends and chatting with them is easy
Users can create their own games
Cons
One has to take extra care in terms of personal security
---
TikTok Review: A Great App to Create Short Videos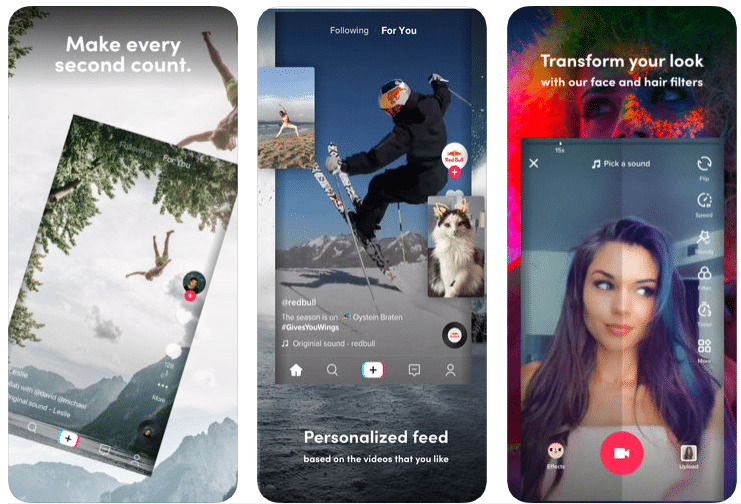 TikTok is an app that allows you to create and record short videos lasting 15 seconds, add various special effects to them, and upload to the network.
Design and Usability 8/10
In many ways, the platform is very similar to its counterparts, and if you have ever used Snapchat or Instagram, then dealing with the functionality will not be difficult. However, there are some differences and nuances in TikTok.
The app has a great design in bright colors and is very easy to use. It is possible to use the app even without going through the registration procedure, but, in this case, you will only be able to watch popular videos posted by those who are registered.
Like in any other app, to register, you can use your account from another social network. You can also use your email address or phone number. For navigation within the app, use the tabs located at the bottom of the screen. TikTok has algorithms that, depending on your likes and subscriptions, recommend new interesting content for you.
Key Functions 9/10
As a video hosting program, you can create, store thousands of videos, and edit them as you like – for this, the creators constantly update the functionality of filters and effects. One of the most popular features is the overlay of music on top of the created video, which makes the video truly exciting.
As a social network, the app has extensive functionality aimed at making people communicate with each other. The app allows you to do the following:
Create your own blog
Actively communicate with other users
Find new friends
Get subscribers and gain popularity
View and comment on the pages of other participants
Make online broadcasts to communicate with subscribers
The music library in the app is huge, so an ordinary smartphone that supports touchpad can become a real creative studio.
Security 6/10
According to the terms and conditions of TikTok, you should be at least 13 years old to use the app. Since this app is very popular among teenagers, security plays an important role. Some parents voiced their concerns that there are videos with inappropriate language, which may make the app less suitable for children.
There may also be predators who seek to connect with children, so parents should be particularly attentive. There are two privacy settings that will help protect children from strangers. You can restrict access to your account by choosing Off or Friends option. This way, only your friends will be able to send you messages.
Verdict
TikTok is an excellent service for identifying and developing creative abilities. You can practice your skills in directing, as well as try yourself in the role of an editor or singer.
Together with TikTok you can spend a lot of fun hours creating, improving, and communicating with interesting people.
Pros
A great platform to show your creativity
A wide selection of music
Excellent adaptation for various devices
A whole bunch of effects and filters
The ability to slow down and speed up the video
Share videos in social networks
Cons
The app is addictive and takes a lot of your time
There are many advertisements
---
Ancestry Review: Create Your Genealogy Tree
Ancestry is a simple and convenient app that will help you create your genealogy tree. Write your big family story, find out your roots, and save the memory of loved ones.
Design and Usability 9/10
Thanks to the app's mobility, you can explore the history of your family, regardless of your location. With the app, you can add new relatives, upload their photos, and record their stories. For example, when visiting relatives, ask about your ancestors, the years of their life, take some photos from an old family album, write down interesting facts from their lives, and upload all this information into the app.
The family tree diagram can be implemented in a vertical or horizontal form. In Ancestry, you can increase or decrease the scale of the tree, as well as open the profile of each family member.
The app has a modest design that doesn't distract you. It is very easy to use and perfect for devices that support the touchpad feature.
Key Functions 8/10
The profile of the app contains three tabs:
Chronology with the date of birth, death, as well as other significant events that you will add (marriage, relocation, work, change of citizenship, etc.)
Family, where parents, children, spouses, brothers, and sisters of each individual are shown
A gallery that has all the photos that relate to this or that person
Not only the Ancestry app helps you gather information about your family, but also share this data with relatives. Your friends will be able to get acquainted with the information you have collected, leave comments, and, possibly, also contribute to filling in the family tree. Perhaps with the help of the app, you will be able to find distant relatives.
In the app, you can also store all family documents and photos. There is no need to use the old box to keep all the necessary documents there – instead, make photocopies and save them directly in the app.
Synchronization of information happens in the Ancestry cloud storage, so access to the family tree can be obtained not only from a smartphone or tablet but also from your MacBook.
Security 8/10
You can be sure that the information and photos you keep in the app are not shared with third parties. The creators of the app guarantee full confidentiality and make everything possible to protect your data from leakage. To avoid any scams, make sure that you download the app from the iTunes Store.
Verdict
The Ancestry app lets you easily access your genealogy tree, photos, documents, and stories of your relatives. There are many tools that allow you to cite sources and create your family tree adding various useful details.
Pros
A great app that allows you to create your genealogy tree
You can store a lot of photos in the Ancestry cloud storage
You can keep important documents related to the members of your family in the app
Cons
It would be good to have visuals
Use of the internet is required